SXSW blog: Both sides of social media
On Day 3, Ed Lee delves into the dark side of social media with F*** Privacy. Then NASA shows him its upside.
The DDB team is blogging for strategy from SXSW Interactive in Austin, Texas. For more on the team's experiences at the festival, visit DDBdoesAustin.com.
By Ed Lee, director, social media, Tribal DDB Toronto
Austin, TX: March 11, 2012 – Sunday was the day that SXSW managed to breathe. A long, deep exhale into the sunny Austin sky. After two days of what @mattdipaola labelled "SXSWet," the skies cleared and sun came out. Three days of cramming some 60,000 registered attendees and who-knows-how-many unofficial attendees, into convention centres, hotels, restaurants and bars was at an end and the crowds became more dispersed – you could feel the collective consciousness relax. Despite being a "famous SXSW curmudgeon" (© @keithmcarthur), this was the Austin I had heard about and had been excited by.
Aside from being able to wander through Austin and take a look at the beautiful state capitol building, I took in two great sessions that, between the two, looked at both the dark side of social media and the more inspiring uses of social.
As befits a highly emotive topic, F*** Privacy took a roundtable discussion format with Joseph Carrabis, founder and CRO, NextStage Global, and Shaina Boone, VP, marketing science, Critical Mass, fielding questions and rolling through a number of facets of the issue. The provocative title was grounded in the acknowledgement of "fair exchange" – what are we willing to give up and what are we expecting to get in return. And with advances in neuromarketing (seven million years of evolution can teach us a lot about how the mind works) – where we can tell what age you are from how you navigate your cursor, where we can tell your language from where you click on an action button – you can be giving up incredibly personal data and not even know about it.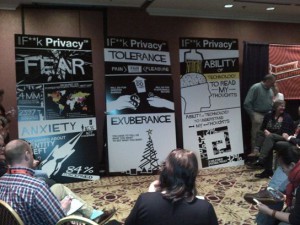 One of the reasons we like using small retailers is that the people you buy from get to know you, your likes and your history – what your name is, what your shoe size is, what you like to do and what you've bought in the past. We actually like having this sort of personal, one-to-one relationship with mom-and-pop stores but get incredibly creeped out when we see that a website knows who we are or when an online ad shows us something we abandoned in our online shopping cart. But both things are simply trying to give you, the customer, a better experience.

There are a lot of grey areas and misconceptions out there around this topic and that was evident in both the questions from the floor but also research the presenters had undertaken. Clearly people are afraid of exposing their data and giving up privacy but many don't know what that actually means; they simply feel that they are afraid of something. The truth is, as private citizens, we invade the privacy of many others almost every time we take a picture with our cellphone but somehow we trust each other. We don't trust big companies or governments to use this data responsibly and can't even articulate what "responsible" really means.

One example split the room in two: if your insurance co knows you buy too much junk food (from loyalty data and banking data), they could then raise your premiums – but should they?

Will we figure all this stuff out? I'm not sure we will. Even though we were in Austin and he was in Toronto, our director of technology and outspoken privacy advocate @iamjoedee was able to jump onto the hashtag and put his position forward. I want to leave him with the last word on this:

You don't need to compromise a person's right to privacy for personalized and convenient services. It's what you do with the data. #FkPrivacy

After hearing about the dark side of social media, it was invigorating to be inspired by Stephanie Schierholz, the former NASA community manager, talking about how the agency had been able to build a vast community around the amazing work it does. As an agency, NASA's mandate is to tell its story to as many people as possible but it can't advertise. Enter social media. The @nasa account now has almost two million followers and continues to invest time in building its community – it helps that it has a fantastic "product"!NASA has been using social media to truly inspire and push forward its own mandate. To reinvigorate a passion for space that often gets lost or lapsed during adulthood, but to also get kids interested in science, technology and math. NASA has done amazing work in bringing its online community together offline and that was evident by the number of people in the audience who had been to the #nasatweetup events.

As much as we can enjoy the digital content NASA provides, there is clearly no comparison for seeing it live and in the flesh. We heard about the highly addictive sights, sounds and smells of a launch that made me want to see one – road trip to the Kennedy Space Center anyone?

To tell the truth, after hearing the doubts and worries from the F*** Privacy session I was feeling a little jaded about social media and marketing, but the passion Schierholz showed brought me back to why I love the social media space. It reminded me that this new medium, this massive cultural shift, is about connecting people with shared passions in a way that creates a powerful and motivated community.

First photo from @laughingsquid, via @seanmcdonald. Second photo from @edlee.