New spaces: agencies tear down creative barriers
JWT, Grey Canada, Draftfcb and sister co. Rivet have all traded their old-style offices for new homes that provide open-concept workspaces.
To produce advertising ideas that transcend traditional approaches to media and messaging, it requires new working MOs. To that end, JWT, Grey Canada, Draftfcb and sister co. Rivet have all traded their old-style offices for new homes that provide open-concept workspaces.
"It intensifies our collaborative culture, which is important these days," says Tony Pigott, president and CEO, JWT. "Both the marketplace and consumers have become deregulated, so the demand for ideas and the nature of ideas has shifted."
Previously occupying the eighth floor of the Bloor St. location, JWT worked with architecture firm HOK to come up with the concept for the new space on the 10th and 11th floors. The aim was to create an environment that contributed to an open and eclectic culture, with quiet areas where staff members can brainstorm.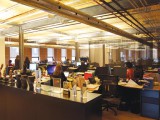 With glass boardroom walls among the design features that stand out, JWT wanted to see more diversity and variety, which allows creativity to flow more freely. "A space like this allows for more chaos and collision, and those are key ingredients to really nailing ideas that work in today's marketplace," says Pigott.
Meanwhile, after two decades at its bland Davisville office tower location, Grey Canada is celebrating its first year at its Spadina Avenue exposed-brick-and-beam home. "Grey went from 90% offices on multiple floors to 90% wide open space on two floors. It's helped foster a faster environment" says Stephanie Nerlich, president and CEO, Grey Canada.
The interior space reflects the trend of combining industrial and residential elements in open-concept workspaces. "There are no cubicles; each desk is connected to another. There are also a number of breakout spaces for teams to huddle," says Nerlich. "This space had all the bones Grey was looking for – open collaborative spaces, a kitchen centre hub that functions as the heart of the agency and a roof-top deck to clear one's mind or to raise a drink or two."
Finally, multi-disciplinary marketing firms Draftfcb and Rivet moved into their new premises in Toronto's Liberty Village neighbourhood in April. Transformed from an old General Electric light bulb factory, the space is designed around both agencies' integrated operating models with an open-plan concept that encourages interaction between teams.
"We are an integrated agency with all the disciplines under one roof. We have a model that has no silos or profit centres, so it became a challenge to work this way in our previous space consisting of hallways and closed-off offices," says John Boniface, chief operating officer, Draftfcb. "We now have our entire creative and production services group and planning on one floor with the intention of increasing conductivity and collaboration.
The design concept mixes old and new contemporary styles with hardwood floors, loft spaces and brick interiors, combined with modern titanium and glass finishes, and is fully wired for content creation. "A lot was invested into this space in terms of technology, so we have brand new state-of-the-art digital labs, editing suites and a broadcast studio," says Draftfcb's CEO Paul Mead.
A coffee bar, think tank rooms and open-concept boardrooms are some of the creative collaboration-inducing features the 200 Draftfcb and Rivet employees have enjoyed so far. And in a nod to the space's GE origins and the agency output – ideas – the reception greets visitors with a giant light bulb fixed to the wall with an illuminated company logo and the quote, "Welcome to the light bulb factory."