How to win international business
Sid Lee, Bleublancrouge, Juniper Park and Capital C give their do's and don'ts for winning clients outside of Canada's borders.
Canadians, who are known for their overly apologetic and polite culture, are beating out major U.S. and European competitors for international business. How do they do it? Some of the country's top ad agency heads offer expert advice on the dos and don'ts of winning international work.
It's clear that Canadian ad agencies have a formula for success. After all, their work has been showing up all over the map – a video mandate for a Middle Eastern airline, a campaign for a major France newspaper, and branding projects for U.S.-based food and beverage businesses are just some of the examples of the global work coming from Canada.
THE KEY TO QATAR? BE THERE 24/7
Qatar Airways turned to Montreal's Sid Lee to help launch two new planes
The pitch
Sid Lee, a 550-person agency headquartered in Montreal with offices in Amsterdam, Paris, Toronto and Austin, has global accounts like fellow Montrealers Cirque du Soliel and Germany-based Adidas. But it was previous work for MGM Grand Hotel and Casino and Tourism Montreal that got Sid Lee noticed by Qatar Airways.
The agency was asked to pitch for a specific mandate involving two of its new planes. The video-oriented project would include a microsite, so sister content creation agency Jimmy Lee got involved. "Qatar Airways wanted to tell the story of different classes within the new planes," says François Lacoursière, EVP and senior partner, Sid Lee. "This wasn't necessarily an advertising campaign, but we approached it like it was."
The Lessons
DO study the competition
Lacoursière and Jimmy Lee's executive producer and partner, Richard Jean-Baptiste, made sure they were just as well-versed on other competing airlines as they  were Qatar Airways.
They looked at how airlines put new planes to market and discovered that many miss the opportunity to tell a story about how the new jets are tailored according to the in-flight vision of the airline. "Qatar Airways has a strong point of view about every single detail from seating, lighting, gastronomy and entertainment. All of these features have compelling stories to tell," says Lacoursière.
DO learn the art of patience
The airline had approached nine different agencies globally for this project and the competitive process became long and drawn out. "In Qatar, their weekends take place on Fridays and Saturdays and with the time difference, we found ourselves often having phone meetings with the client at 3 a.m.," says Jean-Baptiste. "You have to be prepared to change your schedule and work through the night or weekends to accommodate your client."
DON'T take on the work if you aren't willing to travel
Qatar Airways had narrowed down the picks from nine agencies to four – one from the U.S., one from Italy, another from Singapore and the final, Sid Lee. With the competition being so close, Lacoursière and Jean-Baptiste headed to Doha, Qatar, as they had the option of  pitching in person. "We knew that landing the account would mean several trips to the Middle East in the foreseeable future," says Lacoursière. "A personal trust needs to be established and that's hard to do over email or the phone."
The win
Since winning the project, Lacoursière and Jean-Baptiste have travelled to Qatar six times as the videos and microsite come together. They will launch over the summer prior to the airline's introduction of the new Boeing 777 and Boeing 787 this year.
"The late hours and long flights are what truly made this project become a success," says Jean-Baptiste. "The only thing I could really complain about would be getting used to wearing a suit in 45-degree weather."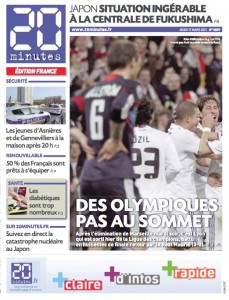 PITCHING PARIS FROM MONTREAL: BRIDGING BARRIERS BEYOND LANGUAGE
Quebec's Bleublancrouge wins France's largest daily, 20 Minutes, with the help of local partners
The pitch
When Montreal-based Bleublancrouge was approached to pitch to be the AOR for France's largest daily newspaper 20 Minutes, agency president Bernard Asselin thought the chances of winning an account for a foreign publication (that reaches 4.3 million daily readers and almost 900,000 online visitors) were slim. "It would be like the Globe and Mail hiring an agency out of London, England," he says. "But we thought it would be better to take the chance and go for it, rather than never knowing how it would have turned out."
The 28-year-old agency, which has accounts like Lucasfilm, Toyota and Bristol-Myers Squibb under its belt, turned to Asselin's previous newspaper marketing experience with the Montreal Gazette and a few Bleublancrouge employees from France, for insight into the French newspaper culture. 20 Minutes liked what they saw and soon Asselin was on a plane bound for Paris with the pitch in hand.
The Lessons
DO find a local partner
Although the actual pitch was done in person, Asselin felt he needed to team up with a local client service partner in France. Not only would it help with preparing for the pitch, a local associate would compensate for them not being there physically most of the time. So they picked Paris-based Anacrouse, an agency that knew the culture and market. "A local partner is essential when you're working with an overseas client. They have existing contacts and suppliers in place and it helps in dealing with time zone issues. They can work in the morning while we are still sleeping," says Asselin.
DON'T pitch without learning cultural differences
While France may share the French language with Canada and be considered a western country, Asselin quickly learned that there were differences in the way business is conducted.
"In Canada, we tend to plan in advance, everything has a status and it goes into a cell on a spreadsheet. In France, it's often the opposite and business is done in a more laid-back way. We were able to figure that out quickly through our French employees and partner in Paris," he says.
The win
Three weeks after the pitch, Asselin received a call informing him that Bleublancrouge had won the account. The agency began working on an integrated campaign, which launched in March, celebrating the 10th anniversary of the paper, using print, radio and a contest.
"It shows that there's no reason why we can't be successful elsewhere in the world," says Asselin. "Sometimes we are too polite, because that is our nature. We're sorry for everything, but we do great stuff. The possibilities for Canadian agencies are there, we just need to grab them."
THINK GLOBAL: HIRE FOR DIVERSITY AND MAKE THE BORDER INVISIBLE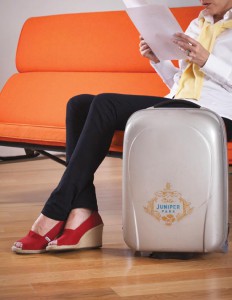 Toronto's Juniper Park landed a slew of big U.S. clients since its 2007 launch
The pitch
BBDO Worldwide introduced a new kind of agency model and chose Toronto for its home base, putting four former colleagues from agency Grip at the wheel. Five years later, Juniper Park has grown to a staff of 74 and has worked on several U.S.-based accounts including PepsiCo brands Frito-Lay, SunChips, Quaker and Tropicana, beauty brand EOS and a campaign for the Chicago Tribune, to name a few.
The Lessons
DO build your agency with an international mindset
"It doesn't matter if you have international clients or not, you have to build your shop for an international world," says Jill Nykoliation, president, Juniper Park, who adds that agency staff members should have a global mindset and experience to compete with international agencies. "No matter how local a brand is, through a consumer lens it's competing on an international stage," she says. "You need to build the most amazing team possible of people who have lived and worked internationally, across all disciplines. Be continuous students of worldly brand case studies and keep in mind that maintaining relationships across distances requires an agency of senior, experienced people."
DON'T be limited by borders
With Toronto's close proximity to the U.S. border, brands based out of Chicago and New York began noticing Juniper Park's work and invited them to pitch. "Both of these cities are closer to Toronto than Vancouver," says Nykoliation. "So you have to approach pitching work in a way that borders become invisible. Brand building is about the human truth and that is applicable in every single country."
DO invest in video conference software
Juniper Park invested in Cisco TelePresence, a life-size HD video conference system to minimize the distance and enable the intimacy of face-to-face conversations. "It's like the client is in the same room and you forget that you're hundreds of kilometres apart," says Nykoliation. "In one instance, we were speaking to someone over TelePresence and could clearly see a drawing they were sketching out. It really helps you work with your clients in real time."
The wins
Juniper Park is currently the agency of record for New York-based EOS, as well as Tropicana globally, with its work for the orange juice brand running in the U.S., Canada, U.K. and Europe.
In 2009, the agency gave the Chicago Tribune a new brand identity with a print and radio campaign that won them a Bronze Cannes Lion in the radio and best scriptwriting categories.
Juniper Park also worked with Lay's and SunChips brands for four years. Their campaign for the latter included the first "solar-powered" newspaper ad where the main message about the SunChips factory in California was revealed by holding it up to the light.
"We approach our international clients the same as we do our local ones. For us, they're one and the same and we don't distinguish it at all. It has to be core to the way you work. Period," says Nykoliation. "But if there is one major 'don't' I've learned over the past five years in working with our U.S. clients, it's don't undervalue what your Canadian experience brings to the table."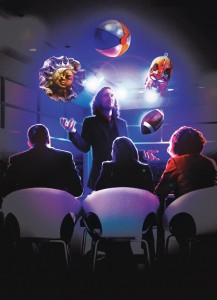 GO BIG OR GO HOME
Toronto's Capital C landed a massive U.S. PepsiCo campaign by pitching outrageous, yet simple ideas
The pitch
Capital C, founded in 1992 with a staff of 100, has big accounts like Nissan and Unilever, and has worked with Pepsi Canada for the past two decades. So when PepsiCo U.S. was looking for a brand identity for a global corporate strategy called 'The Power of One,' which involves pairing cross portfolio products like Pepsi and Lays, Captial C was invited to pitch. The agency presented an idea through the lens of what they called "Google Anthropology"– a modern method of scraping the visual archives of human experience for creative insight.
"We discussed diving into the rabbit holes of Google Image search results, based on pitch criteria, and uncovering artifacts that resulted in ideas," says Bennett Klein, creative planner, Capital C. "A collection of keywords were identified based on the client brief, then typed into Google Images. The resulting pictures produced a surprising collage of all the amazing and bizarre things that humanity attributes to them."
The Lessons
DO play on your strengths
With only three weeks until the agency would pitch at PepsiCo headquarters in Dallas, Texas, Klein knew they needed to play on the fact that Capital C had a reputation for presenting unusual and outrageous ideas. "It would be much easier for the company to hire an agency down the street rather than one in Canada, so we had to present ideas that were highly differentiated," says Klein.
DON'T complicate your communication
One of the trickiest aspects of the pitch was that PepsiCo has two different offices in two different states – Frito-Lay in Dallas and Pepsi in Purchase, NY. "Our ideas had to travel through both organizations and multiple levels, so extreme compression and simplicity of an idea was important," says Klein. "At the same time, it had to be breakthrough. So we learned to get to a level where our ideas were super compact, memorable and sharable."
After reading John Maeda's Laws of Simplicity, Klein decided to compress every solution to elevator ideas that could be easily remembered and quickly re-communicated. "We used a lot of acronyms, metonyms and narratives, which stood for the five key attributes of our photographic identity style," says Klein. Colourful streamers flowing out of Pepsi products are used in the ads. "It's a metonym for the entire visual design system and built a story around how they came to life in a very humanistic way," says Klein.
The win
The agency won the global branding project for the PepsiCo initiative – a top three global strategy to co-market cross-portfolio affinity brands.
Capital C has completed two advertising projects, and is currently deep into its third assignment. "Our first project was an out-of-home takeover of Indianapolis for the Super Bowl, and our brand streamers magically came to life with footballs," says Klein. "The second project is a multi-city campaign with a New York City subway station domination core meida strategy. In this case, our colourful streamers are exploding from the products to celebrate magic summer moments."