Augmenting the shopping experience reality
IBM, Walmart and Lowes Canada all look to bring AR technology into stores.
Augmented reality is hitting the aisles with more frequency as retailers test out the technology and as computer giant IBM enters the pilot phase of its new AR app, specifically designed for in store experiences.
The IBM app relies on product recognition technology – rather than barcodes, QR codes or the black boxes typically associated with AR – to overlay relevant information. The app, which acts like facial recognition technology for packaged goods, will begin testing with a retail partner shortly, says Jill Puleri, VP global leader retail consulting, IBM. While the retailer in question is being kept under wraps, she says they will be pairing the store's inventory database with the app, allowing users to access a whole host of information about products. In theory, when a customer scans, say a box of cereal, the app should pull in pricing, ingredients, nutritional information and other details, as well as information from the web, such as reviews and social media chatter, says Puleri.
Further, the app is customizable, so consumers can create personalized profiles highlighting dietary restrictions, living habits, or food needs, allowing them to scan entire shelves with the app highlighting the foods that match their particular wants or needs, she says.
"A lot of this information exists, it's just not presented at the moment of truth while you're shopping," Puleri says. "[There is] a gap between what's available on the web today for product information and what's going on in the store. Bringing the two together on a smartphone is the solution."
She says there is a lot of opportunity for retailers and marketers, because the app – connected to people's profiles – offers a new connection point to communicate with consumers in stores.
"That would allow for a more communicative environment between the consumer and the retailer while they're shopping," she says. "Whether you're letting them know about specials, or sending promotions just for them, it's not as intrusive if the consumer opted in."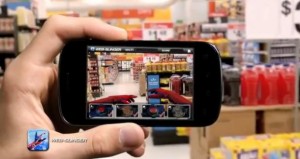 While this type of AR product information offering is still in an early development stage, use of the tech has also grown steadily for promotional purposes in recent months. Most recently, Walmart, Sony and Marvel Entertainment paired up for a cross-promotional campaign, using AR in store. Cross promoting the new movie The Amazing Spider Man and Walmart products, the Web Slinger app, developed by Nova Scotia-based Ad-Dispatch, brings the arachnid hero to life as kids scan signage throughout different aisles. Kids also virtually shoot the movie's villain, gaining points for higher levels.
AR can also introduce the retail environment into homes, allowing for virtual tours of products without ever having to walk into a retailer. In May, Lowes Canada launched an AR app for iPhones that would bring to life 3D renderings of Maytag appliances from its flyers. Users could physically tour the fridge or washer and dryer, open the doors, and turn it on and off, all without leaving the comfort of their dining room table.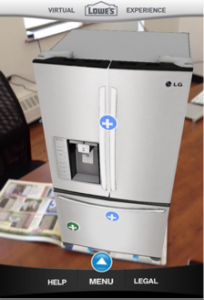 Lowes is looking for ways to bring this technology down the aisles eventually, says Sonny Kekelj, director of online marketing, Lowes, but in the short term, he adds they will likely only use it for promotional purposes such as the flyer. But the stunt itself was a success, he says, garnering a top 10 spot on the Canadian App Store download chart for the week the flyer was available.

"We got a lot of positive press through blogs and the industry itself, [saying] 'This is really cool, this is the future of shopping and retailing,'" he says.