TIFF: Bell hits the streets
The media co takes its TIFF sponsorship up a notch with live cinema-inspired street art, interactive film modules and wider broadcast coverage on all of its platforms.
In an effort to bring the Toronto International Film Festival to life for consumers, Bell is activating this year's TIFF sponsorship with live street-art installations, an interactive Canadian film module and extended broadcast coverage of the fest.
Film festival-goers can watch five street artists depicting a moment of time in Canadian cinema on canvas at Roy Thomson Hall, from the launch on Sept. 6 until Sept. 10. Consumers who aren't able to come by in person can download the brand's time-lapse "O'Cinema" app to watch the installation come to life, says John McLarty, director of sponsorship and marketing, Bell.
Also new this year, the company is giving TIFF visitors the chance to interact with the history of Canadian cinema through its Canadian Film module in David Pecaut Square. TIFF attendees can use gesture-based, touch screen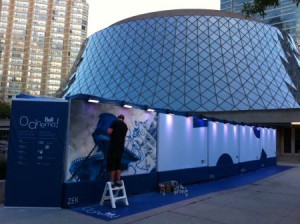 technology to view classic Canadian film clips, explore related artwork, read facts and trivia about the films or watch trailers of any of 22 Canadian films playing at this year's festival.

"TIFF's an interesting property for us because on the one hand it's very regional," he says. "To experience it you have to be here. But on the other hand, the TIFF brand and what we do with it reaches from a national perspective so I think it will boost the reach bar and it goes a long way in differentiating the brand."

In line with the regional and experiential focus of the film extravaganza, the media co is promoting its sponsorship on-site with a street team directing consumers to the art installations and the film module, but is not investing heavily in a national mass media buy, he says.

McLarty explains that the brand aims to bring TIFF to its customers on all platforms, and will bring extensive coverage of the festival on Bell Media's online, radio and TV properties including E!, Space, CTV, CTV News Channel, CP24, CHUM FM, Flow 93-5, MTV, and sympatico.ca.

Live red-carpet coverage is more extensive this year, and the brand continues to add screens with TIFF content now available on TV, internet, smartphone and tablet, he adds.

"For [Bell Media] brands it's their Olympics. This is TIFF and it's all hands on deck from a CTV Bell Media entertainment perspective. If we can expand that coverage to our customers and our subscribers, it accomplishes what we've set out to do."