Walmart techs up to play with superhero fans
The retailer is turning to AR apps to help promote new Teenage Mutant Ninja Turtles and Avengers merch.
Walmart Canada is kicking off two in-store augmented reality campaigns on Sept. 21 with Viacom's Nickelodeon and Disney/Marvel. The campaigns, by Halifax-based Ad Dispatch, are both treasure-hunt style games that send users across the store to promote new Teenage Mutant Ninja Turtles and Avengers merchandise. Each campaign will run for a week and will be promoted through Walmart's media channels, including its flyers and Facebook page, and follows the successful run of its Spider-Man AR campaign, also by Ad Dispatch, back in July. The games are played through apps, which go live today and will be available as free downloads in the Apple store, and will also bring images to life that'll be teased through Facebook prior to the in-store launch.
"We like the way it's interacting with consumers and making the shopping experience really fun and interactive for moms and kids," says Jeff Tate, category marketing manager, Walmart Canada.
To help promote the new Teenage Mutant Ninja Turtles series and associated merchandise, Walmart approached Nickelodeon to work on the game "Train Your Turtle." Signage, by Toronto-based Salt and Pepper, located around the store will unlock new skills for the characters, creating a cross-store treasure hunt. Once all the skills are unlocked, kids can play a reaction-based iPhone game with their newly trained turtles, similar to Guitar Hero. Other posters will create life-sized 3D turtles for kids to have their photos taken with when scanned with the app.
Since kids may be borrowing an iPhone for the in-store hunt and to subsequently play the game, the campaign targets kids with their moms, as well as legacy fans of the seriess says Tanya Visano, senior director of consumer products, Canada, Viacom. Further, she says this is a new channel opportunity to get signage into store aisles that wouldn't necessarily have Ninja Turtle products.
"We wouldn't have products in the electronics aisle, for example, but it makes sense to activate a component there because it's fitting with technology," she says. "We want kids to interact with really cool toys, apparel, games, publishing – so many different products – that we want to walk with them through the store so that they're experiencing the product at shelf."
Walmart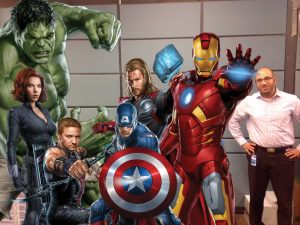 Canada and U.S. are also running an Avengers trivia game throughout the store to help promote the DVD release. In-store signage unlocks new questions, and after nine answers, the app predicts which of the Avengers characters the consumer is by digitally imposing his or her face onto the character's body – which can later be shared over social media. Finally, there will also be an exclusive-to-Walmart DVD cover that plays a 3D battle sequence when scanned.

This all follows Walmart's AR partnership with Sony Pictures Home Entertainment and Marvel to help promote The Amazing Spider-Man, which amassed 40,000 app downloads in a week.

"We had just one Facebook post [for Spider-Man]," Tate says. "Now we've made it more of a 360 approach, so you can find it on [our website], on our Facebook, in our flyers. There's lot of triggers before you even make it into the store, so we expect even bigger success with both."