LCBO sets its sights online for Wine Country Ontario
Research has shown that consumers are talking about wine on the web, and so the liquor board decided to change things up with a primarily digital campaign to promote the tourism co.
For the past decade or so, the LCBO has promoted Wine Country Ontario with campaigns that typically span radio and free-standing inserts in newspapers. But internal research at the brand has shown that conversations around wine is increasingly occurring online, says Kerri Dawson, director of integrated marketing, marketing & customer insights, LCBO.
That's why the liquor board has launched it's latest salvo of ads for the tourism co on digital properties with the new theme of "People are talking (about Ontario wine)" to continue and be a part of that conversation, she says. Creative for the campaign was handled by Cundari, with media by Zenith Optimedia.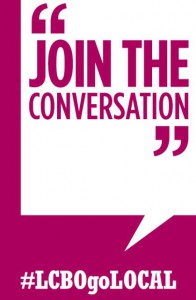 To target the 25 to 54 age demo, ads are being placed on news websites including Yahoo!, Sympatico.ca, Toronto Life, Globe and Mail and National Post, as well as on magazine sites such as Now and Glam, and foodie sites like Urban Spoon.

Also new this year, a microsite Lcbogolocal.com was created as a destination for consumers to tell the brand what they think of Ontario wines by uploading photos (from Instagram). The site also includes webisodes from winemakers and a Twitter feed with comments using the hashtag #goLOCAL. The brand has also set up booths outside LCBO stores across the province to sample the wines and further fuel that conversation, she adds.

"We didn't use the traditional imagery we would normally associate with Ontario wines," says Dawson of the online and in-store creative. "Our beautiful vineyards, greenery and the lake – we didn't do that this year at all. We used real quotes representing people talking about Ontario wine, and that is true of what's happening in the digital space."