Building brand stories
Strategy executive editor Mary Maddever on what gets us to love a brand.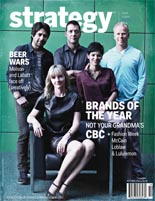 With so much focus on new ways to involve consumers via tech and media innovation, it seems that the less sexy longer-term bigger picture stuff can get overshadowed. But when it comes down to what makes us notice a brand, get to like a brand, and maybe even love a brand, long-running campaigns are what help us understand and process what's special about them.

I was reminded of that when TD moved to Leo Burnett, sparking much speculation about whether the green-chaired bank's curmudgeonly sidekicks would retire. "Tell them to keep the old guys" has been a common refrain.

Given how hard it is to capture that kind of spokesperson magic, where the quirkiness of a creative device breaks into consumer consciousness to help cement a brand story, decoupling can be tough.

I recall when Dave Nichol's Hawaiian-shirted pitching was everywhere from flyers to TV, and when Loblaw's original Insider left the brand, it took a long time for that voice and void to be filled. Loblaw, one of our Brands of the Year, has now successfully rechanneled that storytelling in relevant new ways, like the Recipe to Riches reality show, creating more inviting store environments (and cheese walls) filled with more premium and healthful lines, and stories about local farmers and natural food production upstaging Memories of Marrakech lines.

McCain Foods made the Brand of the Year list for its gutsy commitment to healthier products, re-formulating its lines to drop chemicals and stick with real foods. The brave and risky mission has given them a compelling new story to tell, and is paying off in renewed interest from consumers who had been walking away from the frozen potato and pizza aisle.

Lululemon is replacing RIM as Canada's wünderbrand. They chose a niche, took a grassroots approach to spreading the word, and assiduously stuck to that plan. And it's paid off. Lululemon is now synonymous with yoga pants, and its fitness authenticity gives the brand permission to expand its reach and apparel range. But despite growth, Lulu is holding to its local-centric brand building, done via store, staff and WOM storytelling, now benefitting from social media broadcast.

And then there's our cover Brand of the Year, CBC. Despite seeming handicaps (no Hollywood blockbusters or U.S. hits), the net has built impressive audiences for homegrown fare, turned its talent into celebrities (despite Canada's relative lack of a star system), and has grown its digital footprint to deliver on its "Everyone, Every way" mandate. Even in areas that are tricky for a pubcaster, such as brand integration and reality, CBC has been adventuresome. It's a story of reinvention and grace under pressure.

The custodians of the Brands of the Year first made their brands good, better and best, and then told those stories. It was a journey, and for each there's a backstory of determination, and an appetite for tackling challenge, resulting in unique Canadian brands that are leaders in their categories.

When you focus first on the consumer experience, from product development to content, the brand story (almost) tells itself, without gimmicks or pitchmen.