Old school innovation
Not all attention-grabbing, clutter-busting 'firsts' involve tech.
It seems like everything old is new again when it comes to reaching consumers. Traditional media still outpaces digital, and as tech fragmentation continues to further slice and dice online audiences, many brands are turning the innovation focus to print, OOH and other old-school connection options.
"Low-tech ideas can be very accessible. Some of the high-tech ideas can only be accessed by a select group of consumers," says Bruce Neve, CEO, SMV Group. "More low-tech ideas are simple, uncomplicated and leave a smile on people's faces."
Taking a different approach to execution within more traditional channels still affords brands the opportunity to surprise consumers in today's digital-filled world, says Fred Forster, CEO, PHD.
"I think it is harder now to surprise consumers and get their attention," he says. "That's why a lot of these things tend to be successful if they are really cool. They work best when you can create a space which wouldn't normally have been viewed as an advertising space, rather than trying to create something within a typical platform."
Karen Nayler, CEO, Mindshare Canada, says the issue is more a question of focus.
"Instead of putting all the focus on high tech and the latest thing, we have to put a focus on what is emerging in cultural practice and what consumer behaviours actually are," she says.
Here's a few recent new spins on old media that grabbed attention:
Extreme personalization
Lowe Roche's work with Woodbridge, ON.-based Pfaff Auto this summer put a spin on direct response mailers. The agency went door-to-door printing personalized cards on the spot after taking a photo of a Porsche Carrera 911 S in select homeowners' driveways in Toronto.
Monica Ruffo, CEO, Lowe Roche says the team went with the seemingly low-tech execution over other options based on the insights that potential Porsche customers don't have much time and are hard to reach. And a picture of a Porsche in their driveway would be really hard to ignore.
The campaign had 32% of the targeted audience visit the website mentioned on the postcard, up dramatically from the 5% expected from typical direct mail pieces.
"The Pfaff Auto piece was brilliant because it inspired action," says Nayler. "It highlights the fact that direct response still has a role to play."
Full-frontal exposure
Nayler uses a recent example from her agency, which put its client Vaseline on the May 2012 cover of Best Health magazine, as innovation within a traditional media platform. The cover model held a copy of the magazine that had an ad for the product on its back cover.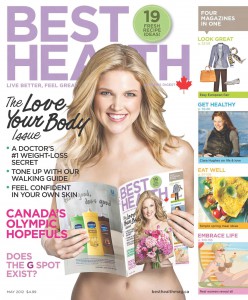 "That was an example that literally got us on the front cover, and it bounced us up to number one in the category in eight weeks," she says. "That is an innovation in a traditional medium that rings really true. We knew we had to break through and do something different. We wanted the target to think about it as something that was perfect for their skin."
Nayler says high-tech options often get the most ink because people are more familiar with the old media, not that the older options are less effective.
"When people crack into new areas, it gets the attention," she says. "It's what we want to celebrate, it feels new, but most of the time when the new high-tech options are being used it is in combination with low-tech."
Wine lover phone home
Niagara on the L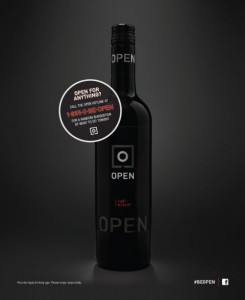 ake-based Open Wine has tapped into traditional tech with an interactive twist for its new campaign, which launched at the end of September. The wine released a series of print ads, with creative and media from Bensimon Byrne, which included a phone number to a hotline that gives callers one of 20 random activities that they can partake in that night, says Joseph Bonnici, creative director at the agency.
Bonnici says the seemingly low-tech platform was chosen to get the reach of mass media with the interactivity of social media, to break through to the brand's core target of millennials.
"I think this is the best way to reach this target because it's unexpected," he says. "Our target age group has been marketed to in every way, and they have a lot of spending power, and a lot of social influence in terms of culture and what's happening," he says. "We wanted to use these print ads to show a different face for a wine brand."
Feelin' peachy
For the launch of Coors Light Iced T this spring, Molson Coors wanted to reach its target demo of those in their late 20s and early 30s in a unique way before the long weekends of summer, which typically see alcohol consumptio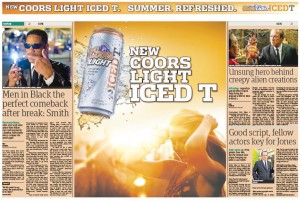 n jump.
MEC Canada, with creative from Draftfcb, decided to "peach wash" issues of free daily newspaper Metro with a copper colourwash throughout. Ads on the front and back of the issues and a four-page spread in the middle led up to holidays like the May long weekend in Toronto, Montreal and Calgary, says

Claus Burmeister, communications strategy director, MEC Canada.
"It was a huge product launch so our media executions needed to be innovative," he says. "From a low-tech standpoint it was to provide more impact in key urban markets."

Overall, this piece of the execution, which was part of a larger launch campaign that included elements across platforms from TV to OOH, reached a total of 3.3 million adults, according to numbers from Metro provided to Molson Coors.

"Innovation tends to come about through flexibility. I think you can pick up any edition of a paper and find an odd-shaped ad format, which are now almost standard," says Alastair Taylor, SVP, managing partner, strategy and insight, MEC Canada. "The colour wash is a good example of innovation in print."