Campbell and Longo's scare hunger
The brand and retailer unite to collect non-perishable food this Halloween.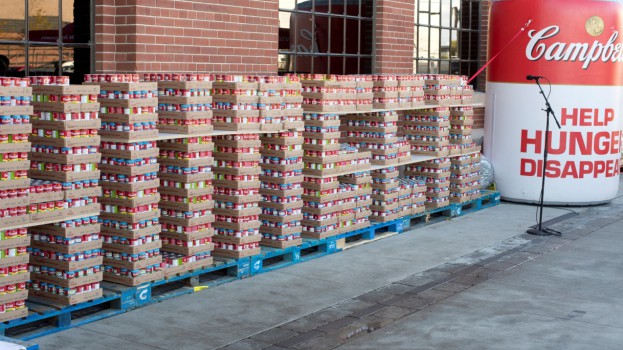 Toronto's newest Longo's location hosted a friendly party to help solve a scary problem this Saturday. Campbell Company of Canada teamed up with the retailer and non-profit organization Free the Children to kickstart an in-store campaign supporting the charity's annual "We Scare Hunger" campaign, with a goal to raise over one million pounds of non-perishable food across Canada over the Halloween season. Campbell will partner with Safeway on a similar campaign inside the retailer's stores across western Canada.

Saturday's event is part of a wider in-store push at Longo's locations across Ontario in which branded food bins, displays and flyers encourage people to donate canned food. The campaign also encourages children to trick-or-treat for non-perishable food items on Halloween (along with their candy of course) that can be donated to charity.

"The event [leverages] Halloween in terms of getting the community and in particular youth involved," says Mark Childs, VP marketing, Campbell Company of Canada. "It's really a grassroots shopper marketing event."

Beyond a social media push by all three parties teaming up for the project, the campaign is based entirely in-store. On Saturday, Longo's staff wore special branded apparel promoting the campaign, and Campbell constructed a giant "hunger wall" built entirely from purchased and donated soup cans that spells out the word hunger. Magician Scott Hammell was also performing for children present.

Campbell has been building its hunger walls for six years now, around the premise that by taking cans from the wall and donating them to charity people can physically make the word hunger disappear. It's not the first time that Campbell has partnered with Longo's on a social campaign to root out hunger in Canada. The two teamed up last year to create and market a special Campbell product called Nourish – a complete affordable meal.