More than chance: 25 years of McDonald's Monopoly
The fast food brand celebrates a quarter century with the classic board game.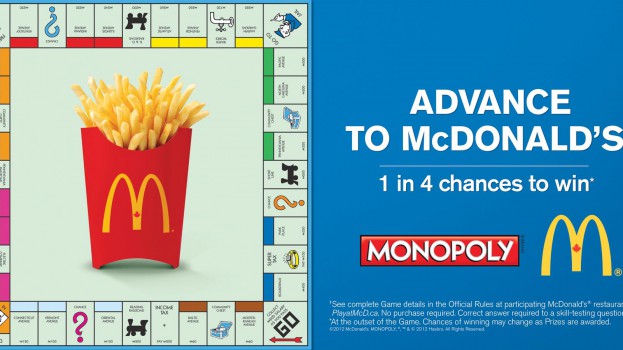 The odds were in consumers' favour once again this fall, as the Monopoly program returned to McDonald's restaurants in Canada and the U.S. throughout October.

To play, consumers collect pieces based on properties in the original Hasbro board game, winning prizes for collecting a particular colour set. The game also features instant win pieces.

The two iconic brands first teamed up in 1987, then offering $40 million in prizes, including a 1988 Lincoln Town Car, vacations, dream homes, and, of course, the elusive $1 million cash prize.

Fast forward 25 years, and the game has continued to grow – this year offering more than $300 million in prizes (in the U.S) – and is embracing new technology to reach a new generation of consumers.

"While we've stayed true to the original game with our traditional game board, we've infused it with new technology to increase our customers' opportunities to play," says Michelle Mcilmoyle, national marketing manager, McDonald's Restaurants of Canada.

"In addition to the traditional game board, customers had a second chance to enter an additional prize pool online," she adds, noting that the game board pieces also had codes which could be redeemed online for a chance to win additional prizes.

This year's marketing campaign was headed by The Marketing Store, and featured OOH and TV creative by Cosette, as well as digital creative by Tribal DDB.

The creative pictured McDonald's food products and the famous Monopoly game board, as well as catchy slogans, such as the Monopoly-themed "Advance to McDonald's," and a Hunger Games-inspired slogan that cheekily states "The odds are in your flavour."

While the Monopoly marketing has typically been targeted at adults aged 18 to 44, this too has changed since the program started, says Mcilmoyle.

"Historically, we assumed that Monopoly was widely popular among the young adult demographic, but we have found that this is truly a game for all ages, including teens and seniors," she explains.
She adds that the way people are playing has changed as well, noting that the game has become a group and family activity, with people trading and sharing game pieces.

While traditional media continues to be effective, Mcilmoyle says digital marketing has become increasingly important over the past few years, as more consumers play online. So the program has seized social media to get consumers involved.

Players who followed McDonald's Canada on Twitter received clues for the locations of peel and win banners hidden on other websites. Meanwhile, a McDonald's Monopoly app on Facebook offered consumers additional opportunities to play.

The McDonald's Monopoly program has also made a habit of teaming up with new prize partners with each campaign.

This year, it joined forces with trendy car brand Fiat, which brought Fiat 500 Sport Hatchbacks to the prize pool. Online prizes included $1,000 Walmart gift cards, and a grand prize of a $5,000 Walmart gift card.