Simons brings fluid retail design to Edmonton
The Quebec-based fashion retailer makes its mark on the West Edmonton Mall with suspended change rooms and social media photo booths.
When 172-year-old Simons, a Quebec fashion retail institution, decided to venture outside of its home province, it didn't set up shop in its bilingual neighbour of Ottawa or the not-too-distant metropolis of Toronto. It instead opted for the largest shopping mall in the country – the West Edmonton Mall.
"We really felt that Edmonton was an underappreciated market," says president Peter Simons. "We felt there was space in this market for a store like ours and our product offering."
Simons worked with design company Figure3 to maximize the store's appeal to its six main target demographics, categorized by Simons' private label brands: Twik, young women in their late teens to mid-twenties, and its male equivalent Djab; Icone, the Carrie Bradshaw-esque "lovers of fashion," and the male version Le 31 urban; Contemporaine, for more traditional, less fashion-concerned women, and the men's Le 31 traditional.
Research conducted over several months by Figure3, which included conversations on online bulletin boards and shopping trips with these targets, gleaned insights that informed many design aspects of the Simons retail space. For instance, young female shoppers enjoy the low price points and abundance of options from stores like Forever 21 and H&M, however a vast sea of choice can be overwhelming so they often stick to shopping the perimeter of the store. To counter this, the Twik area is divided into a series of vignettes – compartmentalized spaces with their own design aesthetic, while still keeping with the overall look and feel of the department.
"We're entering into this omni-channel world and it means that there will be a fluidity to how we design spaces, taking into consideration the greater retail world around us," says Andrew Gallici, director of retail design at Figure3.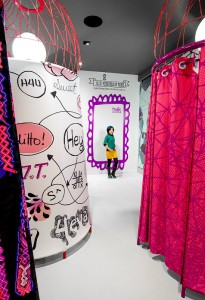 Simons is connecting the in-store experience to the outside world by encouraging social media sharing. "Photostar booths" that resemble giant iPads, which appear in the Twik and Djab departments, link customers to the Simons social media sites and allow them to tag photos to their own pages. They can therefore try on clothing and get feedback immediately from friends who aren't physically there with them.
"We knew that people's experiences started well before they got to the store and ended well after," Gallici adds. "And for you to keep it circular so that they continue to come back, you need to be able to speak to them outside of the context of them coming to the store."
Another way Simons is engaging young shoppers is through gaming stations in the Djab department, which consists of screens with consoles built right into the wall of the denim section. It's one way of keeping the attention of this male demo that isn't always engaged with the shopping experience. To make it easier for them to try things on (and grab their attention), fitting rooms resembling porta-potties were strategically placed in the department.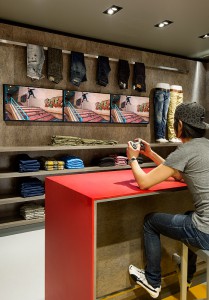 On the Twik side, Figure3 also came up with the concept of "pop-down" fitting rooms, which are suspended like chandeliers from the ceiling and can be brought down by staff with a remote control, allowing for more convenience and fitting-room space during busier shopping periods (like weekends or holidays).
To target the slightly more mature demos with Icone and Contemporaine, as well as their male counterpart Le 31, "valet-inspired" rooms offer places to put everything (from cell phones to sunglasses and purses) and staff on-call to assist them, while evoking a "curated boutique environment" with white glass and light oak finishes.
The store's design touches hark back to Simons' association with the artistic community in Quebec (it supports orchestras, museums and operas), which it is bringing to Edmonton through elements like an upcoming art installation by Canadian artist Philip Beesley, to be unveiled in January.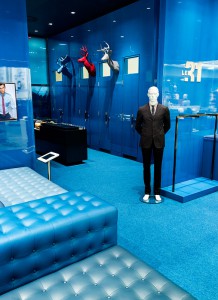 "I find it blends well with what we're trying to do, because we're very focused on creativity, we're trying to create beautiful things," says Peter Simons. "So I think trying to bring that into the daily environment of our customers is enriching. I had my doubts sometimes but Edmonton is reconfirming that people appreciate unique experiences."

The store launched in October with a campaign by Cossette Montreal that featured murals in LRT stations with QR codes that linked to a microsite and chances to win gift cards, as well as print and online creative, with plans to do more direct marketing in the future, says Simons.