Pizza Hut bottles its scent
The Yum! Brands QSR is handing out 100 bottles of pizza perfume to its Facebook fans.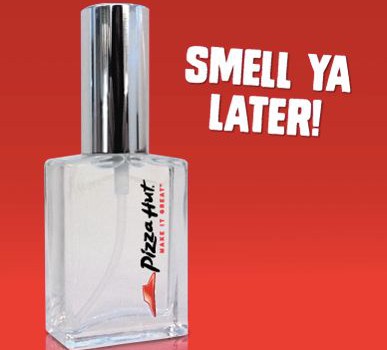 Hot on the heels of adding a hot dog stuffed crust to its menu, Pizza Hut is delivering an eau de deep crust smell to 100 of its Facebook fans this holiday season, launching a limited edition perfume.

Working with Grip Limited, the Yum! Brands-owned company came upon the idea of bottling the QSR's scent following online fans continually commenting on how much they can't resist the smell of Pizza Hut.

Eric Vieira, director business, Grip Limited, says the brand decided to hand out the bottles when the Pizza Hut Canada Facebook page hit 100,000 fans, sending free bottles to the first 100 people to direct message the brand and express interest. The campaign was created and executed quickly using a separate ad budget which allows for these sorts of scale fast opportunities.

"These kinds of things are extremely important in terms of not only media but also brand awareness," he says. "It helps to humanize the brand and make people feel like we are more than that Pizza Hut on the corner. This is a prime example of showcasing why we should be doing things like this with all of our brands."

Vieira says the brand spent the first half of 2012 building and engaging its online fan base, and the second half activating against it by incorporating it into media plans, doing things like adding hashtags to TV spots. Within the past two months Pizza Hut has increased its Facebook likes by 66%, to more than 150,000.