Marketers of the Year: Marie-Josée Lamothe's digital domination
L'Oréal's CMO conquers the beauty market with a content-driven, digital-first approach to marketing.
Life is beautiful at L'Oréal Canada. The Montreal-based company has been Canada's top beauty brand for years in terms of sales and market share, with a portfolio of 31 skin care, makeup and hair care lines. Overall, the company maintains an estimated 33% market share of the beauty industry in Canada, up from 20% in 2008.
But VP, CMO and chief communications officer Marie-Josée Lamothe has a new victory to celebrate. This year the international company captured the number one spot in each of the channels its brands compete in (such as Maybelline, which topped P&G's CoverGirl in mass, Lancôme in luxury and Biotherm in skin).
So what's the secret? This past year L'Oréal's roughly 150-person marketing team and Lamothe, alongside its 15 agency partners, such as Agence Tuxedo and Publicis for creative and ZenithOptimedia for media, shifted focus toward community-building campaigns, mobile and e-commerce. It also changed its approach to sponsorship with content creation-driven activations at TIFF and Toronto Fashion Week, and kicked off a unique promotion with Rogers.
This all boils down to Lamothe's "digitize everything" approach. Her role was created two years ago with digital in mind, she says, carrying a mandate to remove silos between brands, share best practices and bridge the gap between marketing and communications. L'Oréal also brought Martin Aubut on board as director of e-business intelligence to manage everything from e-commerce to interactive marketing and social media.
"There's no question we need to be on social media," says Lamothe, a 20-year-veteran of the marketing industry, 10 of which have been at L'Oréal. "I think the cost of not being there is enormous."
Under her leadership, L'Oréal boosted its Canadian-specific Facebook presence to more than 20 brands, up from three a year ago, building a fan base of more than 1.5 million. Going forward, the focus won't be on increasing those numbers, she says, admitting some of the brands aren't ready to have a Canadian-specific Facebook presence, rather it will be on building engagement with consumers.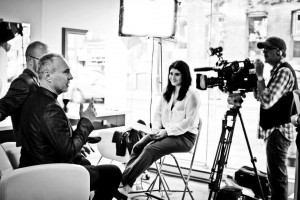 To do this, Lamothe says L'Oréal has taken a content-creation approach to make it worth following, based on the specific DNA of each brand. "For instance, L'Oréal Paris is what we call 'red carpet marketing,'" she says. "So we signed L'Oréal Paris with TIFF, which is, in our opinion, the red carpet event in Canada. And [we were] on-site, meaning we had a mic on the carpet interviewing the stars, exactly like eTalk. All the videos were broadcast on Facebook and YouTube."

The videos were viewed more than 300,000 times over two weeks, boosting its Facebook fan base by 48,000, while sales rose almost 9% following the promotion. The push included special partnerships with Shoppers Drug Mart and Walmart for in-store promotions, traditional OOH and TV, and pop-up lounges in Toronto offering free manicures and other touch-ups. "We used to give access to maybe 60 VIPs to come see [TIFF]. Now you can give access to 550,000," she says.

A similar push was behind its Toronto Fashion Week sponsorship, capitalizing on the "Catwalk to sidewalk" theme for Maybelline by putting makeup artist Grace Lee on-site to do interviews, offer trend reports and reconstruct certain looks. The videos were viewed more than 300,000 times, while Facebook fans grew by 18,000.
And while she can't currently attribute market share growth directly to social media activity, Lamothe says the two must be related.

"When we started [distributing relevant content], we saw a huge turnaround," she says. "L'Oréal Paris is now the number one beauty brand on Facebook in Canada. Maybelline is the number one makeup brand." She further points to how each of L'Oréal's brands have topped their markets as a sign the digital-first approach is working.

"Social media is the best focus group," she says. "You realize every community has something in common and if you talk to them about stuff that's super relevant, you become useful and interesting. Through social media, we better understand what those communities are interested in."

L'Oréal tapped into this community-focused approach for its partnership with Rogers to launch an innovative web series.
Approached by Rogers this past year to sponsor Canada's Got Talent, Lamothe wanted to delve deeper than logo placement, opting instead to have L'Oréal co-produce a web series that aired concurrently. Canada's Best Beauty Talent, hosted by Canadian supermodel Coco Rocha, invited industry folks to create looks and compete to be named the top Canadian stylist or beautician. Five L'Oréal brands, including Lancôme and L'Oréal Paris, were featured, with links back to the websites where viewers could buy the products. The promotion was supported through Rogers' owned Hello, Flare and Chatelaine, as well as through all the various brands' social platforms.

Over 162,000 people watched the web series during its April 8 to July 2 run (exceeding the target of 150,000 views), with more than 57.7 million impressions overall, including increased awareness and purchase intent for the featured products (in the case of L'Oréal Paris, the purchase intent was as high as 79% following the show). Lamothe attributes that success to the fact that the show never "sold" people on the products.

"In no way did we say 'Look at this product. It's great!' We never put the product at the centre of anything," she says. "What was central was the Canadian talent and how to achieve the looks."

Going forward, she sees mobile as a huge opportunity. L'Oréal's six e-commerce websites – for brands such as Kiehl's and Biotherm – will roll out mobile versions in the next six months, and two more brands will launch e-commerce sites.
"We want to be available anywhere the consumer wants us to be, at any given point," she says.

Lamothe also aims to compile a critical mass of data to better target consumers as they migrate between brands, as well as provide targeted sampling efforts through social media channels. She says they've tested out geo-location promotions for Kiehl's, and are developing a social media ROI measurement dashboard to be rolled out globally.

"I have no pretense of being everywhere we want to be yet," says Lamothe. "I'd say we've built the foundation and now we've started nurturing it with content. We have to continue to invest in technology – we're trying hard and fast."

Correction: An earlier version of this article incorrectly named L'Oreal as a sponsor of Montreal Fashion Week. They are the sponsor of Toronto Fashion Week, and the change has been made appropriately. We regret the error.