Global tour: Retailers that made a merry mark
Infield Marketing's Martin Rydlo and Derek Joynt round up some cool Christmas retail cheer.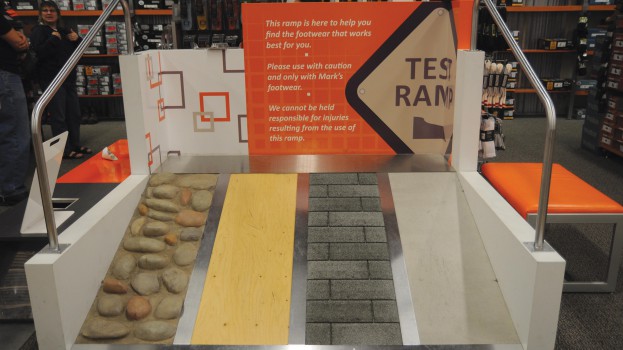 By Martin Rydlo and Derek Joynt

Strategy invited new Infield Marketing partners Martin Rydlo and Derek Joynt to scour the globe for the coolest shopper marketing executions, retail stunts, innovative partnerships and bigger trends in the retail and shopper marketing industry. This month, they came up with three retailers who proved they really understand their customer base through their full 360 holiday experiences.

Mark's grownup playground

Mark's Yonge-Dundas location has upped the shopping experience, first previewed in its western locations, with three fun initiatives just in time for the holidays. First it introduced an interactive touch screen kiosk greeting shoppers as they enter the store, which allows them to view the current flyer, browse through the season's fashion and play games that are educational about the products.

As they continue in store, shoppers find themselves in front of the Winter Simulator, which encourages shoppers to try on a piece of T-Max Insulation clothing and step into the simulator (a large freezer) to test it for themselves. It sure makes change rooms into real experiences.

Finally, in the shoe section a small ramp with faux rocks is set up so people can test how boots will actually feel on the terrain they'll mostly likely be using them on.

It's like a giant playroom for grownups.

Longo's total holiday experience

Longo's new Toronto Laird Store reflects a "fresh holiday tradition" every step of the purchasing pathway.

While its Experience magazine festively primes the shopper pre-store, once consumers get to the Laird shop, they're greeted with seasonal displays and ornaments. Having holiday gear at the forefront is a smart approach, as the latest marketing insights indicates the decision to go shopping for the holidays happens well before they walk into the retailer. The bulk of the store is kept free of clutter in order to keep the actual grocery shop a habitual routine while offering a different experience than the competitors, who've dotted their stores with seasonal merch. The loop is closed with a small holiday display products right next to cashiers, grabbing the "I just remembered I need ____," shopper.

Finally, Longo's successfully built community appreciation into its store with its "Buy a cupcake and make sure every child has a Christmas" campaign with The Salvation Army. Proceeds from cupcake sales go directly to The Salvation Army's Toy Mountain initiative, with Longo's matching the funds dollar-for-dollar. With promo placement in the flyer, online and in store, it gives the shopper a simple (and tasty) way to help those who need it most.

Tesco targets the value shopper.

Shifting to the U.K., a shopper marketing hotspot, Tesco leads with its cross-channel integration, which seemed to take inspiration from the ongoing economic woes.

In store, Tesco created buzz this year with reports of Christmas chocolate boxes on sale on Aug. 29. Pictures on Twitter confirmed that holiday promotions started 110 days before Christmas in an effort to help families manage their cash flow.

While not new, Tesco made the Christmas shopping experience easier by having a dedicated Christmas tab on its website with on-time delivery guaranteed on all orders until 3 p.m. on December 21st. To keep shoppers coming back to the website it featured a different gift every day…and of course pre-promoted the next day's featured gift and special price.

Finally, in the spirit of helping families fighting the economic doldrums, its "Every little helps" commercial emphasized the value add of being a Clubcard member (such as getting a two-for-one dollar value from specific vouchers). The use of rock classic "Hello" by Lionel Richie ensures the campaign appeals to shoppers in different life stages (and adds a nice comedic touch).

Martin Rydlo, former director of marketing at Campbell's handling its shopper marketing portfolio, and Derek Joynt, former director of marketing at Walmart, are partners at Infield Marketing Group in Toronto, where they focus on building better promotional and shopper marketing experiences grounded in relevant shopper insights.