Brand cupid
From diamonds and wine to bacon bouquets, Strategy plays brand matchmaker ahead of Valentine's Day.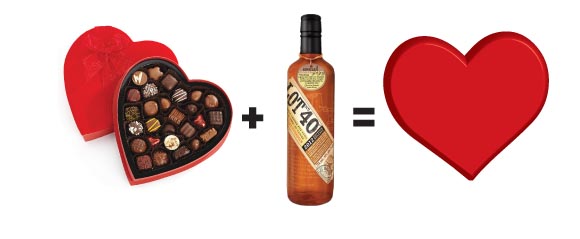 Who knew The Hobbit and Air New Zealand would be a match made in heaven? The pair's flight safety video is a bona fide viral hit, sitting at more than 10 million views at press time. It joins the ranks of other inventive brand couplings, up there with the Harley Davidson and Best Western union or the Lego-shaped Chanel purse. Cool and unique brand partnerships are nothing new, but in this hyper-digital age, a solid pairing can bolster both companies' reach.
Strategy decided to play brand matchmaker just in time for Valentine's Day. Should any of these romantic gift partnerships bear fruit, we'll take a 10% finder's fee.
Match made in heaven
Birks – the well-known Canadian jeweller – is a prime destination for Valentine's Day shoppers. On the heels of its partnership with Inniskillin for a snowflake baubles and ice wine pairing, may we suggest a little lace for the most romantic of holidays? Christine's designer lingerie seems like a perfect fit. The Vancouver-based brand, known for dressing the likes of Catherine Zeta-Jones and Cameron Diaz, provides a bit more prestige than the in-every-mall La Senza and La Vie en Rose. Offerings could include a nighty in Birks' signature blue, alongside a lovely necklace. Valentine's lore tells us, nothing says "I love you," like a negligee and diamond combo.
Unlikeliest of pairings
Of course, we can't forget the lucky man on the Valentine's Day receiving end. Loblaws and Maple Leaf Foods could partner up to create bacon rose bouquets (bacon cooked in the shape of a rose, placed atop fake stems) for that special man. It could be sold in the flower aisles or alongside Guinness-flavoured Black Label cupcakes and a box of Lot No. 40 Whisky (a new Canadian brew) chocolates by Canadian chocolatier Purdy's, for the ultimate romantic gift. This opens up an opportunity to place the goodies at the liquor-store level as well. And let's face it, women love bacon too, so this really taps into so many target demos.
Opposites attract
What could be more romantic than a night on the town with champagne table service? Since some of us are still paying off the holiday gift-stravaganza, why not re-version that as a cheap date? With some of its locations now licensed, Cineplex should team up with iconic Veuve Clicquot for a movie and some bubbly. Imagine a Scene-points double bill (perhaps a classic romance like Roman Holiday and a new action like A Good Day to Die Hard), with flutes passed around to canoodling couples. For an extra fee, attendants can leave the bottle behind in the Magnum-cup holder.