Design Report: The store of the future
What are the conditions that will shape the retail environment? We take a look at the biggest factors, and some retailers that are already addressing them.
Retail prognosticator Keith Anderson and creative strategist Brian Priest have a theory, which they've been sharing with retailers and shopper marketing execs at various industry think-fests. They're telling everyone to start planning now for five drivers of change set to throw a proverbial wrench into the works for retailers designing stores.
They reckon the strongest forces affecting retail business models – from merchandising to marketing – are society, technology, economy, industry and political systems (STEIP). Within this framework, Anderson, VP at RetailNet Group and Priest, SVP creative at Upshot in the U.S., point to the exodus of suburbanites to cities, acculturation of immigrants and high-speed advancements in technology as a few influencers driving change on retail store blueprints.
Retailers also need to design their stores to more specifically target each of the different generational cohorts – Boomers, Gen X and Millennials, Priest says. Expect to see more stores overtly designed to meet the needs of an aging population, just as some Asian retailers have done with shopping carts that double as walkers or magnifying glasses on shelves, adds Anderson.
While such offbeat tactics aren't as prevalent in Canadian retail today, strategy looks at retailers that are introducing more forward-thinking elements of design in their stores such as smaller footprint shops, customization tools and even cultural hubs.
TECHNOLOGY
Sport Chek techs up
It's the end of the brand-driven retail world as we know it.
"Back in the '90s, it was always about the brand driving the design [of a store]," says Priest. "Now, it's the shopper." Technology has equipped them with the tools to shop whenever and wherever they please, and retailers are instinctively responding with retail design that provides the same fundamental experiences they'd find in the online world, he adds.
For Canadian retailer Sport Chek, that means constructing a 12,000-square-foot store wired with digital screens from end to end, as well as installing tools that enable shoppers to design their own products, such as shoes, sunglasses and hockey jerseys. When the FGL Sports-owned retailer launched its first Retail Lab in Toronto earlier this year, Michael Medline, president and CEO of the company, said the store was built to be a "conduit between customers and their favourite brands" and a hub for the retailer to test and learn from the latest in technology.
The store is a digital mecca with its 140 Samsung screens, ranging from small tiles in tables to larger 55″ screens that demonstrate product features. Consumers can scan for coupons using NFC and interact with, for example, Adidas-created content such as its Twitter feed and product features through touch-screen tech.
However, it's the customization tools, such as the "build your own Reebok" shoe kiosk where customers can design the look and feel of their shoe, or the Sidas ski and snowboard boot insert tool that makes a 3D map of a person's foot to create a custom-made boot insert, which Priest says will drive customer "assurance and confidence" in the store's ability to provide them with bespoke products. "They're tools that educate and help define choice by making customized products for you," he says. "It's the sort of technology that makes selection easier."
Clearly Contacts launches a social store
Online retailer ClearlyContacts.ca plans to launch a store in Vancouver with a similar personalized approach to Sport Chek. The company's first physical shop will open this spring with a service that the brand already offers online. Inside, there will be a "virtual station" with a webcam for people to have their picture taken and uploaded. From there, they can (virtually) try any frame in the database and share their images with friends on social media, says Aaron Magness, VP marketing at the company.
"We've found that over 10% of glasses [are purchased] after a person uses the virtual station," he notes, adding that the store will help to educate shoppers of the tool that already exists online and hopefully lead them to make their second and third purchases on the website.
SOCIAL
That's Italy (in a store)
When in Vaughan, ON, there's plenty opportunity to do as the Italians do. That's because in the culture-rich city of roughly 300,000 residents, 15% speak the mother tongue, compared to an average of 2% across Ontario. This makes it a favourable destination for Italian fashion and clothing distributor Lino Grasso to set up his first Canadian shop.
That's Italy will open its doors on March 28 in a 15,000-square-foot retail space featuring 16 mid- to high-end Italian designer brands. In the centre of the store, surrounded by each brand's shop-in-shop, will be a café and cocktail lounge area. The store is meant to mimic Milan's famous "quadrilatero della moda" (Italian fashion district) with its streets lined with stores and cafés.
"We're trying to capture the culture through fashion and lifestyle, and this includes the clothing as well as food, drink and music," says Phil Falcone,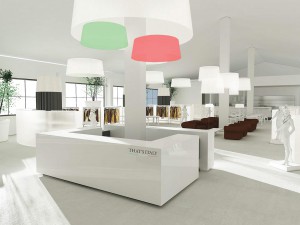 director, strategy and creative, Zebra Design Studios. Falcone's agency was tasked with bringing the store (which was designed by Italy-based Brugnotto Shop Interiors) to life through its branding, marketing and promotional efforts.
The "society" driver of change in Anderson's framework identifies diversity as being a high-impact force on how retailers design stores today, from adding bilingual signage to celebrating cultural holidays. He believes big chains looking to target ethnic groups can learn from smaller, independent stores that "hire from the community, stock the brands that their shoppers grew up with, and celebrate the same cultural calendar and family milestones" – most of which That's Italy plans to do.
Each brand in the store is new to Canada, but well recognized by Italians, and the staff is of Italian descent or has some connection with the community, Falcone says.
A Toronto DJ with ties in the Italian community is working with the retailer to program music to play in the store, and the retailer is working closely with the clothing brands to keep prices at a comparable level. "We don't want to give the Italian experience at Canadian prices."
The store certainly isn't exclusive to Italians, says Falcone, hoping to win over those not from the community with a relaxed atmosphere created by a staff of personal shoppers who help customers put together outfits while they wait. "This is the Italian way of living, taking things slower and enjoying life, and it really transcends the shopping experience."
ECONOMIC
Big boxes take on the city
Rona's next generation of "satellite" stores puts your local hardware shop to shame. Coming in at an average of 6,000 square feet (comparable to the old Blockbuster stores) with a modest selection of about 7,500 products, online kiosks to access another 30,000 SKUs, as well as specialized services such as installation, project design and financing – these small stores certainly have big bite.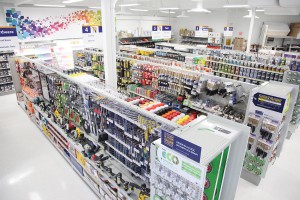 By the end of the year, Rona will have 10 of the smaller footprint stores in market, with four already up-and-running in Ontario, Quebec, Alberta and B.C. "We have plans to open [satellite] stores in key downtown areas around the country," says Karim Salabi, EVP marketing at the retailer.
And with nearly seven out of 10 Canadians living in one of the country's 33 metropolitan areas, and with Toronto, Montreal and Vancouver accounting for 35% of the population (according to the 2011 Canadian Census) – Rona's timing couldn't be better.
"The population migrations are not favourable for larger retailers," says Anderson of the biggest issue reflected in the "economic" driver of change. Higher real-estate costs in cities, compared to the 'burbs, can be a disincentive for some retailers looking to downsize, he says. So to get the biggest bang for their buck, retailers are challenged to design stores that most efficiently use the limited retail space.
Sobeys Urban Fresh stores, placed in smaller downtown city locations, best utilized the space by introducing vertical merchandising and scaled-down carts.
Best Buy is also downsizing, having recently shuttered 15 big-box stores with plans to open small-concept "web stores" and kiosks dedicated to its mobile products and services.
Rona's urban satellite store was designed (with Sid Lee Architecture) to speak to the mission-oriented shopper, imitating a convenience store layout with its cash counter and service desk sitting at the entranceway and aisles running perpendicular. It also only stocks top-selling items, and caters to homeowners who need paint, hardware and electrical tools to do quick house repairs.
But what about bulkier items such as windows and doors not able to fit in the smaller floor space? To keep these big-ticket items moving, Rona has special order desks for shoppers to browse thousands of items online and have them delivered to their home within 24 to 48 hours. "The real game-changer is that the physical inventory no longer determines the store offering," says Salabi.
The retailer's shift away from the big-box store format (of which it currently has 80), also includes an upward adoption of small suburban "proximity" stores, says Salabi. In these 35,000-square-foot locations, shoppers can wander about a wider space, and speak with more qualified staff on the floor and behind a service desk that sits at the heart of the store. Salabi notes the hitch of larger big-box stores with about 100,000 square feet of retail space is that it can be "challenging for the consumer to really feel like there's service available, no matter how many people you put on the floor."
With files from Grant Surridge