John St. joins WPP
The agency will continue to operate under the same name, with no planned changes to location or structure.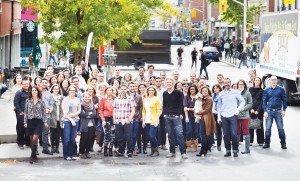 Toronto-based agency John St. has joined the WPP network of companies. Launched in 2001, the agency will continue to operate from the same location under the same name, according to a release on the news.

Clients, which include Maple Leaf, Heinz and WWF, will continue to be served by the agency's founding partners and management team. John St. employs approximately 100 people and was recently named strategy's silver Agency and Digital Agency of the Year.

The agency had unaudited revenues of about $14 million at the end of 2012 with gross assets of $5.5 million, according to a statement from WPP.

"We see enormous value in being part of WPP," said Arthur Fleischmann president of John St. in a release. "We'll now be able to augment our current services in areas that clients are asking for, such as media, direct and public relations."

John St. was founded in 2001 by its operating principals, president Arthur Fleischmann, co-ECDs Angus Tucker and Stephen Jurisic, director of strategic planning Emily Bain and managing director Jane Tucker.

WPP has bought agencies north of the border before, with its Young & Rubicam Group acquiring Taxi in 2010.