Reinventing the drug store
Joe Jackman brings his high-speed retail makeover formula to Rexall.
On a Tuesday afternoon in early February, office workers stream in and out of the newly designed Rexall store in the depths of downtown Toronto's First Canadian Place. Walking in beneath the brand's new turquoise-teal backlit logo, customers are greeted with a cold-stand full of fresh fruit and yogurt snacks, as well as a large open area by the main checkout that gives the store an almost supermarket-like feel. To get to the pharmacy at the rear, you pass shelves lined with items representative of Rexall's new product offering: fat-free jellybeans and gummy bears, and the new private label "Be.better," which includes items like a glass cleaner labelled as containing "no nasty chemicals."
Frank Scorpiniti (pictured above, left), the CEO of Canada's second largest pharma-retailer, says the fast-moving changes at Rexall involve far more than a new logo and some redesigned stores. The brand is undergoing what he describes as a complete reinvention that touches all aspects of the business. Rexall faces a "burning platform" in its category. Pitted against dominant number-one player Shopper's Drug Mart, an ever-expanding Walmart and new entrant Target (not to mention food retailers like Loblaw expanding into pharma), Rexall encountered another curveball over the past two years as the government set limits on what pharmacies were allowed to charge for generic drugs. The brand required not only new sources of revenue but also new ideas.
Internal changes were also sweeping the brand. Rexall's parent, the privately held Katz Company, sold off the majority of its franchisee-owned pharmacies (such as its I.D.A. and Guardian brands) to the McKesson Group for just under $1 billion last year, allowing Katz to focus on the remaining 430 Rexall and Rexall Pharma Plus stores in Ontario and the western provinces.
So Rexall decided to change how it defines itself and what it means to its customers, and it had to do it really fast. Enter Joe Jackman.
Jackman (pictured above, right) helped found the retail design firm Perennial in Toronto in the late 1980s, consulting for a variety of brands, before leaving to work as a marketing executive at Loblaw in 2005. Two years later he founded his own "brand reinvention" company. In 2008, Jackman's company took the dated, underperforming Duane Reade pharmacy chain in New York City and transformed it into a growing business that was purchased for roughly $1 billion by industry giant Walgreens less than two years later. Scorpiniti (who joined Rexall in April 2011 and named CEO in February 2012) was part of the Duane Reade management team. In October 2011, the two men began working together again on how to reimagine the Rexall experience.
After Jackman Reinvention undertook its initial assessment of Rexall, it learned the brand had high awareness and trust in most parts of the country, but on important measures like market share, it trailed behind Shoppers Drug Mart. After sifting through data gleaned from focus groups, consumer research and discussions with the brand's employees, Jackman describes "goosebump moments" that sprung from two realities: first, Canadians wanted to live healthier, beyond just the food they eat, and second, governments were turning to pharma-retailers to deliver more health care services to alleviate rapidly rising costs.
Suddenly Rexall had the beginnings of a new brand strategy centred on a "healthy choice" positioning. And changes came even faster than usual for a Jackman reinvention. Less than eight months after the first sit-down with Jackman, a newly branded store opened in the Richmond Adelaide Centre in downtown Toronto, testing some of the ideas being hatched.
"Usually in the first four to six months there's a lot of research, a lot of conversations with a brand's customers and senior management," says Paul Clark, senior partner and CMO at Jackman. "That's the window when strategy is developed and there is a large collaborative aspect to it…With Rexall we moved very quickly because we opened our first store in about eight months. As the strategy was baked, we put a lot of the elements into the [first] store and learned from that. You can wait forever to get it right, but if you know where you're going, you can put it into place and adjust as you need to."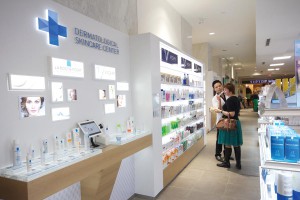 The new Rexall aims to be a go-to destination for people seeking a holistic approach to better living. Its pharmacists are encouraged to consult with customers (Scorpiniti refers to them at times as "patients") on their overall health and offer advice when necessary. Shelves are stocked with a new private label line of healthier foods, environmentally friendly household goods and expanded beauty offerings.
"We're going to put a special emphasis on our healthy choices, and that's what's going to be different from everybody else," says Clark. "[Rexall] will now be offering more healthy products than can be found in most any other drug store across the country."
And there are new stores too: they're brighter, more airy, and adorned with the brand's new "Feel Good Approved" symbol on products, flyers and displays. Gone are the bright blue and orange colours, replaced with a turquoise-teal scheme.
With the brand's redesigned flyer and in-store magazine Feel Good displayed prominently throughout (not to mention all staff members decked out in "Feel Good" t-shirts), it's clear the idea is to persuade people that Rexall is a destination for healthy living.
And it's working. At the nine reinvented stores, "results are surpassing expectations."
"We have a job to do, and that's to help Canadians feel good every way, every day. It's a noble purpose because life isn't easy and the brand can make a difference," Jackman says.
Strategy spoke with Jackman and Scorpiniti about the reinvention process and progress.
Frank Scorpiniti, CEO, Rexall
How long have you been working with Jackman Reinvention?
We began our collaboration in the fall of 2011, and had our first new-brand store in the Richmond Adelaide Centre in downtown Toronto in March 2012. We were creating a brand vision, which took several months. At the same time we were deciding what the retail environment had to look like to support that new brand vision.
We were doing a parallel process to further accelerate the changes for our consumers. We did what we call a "listening tour" that was outside the Jackman process. We asked our pharmacists and store managers, "What do customers want?" We also put out a number of surveys to our employees internally.
Jackman looked at all aspects of the business. Describe the changes at Rexall.
First, Canadians are aspiring to better health at every age group. We looked at that and said, "there are products we can offer that will help our customers get there." We launched a [private label] line called "Be.better." These products all have certain attributes that are better for your health. One example is our line of vitamins, which are from natural sources and dye- and gluten-free. We learned that these are the things our customers want. We also have a line of snacks, some are gluten-free, some are kosher. There are hundreds of new SKUs that complement the concept of "Better for you" or "Better for the environment." We also have things like environmentally-friendly detergent and window cleaner.
Second, we looked at the services we currently offer our customers and how we could enhance those. We were enthusiastic about supporting the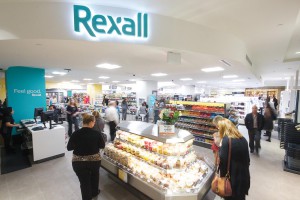 government's desire to give pharmacists the authority to give flu immunizations. We wanted to make sure we could tell Canadians that they could come to Rexall and get a flu shot any time, any day, no appointment necessary. Why is that important? It supports where we are trying to go, which is creating an environment where it's easy to feel good about your health.
Every day we have to provide those services in a predictable and consistent manner. Rexall pharmacists in Ontario have provided 200,000 flu immunizations this year. We're about 10% of the pharmacies in Ontario and the amount of flu shots we gave is about 80% of all those in the marketplace. That's the power of alignment and of creating the right environment for our consumers.
And finally, when you walk into one of our nine new stores they look materially different from our current Rexall stores. The flow of the aisles, the products, the offering, the lighting, the way it comes to life complements our new products and services.
What is the biggest challenge you're facing right now in your category?
The government is looking for ways to save money in health care and they have changed the payment model for pharmacies significantly. It is the biggest challenge to our business today, but it is also genuinely the biggest opportunity. It is forcing us to re-examine every part of our business.
What's compelling is that the government is asking us to do more. Flu shots are just one small example of the government saying if a pharmacy with thousands of points of care can be activated to do more than it does today, it's a tremendous resource to reduce wait times for patients and make communities healthier. With a quarter of a million Canadians immunized at Rexall alone, certainly we have saved lives. More of those opportunities are on the way. For example, in [Saskatchewan] our pharmacists are prescribing without a physician for minor ailments, so patients don't end up in an emergency room.
Are we going to see any new mass campaigns from Rexall?
[Our communications strategy] is on the web, it's in the flyer and it's in the stores. On radio, most recently in support of our new direction, we've had a tremendous amount of impressions created for our "Any time, any day" no-appointment flu campaign across the country. In conjunction with the launch of "Be.better" we had a significant amount of radio supporting that.
How many new stores will you open?
When we look at reinventing ourselves at retail…those things take time, but our nine stores act as centres of gravity and creativity for bringing products and services to life.
So, all of the stores we'll open in the future will look like these new ones and so will the ones we renovate.
The products and services and in-store components of marketing and signage, brand voice, private brands – those permeate the entire company.
We can leapfrog what takes more time, in this case the construction, and get that enthusiasm in our business.
Joe Jackman, founder and CEO, Jackman Reinvention
How do you approach reinvention?
Phase one is developing a fact foundation, moving through strategic questions and getting answers that both ourselves and the management team are aligned to. Then we can start to craft strategy and make it something tangible.
We're believers that strategy should be done by people with hands on levers: the CEO and his or her leadership team. If I'm an architect of strategy I know why things got built and I'm more likely to support those things because I was part of the process.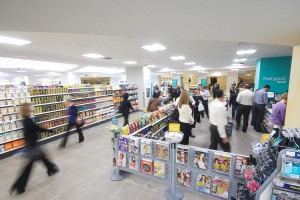 So you continue working with brands as the strategic changes are rolled out?
We do not see Rexall or our other engagement partners as clients, that implies a service business. [We don't say,] "Hey, we're going to do a bunch of stuff for you and then carry on our way." We structure our deals so that we are partners. We have a vested interest in the outcome. We don't go away once the strategy is defined, which is more of a conventional consulting model. [There is no,] "Here's the binder, it's got a lot of stuff in it. Good luck with that." Because we're in the reinvention business, we're very practiced at all the moving parts that have to get aligned. It's heavy lifting. Our partners would say we have experienced people that have been down this road before. We help save time in that manner.

What opportunities did you find for Rexall to differentiate itself?
Generally, retailers aren't keeping pace with the desire Canadians have to learn more about how to lead happy, healthy, fulfilled lives. There are lots of sources for them to buy a lot of stuff and get information, but there are opportunities for retailers to add value in areas of healthful living and well-being. It's a big need and therefore a big opportunity.

What customer profile is typical of the new Rexall?
Canadians are on a journey to more fully engage with their health and [how they] care for themselves and their families. For those who want to make changes in their lives, [Rexall] will be an increasingly valuable partner as they move along the journey. It's not always massive changes, more often small changes lead to bigger shifts.

What's the biggest challenge moving forward now?
There's a great expression, "If we don't like change we'll like irrelevance even less." The greatest challenge is moving away from what was done in the past and getting to new ways of doing things. That is the work of reinvention. All the other stuff is pretty straightforward. Getting people to lean into it and compress the time to do it is difficult. Time is not on our side in any retail reinvention.