Shopper Innovation Awards: Custom retail
Holt Renfrew, Nestle Purina PetCare and P&G's Euranuba brand win Gold, Silver and Bronze respectively.
GOLD
Holt Renfrew looks young at 175
Holt Renfrew wanted to target younger, influential shoppers, so working with Infield Marketing, the retailer surprised pedestrians with an interactive execution, intended to "shock and awe" a youthful audience. To celebrate 175 years of Holt Renfrew style, "Random Acts of Fashion" was created, with the Hot@175 Mobile Tour pop-up shop visiting seven different Canadian cities in September 2012.
The execution transformed street spaces into a fashion frenzy. Consumers walked the eight-foot runway leading into a Holt Renfrew showroom where they could model limited-edition sweatshirts, each produced by a different designer from around the world to celebrate the retailer's anniversary.
In addition to the designer threads and musical stylings of an on-site DJ, the pop-up shop also featured six televisions, each equipped with their own personal listening device, featuring the designer's story and inspiration behind the sweatshirts.
The mobile tour connected Holt Renfrew with a younger consumer presenting the brand as spontaneous, and after the one-month city-wide tour, the retailer tracked more than 74 million impressions and close to 19,450 consumers engaged with the retailer on the street. Revenue was up, with the Holt Renfrew generating $112,500 in sales.
Credits:
Client: Holt Renfrew
Agency: InField Marketing Group
President: Chris Wilson
Director: Kristy Matheson
Account executive: Crystal Pape
SILVER
Purina hooks pets up with new homes
Nestlé Purina PetCare partnered with the PetSmart Charities of Canada in 2010 to create an adoption program. The goal was to raise awareness of (and find "forever homes" for) the thousands of homeless pets at shelters and rescue groups.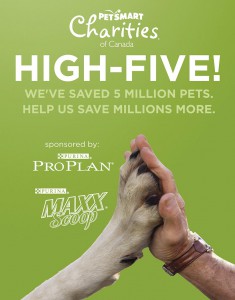 PetSmart stores introduced cat adoption centres where visitors could interact with kittens and cats in need of a home. Store windows, walls and pet cages were marked with sponsorship signage, introducing Purina Pro Plan and MAXX Scoop as the official food, litter, bowls and litter pans sponsors.
Pet adopters received a starter kit with more than $200 worth of coupons from Purina. A postcard in the kit drove consumers to join Purina's online community at Mypuppy.ca or Mykitten.ca, providing information and resources to help them care for their new pet. A free bag of Pro Plan puppy or kitten food was supplied to create more loyalty to the brand and drive consumers back to the store.
In addition to the adoption centres, the brand also supports the PetSmart Charities of Canada's "National Adoption Weekends," where local adoption agencies team up with PetSmart to bring homeless pets to stores and Nestlé Purina brand ambassadors interact with visitors to find the right product for their new pet.
Credits:
Client: Nestlé Purina PetCare
Specialty pet trade marketing manager: Susan Shorgan
National trade marketing manager: Anil Rege
Marketing managers, PetSmart Charities: Britta Kelly, Jason Raper
BRONZE

Eukanuba reinforces its pet expertise
To win over premium pet food consumers as well as new puppy owners, P&G-owned brand Eukanuba decided to reinforce its position as "Trusted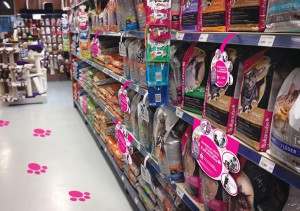 by Experts" with the help of its key retailer Mondou in Quebec.

With more than 70 years in the market, and over 50 stores across the province, Mondou is trusted by pet owners. The retailer's Mira Foundation, which has a high awareness in Quebec (95%), has provided handicapped people with guide dogs free-of-charge for more than 30 years. And Eukanuba has supported the foundation for over 15 years, supplying free food to Mira pets in training.

Partner agency SVM developed an exclusive, tailored in-store campaign (spanning window poster, dangler, pallet talker and floor paw print signage, as well as a flyer ad) to connect with shoppers. The POS was installed in every Mondou store in Quebec and remained in stores beyond the initial four-week period.

By leveraging this strong partnership and bringing it to stores, a powerful connection between shoppers and Eukanuba was created and the brand was established as being trusted by experts.

Credits:
Client: Procter & Gamble
Agency: SVM
Sales director, pet care: Marielle Houde
Account manager: Vanessa Théorêt
CD: Paul Fayad
AD: Catherine Lamarche