Shopper Innovation Awards: Partnering
Desjardins partners with the Montreal Auto Show to win Silver and Unilever teams up with Shoppers Drug Mart to take the Bronze.
SILVER
Desjardins drives a bespoke promo
Desjardins General Insurance (DAG) is a sponsor of the Montreal Auto Show, where consumers flock to see the latest cars and concepts. The company's challenge was to interest attendees in also learning about Desjardins insurance products.
For the past six years, Desjardins has partnered with the Montreal Auto Show to have an on-site presence with a kiosk showcasing its services. The insurance company's objective for 2012 was to rejuvenate this kiosk and increase traffic. Targeting young drivers, Lg2 created a multi-player videogame competition for Desjardins, dubbed "Made-to-Measure Parking." It focused on DAG's approach of providing "made-to-measure" protection and savings that apply to each individual customer.
The booth invited players to park a number of cars (making sure not to get any scrapes) using an iPad as the steering wheel. Giant screens that showed the participants parking the vehicles were positioned for easy viewing for passersby. After the competition, DAG advisors interacted with participants to educate them on products. The experience continued on a dedicated microsite where visitors could take part in the multi-player game, controlling the cars with their smartphones.
Traffic at the Desjardins General Insurance kiosk increased by 200% compared with 2011, and results set a five-year record in lead generation, swaying the company to partner with the Auto Show again to execute the Made-to-Measure Parking game in 2013.
Credits:
Client: Desjardins Assurances Générales
Agency: Lg2
Communication marketing advisor: Mylène Berthiaume
VP/CD: Marc Fortin
CD interactive: Jennifer Varvaresso
ADs: Éric Bouchard, Denis Brodeur
CW: Jean-François Perreault
BRONZE

Unilever & Shoppers offer beautiful hair
To become a leading hair care destination, Shoppers Drug Mart partnered with Unilever to target a female audience of "solution seekers," who are highly motivated to try something new if they believe it will help solve a hair care problem.
The four-week "30 Ways to Beautiful Hair" program, created in partnership with Ariad Communications, was designed to help female shoppers quickly identify, select and purchase the products required to achieve a desired look.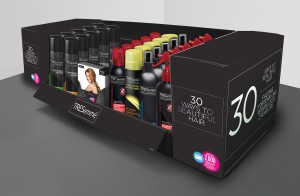 Consumers were greeted with end-aisle displays in stores, and do-it-yourself styling cards were merchandised next to corresponding Unilever products that could be used to achieve one of the 30 different styles. In print, four perforated DIY styling cards were included as a special insert in Glow magazine, and the program was also featured in the Shoppers flyer. Cityline featured the program in its "Fashion Fridays" segment, and the partnership also included in-store demonstrations leveraging Nexxus celebrity stylist Tony Masciangelo at a high-traffic Shoppers location.

The Shoppers and Pharmaprix websites hosted "30 Ways to Beautiful Hair" online styling hubs with interactive styling information, and users were able to filter looks by hair type (such as Curly & Waves, Smooth & De-frizzed, Volume, Short and Everyday). The program also utilized Shoppers' Optimum loyalty program, offering bonus points for purchasing three of the recommended Unilever products.

The hair care category experienced 9% growth during the four-week period, and another 10% growth in the styling category (reversing the 52-week decline of -1%). The program also garnered more than 2.5 million impressions, with the Shoppers website having received more than 800,000 page views.

Credits:
Client: Unilever
Agency: Ariad Communications
VP marketing: Sharon MacLeod
Team lead shopper marketing: Bill Carlson
Shopper marketing manager: Stephanie Conrad
VP, Ariad Communications: Tracy Smith
Senior AD: Sofia Costa
CD: Rob Ciancamerla

Tracy Smith was mistakenly credited as the Shopper marketing manager for Unilever's "30 Ways to Beautiful Hair" when in fact it was Stephanie Conrad. The online version has been updated with the correct name and title.