Youth Report: Adidas gets inclusive with sub-cultures
The sports apparel brand targets "Next Generation Youth" by pairing artists with different backgrounds through an online portal.
While Nike affiliates itself with hero athletes and Reebok capitalizes on fitness, Adidas tends to take a more culture-focused approach, creating programs that connect the brand to influencers of music, contemporary art and fashion.
Its association with culture is evident in its new global positioning, "Unite All Originals," which launched in early March and uses international artists to target what it calls "Next Generation Youth," or NGY.
The program, by Canada's Sid Lee, revolves around an online portal called the "Originals Collider," where the brand pairs two artists with different backgrounds (from musicians and rappers, to graphic designers and painters) to create "collisions" that include music videos and art. These are then posted on the website (which is linked to various online portals, such as Devour.com and SoundCloud), with the brand further connecting its products with the multimedia pieces by showcasing "styles inspired by this work."
The brand's strategy is to inspire consumers with content that speaks to diverse youth sub-cultures, says Jean-Francois Dumais, ACD, Sid Lee. He likens the different crews represented on the site to high school cliques that would typically go their separate ways in earlier generations. But, he says, today's youth are a lot more involved, open and curious. "When I was 16 years old, there was only one gang you could be affiliated to. You were with the sports crew, the skaters, the graffiti guys or the musicians," Dumais says. "What makes [today's] target market interesting is they're into everything. The internet really accelerated the amount of influencers we're willing to listen to." By bringing together artists from different walks of life, he says Adidas is able to show its appreciation for youth's wide range of interests.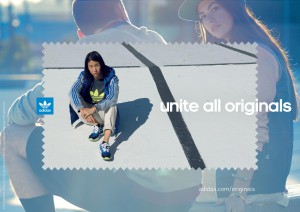 For now, the program will live mostly online and partially on TV, with a 90-second commercial featuring a collision by French director SoMe and DJ/producer A-Trak, which uses ambient sounds to create a unique song. Dumais says he hopes to eventually evolve the Collider into something more participatory for the brand's second fall/winter phase. For example, it might have consumers try their hand at collaborating with others and actually be a part of the collisions.

"Originals is a very democratic brand. It's not trying to be super underground, and it's not trying to be super mass," he notes, further adding that the brand avoids speaking to youth in an "extreme way" (much like what more niche exclusive brands are able to do) to ensure it does not come off as inauthentic. "[Youth] will always be the ultimate judge of what you do. You need to give them something that's cool and speaks to them in their own language. Be a part of their culture, and make sure you're not just polluting the air with a message."

I think the collisions are quite interesting, as they bring together two fields or types of art in order to create something new. In a world where originality is seldom seen, it is really cool to see these kinds of ads that take a different twist. This campaign just reinforces the idea that Adidas, unlike Nike and Reebok, etc., has a different, more unique take on what is considered sports apparel, And therefore has reinforced [my] positive view [of] Adidas.
– Iyngaran, 19

I like the beat of the commercial, but it seems too flashy. This has not changed my perception of the brand. I have always known Adidas as being a colourful and creative brand, no matter what they are trying to sell.
– Robert, 17