Adidas sprints toward runners
For the first time, the shoe brand launched a new product through an exclusive partnership with the Running Room.
In an exercise to grow its market share in the running category, Adidas took a path less travelled for the brand, partnering exclusively with the Running Room to have its customers test run its new "Boost" sneakers.
To kick off the new shoe, in April, Adidas implemented an intensive two-week event-based program inside 10 Running Room stores across Canadian markets including Toronto, Victoria, Calgary and Vancouver. During the retailer's weekly Running Clinic sessions, where amateur and avid runners train with instructors in-store, Adidas was on site to provide participants with the Boost shoe to try out, as well as swag and complimentary drinks from a pop-up Booster Juice bar.
There were also demos of the product via table top fixtures and floor mats that contained both Boost and EVA foam (with the latter being used in the soles of its shoes for the past three decades).
The shoemaker tapped the specialty store and its robust running community in an attempt to grow its share in the running category, choosing to introduce its new cushioning technology with a more personal and hands-on approach, says Stewart Smith, VP marketing at Adidas. "We've come out with different tech and shoes [before], but we've never done an execution like this, where we partner specifically with one account and then hold events. Boost is a tech that we wanted to get [into the hands] of end-use runners specifically."
It also teamed up with the Running Room because of its national reach, and chose only a handful of key stores to provide a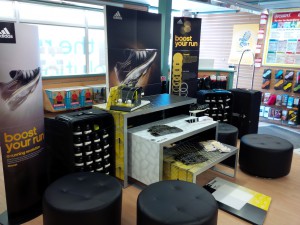 "more focused and targeted" launch for the retailer's member database. "It would have been difficult to have the same execution across all [118] stores," he adds. "This way we were able to have a consistent message across prime regions and execute in exactly the same way."

"The Boost tech is something that you really need to touch and see demonstrated," notes Smith, adding that ambassadors also used iPad devices to show the various parts of the shoe and how it's built. "[With] other in-store executions we do a good job at bringing the products to life, but we don't have as much interaction."

Going forward, the shoe will be sold in Running Room and Adidas Sport Performance stores as well as on Adidas.ca and Sportchek.ca.