By Shane Grant
The world is a much different place than it was 20, 10 or even five years ago. Economic and other global forces are pushing us all to re-examine how we live. As a global community, we are much more conscious of the impact of our actions as we witness the results: heat waves, droughts, extreme weather events, food shortages. This raises the question, "What kind of world are we leaving behind for the next generation?"
In response to these global issues, consumers demand more from brands.
We are all looking beyond the benefits and purpose of a brand to its character. How is the product made? What is the impact of that process on the environment and the people who make it? What impact does that product have on society?
In fact, 77% of Canadians are concerned about global warming and climate change, and 87% care whether or not a business is socially responsible, according to a 2009 report by the Natural Marketing Institute. Investors are looking at environmental, social and governance practices, and CSR is emerging as a key element in employee engagement.
So what does this mean for marketers? We know that consumers' trust doubles with knowledge of a company's sustainability initiatives.
So to continue growing our business, we must continue to earn trust.
At Coca-Cola, the very nature of our products and processes touch a number of global issues such as climate change, water use and energy conservation. We believe our business is as strong as the communities in which we operate, and we have developed ambitious goals to improve our environmental performance.
Partnerships are one way we have made progress, and one of our best is with World Wildlife Fund (WWF).  After a number of years working with WWF on key environmental initiatives – ranging from polar bear to freshwater conservation – we decided to take our commitment to a new level and launched "Arctic Home" in 2011.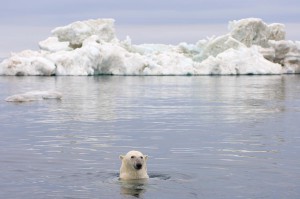 It is a five-year commitment to raise awareness and funds for the Last Ice Area and help ensure a place for polar bears to thrive for generations to come. The polar bear has long been an icon in Coca-Cola advertising, so of course these magnificent animals, and those that share their habitat, mean a lot to our company.
Because consumers around the world hold a strong connection between Coca-Cola and polar bears, it was a natural fit for us to partner with WWF, which has a very forward-looking program regarding polar bear conservation. Our strength is in our brand and marketing, so we can leverage our resources to expand awareness and funding for WWF efforts.
In its first year, Coca-Cola, with help from Canadians, donated more than $2 million to WWF to conserve the polar bears' habitat.
We also saw improvements in reputation and awareness. Our trust score grew by four points in 2011. Awareness of our partnership with WWF and our overall environmental initiatives doubled after launching Arctic Home.
For our second year, we added a consumer-experiential program and additional fundraising through sales of specially marked packs. So far we've recorded more than 9,500 pledges by consumers to make changes in their lives to conserve energy, reduce water use or cut down on carbon emissions.
By using our most powerful marketing touchpoints and providing ways for people to become actively engaged, we can all be part of the solution.
Ambitious goals may seem impossible as individuals, but are achievable when we work in partnership. We believe strongly that we can do extraordinary things as part of doing business. We know we have a long way to go, but hope that with continued awareness and action, we truly will make a difference.
Shane Grant is VP of the sparkling beverage business unit at Coca-Cola. For more on Arctic Home and the work that Coca-Cola is doing with WWF, go to Livepositively.ca.