Cause + Action: Overall winner Bell takes mental health out of the shadows
The telco's "Let's Talk Day" campaign collected $4.8 million for mental health initiatives in less than 24 hours.
Inspiration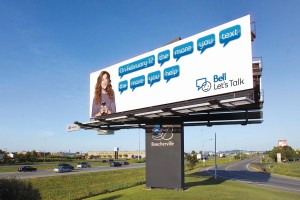 Research shows that one in five Canadians will experience some form of mental illness in their lifetime. Despite being a widespread issue, mental health is still misunderstood and stigmatized, with two out of three Canadians with mental health issues choosing to hide their suffering for fear of judgment or rejection.
Bell wanted to help reduce the stigma by encouraging dialogue. So in 2010, the telco made the commitment to donate $50 million to the cause over five years through initiatives such as its "Let's Talk Day" campaign (which was one of the winners of strategy's 2011 Cause + Action awards).
Strategy
Even if consumers see value in a cause, few will actually take action, especially for an "unpopular" cause like mental health. The strategy behind Let's Talk Day was to allow consumers to participate effortlessly through their everyday activities.
The third edition of the program took place on Feb. 12, 2013 and Bell donated five cents toward mental health-related initiatives for every text and long-distance call by Bell customers, as well as for every Bell Let's Talk Day image shared on Facebook and tweet that used the hashtag #BellLetsTalk.
Execution
An extensive media campaign (developed by Lg2 and planned by Media Experts) that included TV, OOH, print, radio, PR and online, unfolded between Jan. 14 and Feb. 12.
Starting a month before Let's Talk Day, the first wave of ads portrayed simple and real examples of mental illness and served to give the Let's Talk program a clear identity.
One week later, another set of creative was released, reaffirming Bell's role with its blue and white branding. In the ads, spokespersons Clara Hughes, Seamus O'Regan, Stefie Shock and Michel Mpambara encouraged people to participate.
Results
The 2013 Let's Talk Day set a new record for Bell. A total of 96,266,266 long-distance calls, texts, tweets and Facebook shares were made by Canadians in less than 24 hours, collecting a whopping $4.8 million for mental health initiatives. This was a 23% increase from the previous year (which raised $3.9 million for the cause).
More than 1.5 million tweets were posted by close to 500,000 users, including Prime Minister Stephen Harper, The Canadian Armed Forces, sports teams and players, entertainers including Justin Bieber and William Shatner, and even competitors such as Rogers.
Judges' comments
"This campaign engaged more than just Bell customers in a conversation that was badly needed, drawing attention to mental illness with well-regarded spokespeople and well-placed advertising. What happened next was transformational in that millions of Canadians got talking through tweets and Facebook posts, in classrooms and at the dinner table."
- Sybil Taylor, Steam Whistle brewing
"Bell showed tremendous courage to [take a] lead on mental health. It also approached this wholeheartedly with all of its assets, thereby attacking the first challenge: [creating] awareness to diminish the stigma. It's an excellent matching of assets to a social problem."
- Luisa Girotto, Starbucks
"The talk theme encouraged the use of the brand's services and played back to [Bell's] core business. This campaign had the endorsement of its competitors, [and] an incredibly high level of awareness and engagement. It also appealed to a very wide audience."
- James Connell, Roots
Jump to:
Stanfield's exposes below-the-waist cancer
Coca-Cola helps WWF protect the polar bears' home
Koodo incites virtual volunteerism
Toys "R" Us helps starlight with personal push