AToMiC Awards: Brands occupy vacant spaces
Toronto agency Leo Burnett has a knack for found media, claiming and reinventing ad space.
James Ready makes coasters more awesome
The foreseen: a beer brand launches its brew in bars, along with a logo-encrusted drink coaster. The unexpected: a beer brand launches with coasters that transform into greeting cards, beer rain checks for drink-owing buddies or a goal post for penny hockey, effectively doubling the coaster's awesome quotient. When James Ready hit bars with the coasters, it saw a 60% increase in beer consumption within the first three months.
JR barters for social space
The space atop a Facebook user's page is often adorned with images from landscapes to people. But James Ready saw this as a place for more than pretty imagery. It launched the Cover Photo Swap, a system that allowed its drinkers to use the brand's cover photo in exchange for theirs.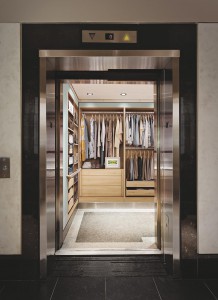 Ikea's voyeuristic take on pimping rides

It's difficult to get a sense of what customizable options Ikea's Pax wardrobe offer from a standard billboard ad. So the retailer decided to create a 3D representation by wrapping the exterior and interior of office-building elevators. The imagery created the illusion that riders had walked into a closet, complete with clothing and accessories. Envy ensued.

Raising the Roof humanizes the homeless

With Toronto billed as having the most condos under construction in North America, a house made of cardboard nestled between them certainly stands out. Raising the Roof, a national charity dedicated to providing long-term solutions for homeless youth, erected the exhibit as a statement to create awareness of those living on streets. Inside the "Street House," people could be educated on the issue to create empathy for the next person they see, and ignore, on the street.

The Hardware

Best Niche Targeting: Gold James Ready "Cover Photo Swap"
AToMiC CSR: Silver / Best Experiential Engagement: Silver Raising the Roof "Street House"
Best Print Engagement: Silver Ikea "PAX wardrobe"
Best Experiential Engagement: Bronze / Best Print Engagement: Bronze James Ready "50% more awesome coasters"