AToMiC Awards: Perfect timing
Kraft Dinner, Ikea and Taxi Montreal take advantage of newsworthy events and important dates on the calendar to grab attention at the right time.
In the midst of holiday shopping, Kraft Dinner got its fans to tweet that they wanted their last meal to be KD. Ad agency Taxi in Montreal literally stopped downtown traffic during the morning rush, while Ikea grabbed the attention of Montrealers when many of them were moving homes en masse. All three aligned with culturally relevant events to become part of the conversation and make news.
But before every company starts circling the next big date on the calendar, they need to consider whether it fits with their brand, says Mieka Burns, brand manager, grocery and beverage innovation, Kraft Foods Group.
"You need to offer a unique point of view," Burns says.
She says her company's "KD Pocalypse" campaign sought to tap into a conversation the brand knew its fans were already having around the supposed Mayan-predicted apocalypse in December 2012. Two weeks prior to the Dec. 21 end-of-days date, the brand launched an OOH and social media campaign, with creative from Taxi 2 and media by MediaVest, asking Canadians to tweet "I want my last meal to be KD" with the hashtag #KDpocalypse to receive a free box of mac and cheese.  Kdpocalypse.ca counted down to the coming apocalypse.
The brand's Twitter community grew by over 10,000 followers during the run, while paid, owned and earned media from the promotion generated 9.1 million impressions.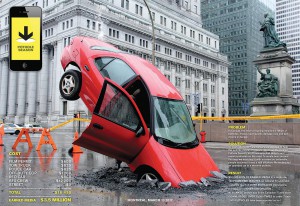 Taxi Montreal's campaign to mark the agency's 20th anniversary wasn't timed to the world ending, but the event it targeted – pothole season – was fraught with trepidation for residents of the Quebec city.
Knowing springtime thaw generates crater-like potholes in the city's streets, Taxi developed an iPhone app for users to share the holes' locations. The agency, with Morin Relations Publiques, orchestrated an elaborate stunt – tipping a car into an extra-large man-made pothole in downtown Montreal – to get the attention of news media.
"The whole thing was perfectly timed," says Dominique Trudeau, former ECD, Taxi Montreal, noting his team did its homework to predict when the media was most likely to start talking about potholes.
The stunt quickly became an internet sensation, and the app was downloaded more than 10,000 times in less than seven days with more than 7,000 potholes reported to municipal authorities, using smartphone technology to automatically detect and map cars hitting the craters.
"Usually, it is very costly and takes a lot of energy to get that sort of reach," Trudeau says. "It's great when you can build on a natural mass movement of people toward a subject."
That strategy was also used by Ikea in Montreal. With a large population of renters and year-long leases typically expiring on June 30, many residents of the city move over the July 1 weekend.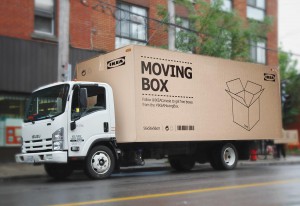 Folks in the midst of moving aren't likely shopping for furniture, but soon will. So Ikea sought to win them over to the storage wonders of Billy bookcases and Pax wardrobes by giving them Ikea-branded packing boxes for all their stuff.

For the second year of its "Moving Day" campaign, Ikea increased socially-driven engagement. As the brand's moving truck (designed to look like its furniture box) drove the streets delivering boxes, people could tweet to the hashtag #IKEAMovingBox to request a drop off.

"The easy solution for something like Moving Day is to simply communicate a relevant offer that happens to coincide with products consumers might need when they are moving," says Hilary Lloyd, VP marketing, adding the brand made an effort to put consumers at the centre of the campaign.

Twitter hashtags #IKEAMovingBox and #IKEABoitePratik generated a total reach of 981,420, while visitors to IKEA stores that weekend increased 5.2% and sales increased 9% over the previous year.

The Hardware

AToMiC ROI: Gold / Best Experiential Engagement: Gold – Ikea "Moving Day" / Leo Burnett
Best Transmedia: Silver – Kraft Dinner "KD Pocalypse" / Taxi
Best Experiential Engagement: Silver – Taxi Montreal "Pothole Season"