Neal Brothers celebrate their history
To fete the organic food co's 25th anniversary, the founding brothers appear on the packaging for the company's newest kettle chip launch.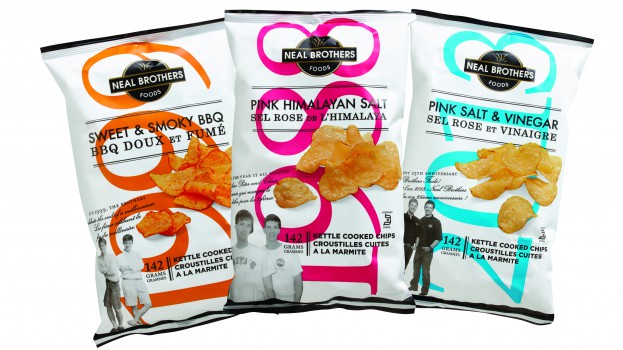 Toronto-based Neal Brothers Foods is having a 25-year anniversary celebration. Safe to say, it'll supply the chips.

The boutique distribution company has introduced kettle-style chips featuring photos of the co-owning brothers, Peter and Chris, along with anecdotes from the company's history, as the launching pad for a year-long national campaign.

The new products started hitting shelves in specialty stores last month and the new look is already paying dividends, says Peter Neal, who heads up sales and marketing, as the chips are already selling well in specialty stores such as Pete's Boutique in Wolfville, N.S. The chips, in maple bacon, pink Himalayan salt, pink salt and vinegar and sweet and smoky BBQ flavours, will soon hit store shelves in Sobeys and Longos, while talks are ongoing to get the product listed at Loblaws and Metro, he says.

The food co has been working with Toronto design agency Slingshot and is looking into redesigning the packaging for their pretzels with the 25th anniversary theme. This has been part of an ongoing effort to update the packaging of its organic products, which includes salsa, tortillas, croutons and BBQ sauces, but which don't contain photos of the founders.

Peter Neal acknowledges the decision to splash the brothers on the chip bag packaging went against his instincts. However, he felt something drastic was needed to raise brand awareness among consumers since on more than one occasion he spoke with people who at first told him they didn't recognize the brand Neal Brothers, but after a few cues realized they were actually regular purchasers of its products.

"People thought we were an American brand or a subsidiary of a larger corporation," says the Aurora, ON native. "I didn't think we were doing a good enough job of reaching out and hugging the consumer. I think you do that by endearing yourself through a story. There wasn't that personality in our current packaging."

Sales are up in all categories where they have recently re-designed, he said. For example, sales of its tortilla chips, repackaged about a year ago, are up around 70%, he says. The company has grown in the past year from 25 employees to 35 and is hiring more as it tries trying to improve its logistics, he says.

In addition to the new bags and redesigned packaging, it has changed its shelf presence as well, switching from plain cardboard boxes to white ones with the brand's logo on it, as well as new shipping displays featuring larger versions of the brothers' photos and graphics from the chip bags.

As it raises the stakes with its packaging, the company is also increasing its sponsorships and partnerships, leveraging connections made over the last 25 years, such as local breweries Steam Whistle and Amsterdam. Promotional efforts will include LCBO store tastings and a concert sponsorship in July.

The brothers are also increasing philanthropy efforts with food organizations such as Community Food Centres Canada, while sponsoring events such as the Night Market in Toronto, where they are a second-tier sponsor.