Cannes blog: Mofilm, a solution to the constant quest for content?
Boston Pizza's Young Marketer, Bianca Kwasnycia, shares her Cannes discoveries, and finds the Mofilm Awards intriguing and inspiring - and perhaps a little scary.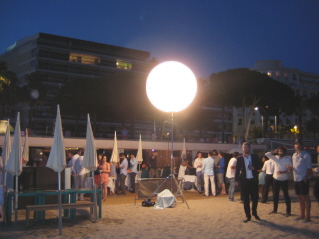 This year in addition to the Canadian Gold Globe and Mail Young Marketer team coming to Cannes to compete for the Lion, the Silver and Bronze teams are also here, thanks to sponsors Campbell, Kruger, McDonald's, Maple Leaf, Microsoft, Molson Coors and Nestle. The Young Marketers are curating the best of what they experience and sending the inspiration back to Canada. Boston Pizza's Bianca Kwasnycia takes in the best of Mofilm, and wonders how crowdsourcing professional content will change the current model.

Walking down La Croisette, we arrive at a beautiful French Riviera scene – a restaurant with huge open doors to the beach and TV screens everywhere. We are celebrating the Mofilm Awards – a truly inspiring evening filled with young filmmakers from all over the globe.

The Mofilm business model is an original one that utilizes a form of crowdsourcing. The organization connects big brands like Campbell, Reebok, Unilever, Coca-Cola, etc. with a roster of 50,000 international filmmakers. The premise of the connection is a competition that tasks the database of filmmakers with a client brief. The filmmakers then have the opportunity to answer the brief by creating their own commercial. All submissions get curated and the best one is chosen for the brand.

Coming from an agency background, this approach both amazed and scared me. If Mofilm is able to solicit amazing work from around the world in a matter of weeks and have fully shot commercials, companies would have the option of bypassing the ad agency entirely.

With the need to constantly create content, especially now with the emergence of brand presence in the online space, having an abundance of good, creative work is always necessary. Mofilm is able to provide this in a cost effective, timely and innovative manner. The entire company premise may entice traditional ad agencies to rethink the usual process of producing commercials.

The evening was a great success as we raised our glasses of rosé to celebrate the ingenuity and freedom of expression of these talented filmmakers. The Grand Prize winner was Brianda Carreras from the Dominican Republic with an autobiographical story of her love and passion for dance, which she created for the Live with Fire Reebok initiative. Her film proved that Mofilm truly works – a perfect fusion of the artistic and business worlds.