Deep 'n Delicious goes on tour
McCain Foods is visiting four family-oriented destinations this summer in support of its iconic cake reboot.
McCain Foods is letting families know it's OK to love its Deep 'n Delicious cake with a far-reaching national campaign.
Drawing on the company's overarching "It's all good" strategy, the summer campaign with in-store media, sampling and experiential by BStreet Toronto, digital and OOH by Taxi, PR by Veritas and media handled by AOR Media, aims to drive home the message "it's OK to dig in again."
The creative seeks to tap into the feel-good memories associated with the dessert (echoing its popular "guilty pleasure" commercials of the past that focused on sneaking cake in the middle of the night while highlighting its "better" ingredients to win back customers who may have decided it wasn't healthy fare.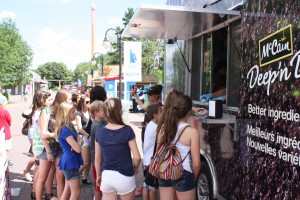 The icing on the cake for the campaign is an experiential national sampling tour focused on families. Since July 4, a branded pick-up truck and trailer have been travelling across the country with four big destinations on its agenda – La Ronde amusement park in Montreal, Calaway Park in Calgary, the Pacific National Exhibition Playland in Vancouver and finally the Canadian National Exhibition in Toronto, where the trailer will be installed for the duration of the fair wrapping up Sept. 2.
"Because this product lives in the freezer all of the time, we needed to do something interesting," says David Ploughman, president and CEO of BStreet.
During the 47-day tour, 230,000 samples of both its chocolate and carrot flavours are being doled out. A photo wall allows passersby to have their picture snapped, appearing to have their heads inside of a cake, while the hashtag #deepndelicious is driving the social aspect.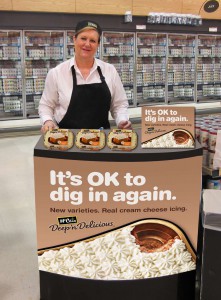 BStreet wouldn't reveal any sales results but says the campaign has over-delivered on estimated digital banner ad impressions and has generated lots of activity on Facebook and Twitter, driven by media spend and the social efforts.

Meanwhile, in-store sampling of the company's new carrot and apple caramel cakes is taking place at 584 locations across Canada between July and October and aisle blades have been placed on freezers. The company has also re-launched its fruit pies and this summer introduced reformulated cream pies.