U-Be-Livin-Smart goes big on nutrition
The manufacturer is rolling out two lighthearted campaigns to introduce its healthy Karmaffin muffins.
Tim Sinclair, former business unit general manager for Campbell's, knows that health-conscious shoppers probably don't put muffins at the top of their shopping lists. But that's a behaviour his Concord, ON-based company, U-Be-Livin-Smart, hopes to change as they roll out two integrated campaigns the last week of September.
Sinclair, one of four co-founders for the manufacturer, says his company uses a patent-pending process to make muffins it calls Karmaffin (meaning "part Karma, part muffin") that contain a serving of fruits and vegetables, seven grams of protein and three grams of fibre. With just 130 calories and no additives, preservatives, nuts, gluten, oil or flour, the muffins are a big departure from the semi-sweet cake style most consumers are familiar with.
"We've been told by retailers this is the healthiest product they've seen with no additives or preservatives, other than fruits and vegetables," says Sinclair, a 20-year food industry veteran.
The start-up launched in January with the goal of creating a nutrient dense product that would be different to other products on the market, he says. Based on quantitative research and following focus groups in the U.S. and Canada, it found its target market to be "working moms with children, trying to get better nutrition for themselves, their children and their husbands," Sinclair says, adding that based on feedback, the muffins are also hitting the spot for people with celiac disease and diabetes.
It began growing distribution for the nutrient-dense muffins with the belief it could add value to the baked goods category and is now sold in the freezer section of nearly two dozen retailers across 2,000 outlets throughout North America – including select Tops and Whole Foods in the U.S., and Metro, Longo's and Overwaitea in Canada. Sinclair says the company is hitting its objectives, growing stronger financially each month. Its research shows that a large number of customers buying their product are making incremental purchases.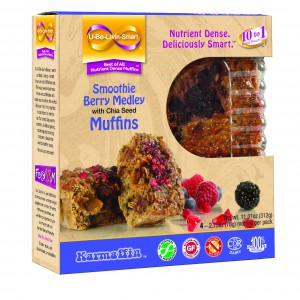 Its four-packs, with a suggested retail price of $5.99, declare the muffins to be certified as nutrient dense, as well as gluten free (a $400 to $500 million-a-year industry in itself), nut-free and certified as kosher.
But the company faces a couple of challenges it hopes its first consumer-facing campaign will overcome. Since the muffins contain no preservatives and have a shelf life of five days at room temperature, they live in the frozen food aisles, which is not where most people would think to look for muffins. Furthermore, not every consumer is aware of what nutrient dense means (a lot of nutrients packed into fewer calories), Sinclair says, so educating customers and driving them to the freezers is paramount.
"A year ago, no one said, 'Hey, I'm going to go buy a nutrient dense product,'" he says. "The trick for us is now we've got to educate people on what nutrient dense is, in a fun and playful way."
The company is trying to accomplish that with the tag line "Nutrient dense. Deliciously smart." Working with Toronto-based Mad Marketing+Design, with public relations handled by Lewis PR in Boston, the company will release ads in flyers, billboard and bus shelter OOH, coupons and in-store POS on freezers that push consumers to the brand's Facebook page and a contest microsite where they can test their "Smart Food IQ" for the chance to win an Apple iPhone, iPad or laptop. The microsite will allow the company to expand its database and help it communicate better with consumers, Sinclair says.
One set of creative features a black and white photo of a boy dressed in old-fashioned clothing holding a giant vegetable and declares U-Be-Livin-Smart is "Big on Nutrition."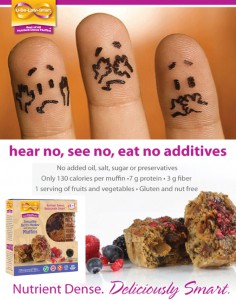 The other shows a picture of three fingers with faces drawn on them in black marker and tells customers to "hear no, see no, eat no additives."

"It's fun, it's simple, it's cute, we think it's on brand strategy, focusing on the benefits of our product and the insight that not many people think muffins are very healthy," Sinclair says. "We want to be fun and approachable. We're serious about nutrition but we don't take ourselves that seriously."

Sampling is another major component of the campaign. Sinclair says more than 2.7 million muffins will be sampled at stores as well as at 10 consumer events, including Ontario's Gluten Free Market on Oct. 27 at the Royal Botanical Gardens in Burlington.

Being a small company (with a staff of about 25, half of whom work in the plant) Sinclair says U-Be-Livin-Smart can be flexible.

For instance, based on consumer feedback, it has already redesigned its packaging, moving some nutritional information off the face of the box and replacing it with a large image of a muffin that lets the consumer see the product clearly, in addition to a box window.

Sinclair adds that the company intends to introduce more products in other categories it believes it can "add value" in, though he would not divulge what those will be.