Calling all anthems
Anthems are big right now. Check out the latest executions from Canadian Tire, the Strategic Milk Alliance and Okanagan Spring Brewery.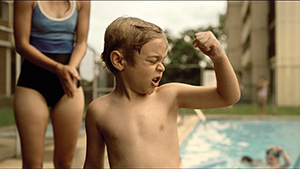 It's a call to action. A rebel yell. A commercial that makes people stand up and do something.
Close your eyes. Imagine music thumping, picking up pace as the smooth voiceover (maybe Bradley Cooper, who just completed VO work for Nike) walks you through various scenes, culminating in the brand's raison d'être. "Stay pure." "More play." "Channel youth." "We. Are. Canadian!"
Over the past year, brands from Ikea to Corona have chanted out rallying cries, hoping to motivate people to get on their feet. Welcome to the anthem nation, where creatively speaking, anthems are hot. Everyone's doing it. Check out some of the latest executions from Canadian Tire, the Strategic Milk Alliance and Okanagan Spring Brewery.
Canadian Tire's call for play
Kids aren't playing as much as they used to.
So Canadian Tire released the aptly named "Anthem" commercial (pictured, top right), with creative by Toronto-based Cleansheet Communications, in a bid to encourage families to send their kids back outside.
The spot starts off with Super-8 footage of kids frolicking around, before cutting to a scene of empty playgrounds and parks, and then of children killing time on smartphones and in front of the TV. The voiceover continues as the light shines back onto activity, demanding that Canadians "Bring back play."
Launched at the end of August and running until October, this is the first part in a multi-stage campaign, with another set of creative dropping in early 2014, says T.J. Flood, SVP of marketing, Canadian Tire.
The brand chose the anthem route because it felt it had a strong story to tell, Flood says.
"We wanted to create some excitement and get at some emotional insight," he adds. "As we went through it, I'm not even sure we understood how big of a tug at the heartstrings this was going to [be for] Canadians. Early feedback we've gotten has been overwhelmingly positive."
Milking childhood moments
For the Strategic Milk Alliance and DDB's first campaign, the association of milk producers (including the BC Dairy Association, Alberta Milk, SaskMilk, Dairy Farmers of Manitoba and the Dairy Farmers of Canada) wanted to reach out to grown-ups.
Milk consumption usually peters out as people age, so the brand attempted to reignite childhood passions, and by association, passion for milk, through a quartet of commercials (one 60-second and three 30-second spots).
One commercial, for example, starts with a young girl pulling around a vacuum cleaner tied to her waist, followed by a pair of boys playing with spitballs and another girl trying to play a waffle like a DVD. "Logic didn't always rule our lives. Our decisions weren't fuelled by need. They were driven by want. We chased fun like it was a squirrel and we were greyhounds…greyhounds in overalls, with sticky fingers," the voiceover says.
The campaign, which launched in June and will run until the new year, targets both teenagers and middle-aged men and women who may not be drinking milk as often. Inspired by the fact that teens and adults often associate milk with fond childhood memories, the agency developed the anthems to channel the feelings of being a kid, says Neil Shapiro, ACD, DDB. "We had two very disparate targets," he says. "[But] whether you're 40, 35 or 19, there are pure similarities of childhood."
Though he couldn't share sales results, anecdotally, Shapiro says the spots have been receiving positive attention, with the three 30-second videos averaging more than 220,000 views on YouTube at press time, while the only comments on the one-minute video were "Nice" and "I think a milk commercial just made me cry."
Okanagan's ode to young adulthood
For Vernon, B.C.-based Okanagan's first-ever national campaign, Martin Beauvais, partner at Open, the Toronto agency that worked on the creative, knew they had to go out in a big way.
The beer commercial opens with the plight of many 20-somethings: fear of the doldrums, routine and adulthood. It quickly evolves into a cheer for millennials for maintaining their identity as they grow up.
This particular campaign had the challenge of speaking to a demo straddling two worlds: university and work life, Beauvais says.
"We wanted something anthemic. Life is changing, of course," he adds. "You've got a dental plan, car insurance, bills. But at the same time, you should still enjoy life. It's a bit of a 'Fuck ya!'"
The 30- and 60-second commercials are inspired by the beer's nature-filled home province. "Stay Pure" has already garnered positive results, with internal measurement on topics like "likeability," "speaks to me" and "I get the message" running higher than usual (though he wouldn't share specific numbers).
Beauvais says the style of anthems that are du jour typically feature quickly captured shots, often on hand-held cameras, and a voiceover that isn't preachy. And though he's sure that mass use will kill the current creative style, Beauvais says the "anthem" will live on.
"I love anthems," he says. "Love them over humour or anything else. I think anthems, generally, have a way of lifting people from their couches. [They] serve a bigger purpose than the simple act of 'get up and buy more beer.' They really go deep and reach strong feelings."