AOY Gold/DAOY Bronze: John St.'s digital school of thought
The agency takes top prize as AOY and gets Bronze honours in DAOY for work with WWF, Zellers, Mitsubishi, Stanfield's, Carly Fleischmann and Kobo.
John St. created a bit of a stir earlier this year when it announced it had been purchased by holding company WPP. Some industry spectators were concerned that the conglomerate would ultimately impact the work coming out of the agency. But Arthur Fleischmann, president at John St., says being part of the multinational hasn't led to any major changes that would impede the agency's mandate to make its clients' brands "unignorable." He and the partners are still in it for the long-run, and have no plans to retire anytime soon.
"It's business as usual, just on steroids in a few cases," Fleischmann says.
What has changed since being bought out, he says, is that the agency's CFO has a new financial reporting system to navigate, as well as access to a pool of new resources (including media, direct marketing and PR) to offer clients support outside of Canada, such as for Kobo's global campaign "Gift of Reading," which also ran in the U.S., New Zealand and Australia.
In addition to being named the top agency in Canada, John St. also takes home Bronze in strategy's Digital Agency of the Year competition. Four of the six cases submitted across both competitions were digitally-driven, many of which brought forward new tools and techniques, such as an interactive website for people to empathize with autism in "Carly's Café."
Angus Tucker, partner and co-ECD at John St., notes that the shop's creatives are able to fathom solutions to technical problems that many of its digitally-led projects demand as a result of hiring hybrid creatives to mentor others about all things digital, and facilitating training courses in programming and coding to develop their skillset.
"We have some specialists who really understand technology and technical production," Fleischmann says. "But we want everyone to be able to sit at the table [with the client] and say 'I can get you about 90% of the way through the conversation. That last 10%, I'll need to bring in Mavis [Huntley, our head of integrated production] because I don't quite understand all of the coding."
The agency also sends teams to SXSW and Cannes to gather intel on new tech and trends and then present their findings in the agency's basement upon their return. More recently, they introduced "Partner Days" – a mini two-day conference within the agency walls where partner production companies, from pure-play digital shops to app developers, come in to speak about new capabilities, measurements and technology.
"[Partner Days are] meant to inspire the entire company, and expose them to new thinking," Fleischmann says. "It can help them discover how to solve a current client problem by using some new tool that was shown in one of the presentations."
One of the talks even sparked a new business venture for John St. The agency co-developed a proprietary measurement tool, called Livemetric, with partner Source Metrics after the company came in to present its social marketing measurement software. The agency is now using the shared-revenue tool, which is currently in beta-testing, to measure fully-integrated communications plans for its own clients, such as Mitsubishi.
The finished product will be rolled out in early 2014, says Fleischmann, and several clients such as Maple Leaf Foods, ING Direct and Winners are also considering implementing it.
He muses that while the agency becomes more educated and refines its technical knowledge, so do clients. "We used to have to explain every element [of a campaign]. For example, if we wanted to do social gaming, we would need to explain it and wireframe every piece of the strategy with examples. Now they're speaking in shorthand, which is making it easier for us to sell bigger and better work to our clients."
Tucker also describes a change in clients' attitudes, with them setting new expectations of the work with amusing RFPs and briefs. When Future Shop decided to hire John St. in March of this year, instead of meeting in its office, the brand asked agency execs to participate in a "final RFP interview" via Skype from its Toronto flagship store, and then surprised them by asking if John St. would join its team.
And during a Maple Leaf Foods briefing at the agency's office in the summer, the client presented an article that reported a small town Louisiana wife and mom had used bacon bits as a negotiation tool to have her family do chores around the house. "It was funny, insightful, and complete bullshit. They made it up. Even going to the stage of mocking up the article they 'found' on the internet," Tucker wrote on the agency's blog after the brief took place.
John St. later borrowed the bacon bartering idea for a series of online spots for Maple Leaf Foods that launched in July of this year. The spots were such a success (raking in over 2.3 million views across four videos in only a couple of months) that the brand is now airing them on TV.
Tucker says that the brand's white lie helped bring the brief to promote the "power of bacon" to life, but more significantly, it demonstrated the kind of enthusiasm that John St.'s clients have been exerting lately. "It sets an expectation of the work. They want it to be surprising, smart, funny and unexpected," Tucker says, adding that he's noticed an increased "appetite for creativity and risk-taking" from clients, which is enabling John St. to push for more experiential, social and digital-based projects that don't always guarantee massive ROI.
Sending a cancer survivor to hitchhike his way across Canada in the middle of winter for Stanfield's, building model cars and travel bags entirely out of coffee cups for ING Direct's "You get what you save for" campaign and hiding giant shoes, purses and jackets for consumers to find in exchange for prizes from Winners are the types of amusing and interactive projects clients are asking for today, Tucker says.
"There are no hard numbers behind [fun experiential executions] that says we're going to get this many shares or earned media, but it's different," he adds. "The arguments we used to have with clients was [them saying that] entertainment wasn't necessary to get people to listen to what they have to say. We're not having those conversations anymore. They now say, 'We get it, that's why we want to work with you'."
*****
New Business: Future Shop, Kobo, Winners, COLDFX/Valeant.
Staff: 100
Want to work at John St.? You're going to have to do more than dress-to-impress. An art director struck a chord when she arrived at a job interview with her portfolio riddled with photographs of owners from three businesses that sit adjacent to the agency's office. Beside their mug shots, owners picked one of three campaigns in the book and wrote why they liked it. Tucker said he knew right away she had what he likes to call the "Grrr" factor. He describes it as"a terrier-like quality" that feeds John St.-ers' hunger for great work.
*****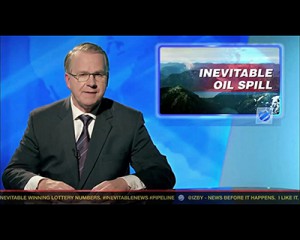 AOY/DAOY
WWF addresses the inevitable
Environmental disasters happen all the time: the Exxon Valdez spill in Alaska, the BP oil spill in the Gulf of Mexico and the recent Lac-Mégantic rail disaster in Quebec. But the public only really pays attention to the hazard of oil when things go very wrong.
So when the Enbridge Northern Gateway Pipeline Project proposed to build twin pipelines from Alberta to the northern B.C. coast, the World Wildlife Fund (WWF) decided to broadcast what "would" go wrong if it were built.
John St. helped WWF broadcast predictable disasters by creating the "Inevitable News Network." The Facebook-housed station uncovered the "inevitable" tragedy in "real" time for three weeks, with a cast of news team actors conducting live broadcasts from the Great Bear region. The reporters spoke with fictitious concerned citizens and native groups in the area and daily Facebook polls and tweets from followers were incorporated into nightly newscasts.
The campaign educated people about the real dangers the Northern Gateway Pipeline presented and was picked up by news outlets such as CTV News, MTV, Fast Company and the Huffington Post.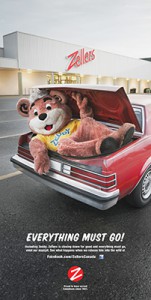 AOY
Zellers finds a home for Zeddy
An "Everything Must Go" sale is unemotional, completely mercenary, and sometimes sad – especially for a Canadian retailing company like Zellers that had been in business for more than 60 years.
John St. wanted to give the closing business sale a sense of humanity, and make it interesting and shareable online. So Zeddy the bear (Zellers' mascot for 35 years) was included in the liquidation sale of items in its stores.
Two online films were released over three months. The first "Born Free" spot showed the "executive managing director" of Zellers driving the mascot bear out to the woods and telling him that everything must go, including him. The spot lived on the retailer's Facebook page, where people could also "want" featured products on sale for the chance to get a better deal.
A second spot, called "Adopt Zeddy," showed the bear in the woods (not doing so well), asking people to help by adopting him for their own. They could apply online through interactive banners, and some applicants even chose to make their own videos. The videos were viewed nearly 200,000 times and there were more than 30,000 applications to adopt Zeddy. A shortlist of adoptee contenders were voted on by Zellers' Facebook fans, with Camp Trillium, a camp for kids undergoing cancer treatment, chosen to take the bear home.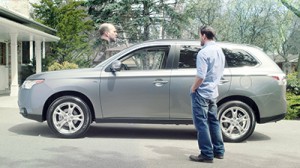 AOY
Mitsubishi places blame
There's something about a Mitsubishi vehicle that has a strange effect on its driver – dealers have told stories of seemingly mild-mannered customers taking a Mitsubishi Lancer out for a test drive and later apologizing for their lack of self-control.
This idea of "transforming drivers" became the foundation for the brand's new positioning, "Must be the Mitsubishi" and launched with a campaign that included three 60-second spots blaming the Mitsubishi for out-of-the-ordinary behaviour.
If you drive like you're being tailed, if your nine-year-old child is suddenly interested in a car with a 10-year warranty, and if your neighbour's invisibility suit has been upstaged by the brand's new Outlander because it's more technologically advanced – it "Must be the Mitsubishi."
The commercials caused a cyber stir, driving the brand's social media engagement score up 41%. What's more, in the first six months of 2013, sales were up 21% over the same period in 2012.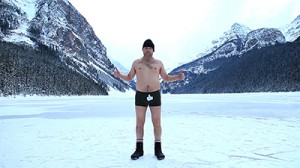 AOY/DAOY
Stanfield's takes the high road
While guys aren't super interested in underwear, they're usually very interested in the health of what lies beneath it.
Men's underwear brand Stanfield's and John St. challenged a testicular cancer survivor to hitchhike across Canada to raise money and awareness for the Canadian Cancer Society. There was only one catch – he had to do it all in his underwear (a.k.a., his "gitch") in the dead of winter.
Mark McIntyre, the star of the brand's prior social media hit "The Guy At Home In His Underwear," was recruited to be the "Gitchhiker." Fans could follow his journey – including his current location, temperature and the underwear he was wearing – on the campaign Facebook app.
Fans participated by offering him rides, donating money to the cause, inviting him to their town or giving him a place to crash. To encourage repeat traffic, his daily adventures were edited and compiled and then uploaded to the site for fans to follow.
Stanfield's stunt produced a 50% increase in sales and helped generate 47 million media impressions.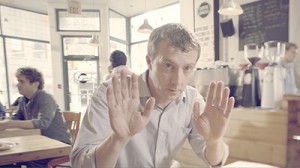 DAOY
Carly's Café opens the door to understanding autism
Carly Fleischmann is a 17-year-old Toronto teen who was diagnosed with severe autism at the age of two. After years of intense therapy, Carly learned to type on a keyboard and, with the help of her father Arthur Fleischmann (founder and partner of John St.), co-authored a book called Carly's Voice.
Using anecdotes from the book, the agency created an interactive website called "Carly's Café" to bring her personal experiences to life and have people virtually "feel" what it's like to suffer from autism.
Site visitors were invited to explore the online café where Carly and her father and sister sit down for a drink (a scene she describes in her book). But instead of being able to control and scroll around the web page, the mouse icon fails to respond, making it difficult to navigate the screen. This loss of control is gradual and ends in disturbing sounds and constant chaos – mimicking the loss of control that Carly experiences.
The video of the café scene and the microsite were seeded to Carly's Facebook and Twitter pages, as well as through autism advocates and influential bloggers. The site received more than 199,000 visitors in the first year with visitors spending an average of seven minutes of viewing times. Carly's Café also recently won a Silver Cyber Lion at the 2013 Cannes Festival.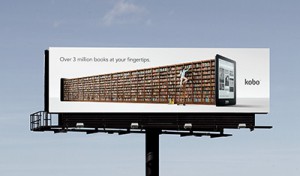 AOY

Kobo celebrates reading obsessions

In April of this year, e-reading brand Kobo launched a global campaign that targeted people who "live to read," starting with a 60-second cinema spot called "Reader's Passion" that celebrated the nuances of avid bookworms.

The commercial showed book lovers around the world so engrossed in their Kobo device that they become oblivious to their immediate surroundings, whether at a World Cup soccer match, in a bank during a robbery or at the kitchen table when a fire ignites.

For Mother's Day, the brand revealed 30- and 60-second spots (in the U.S., Canada, Australia and New Zealand), showing how the "Gift of Reading" is a way to give back to moms for all the years spent reading to their sons and daughters when they were young.

After just three months, general brand awareness jumped 14 points to 41% and brand awareness among the passionate "Reader" target increased by 26 points to 51%. Also, sales of non-discounted Kobo devices increased significantly after the launch of the campaign.