L'Oreal on its partnership with the NHL for Men Expert
How the men's brand partnered with the NHL in conjunction with its upcoming younger-targeting line of products for an online and in store experience.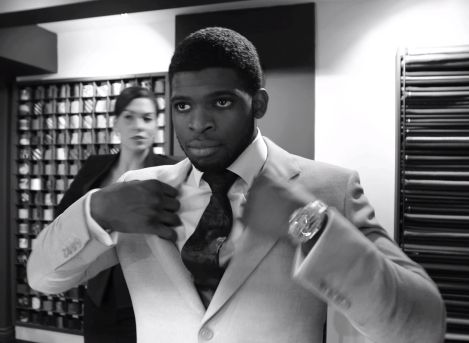 L'Oreal Paris recently announced that its male-focused Men Expert line had signed a three-year sponsorship deal with the NHL, marking the brand's first major sports partnership.

Hugo Thibault, communications director, L'Oreal Paris, says the partnership, which includes the launch of NHL Life, an online video series produced with the NHL that features behind-the-scenes looks at people in the industry, including hockey stars like P.K. Subban in "A Superstar's Life," makes sense for the brand right now as it is launching a new Pure Power line next year, targeting men from their late teens to early 20s. Other videos in the series will focus on people in the NHL through videos like "A GM's Life," "A Prospect's Life" and "An NHL Exec's Life."

"Men Expert is not the brand that has the most money," Thibault says. "Usually when we think about sponsorship it has to do with big festivals. We have thought of sponsoring something around the NHL or a sports team and this was the right time because we are launching more SKUs for the brand next year."

In addition to the upcoming Pure Power line, Men Expert also has its line of products aimed at men aged 25 to 35 and also a Vita Lift Line that targets men aged 35 and over.

The partnership will be carried through to retailers in February with special product displays, merchandising pieces and pre packs, focusing largely on the Pure Power line. In store material will link back online to create a 360 experience.

"The lives of hockey players and owners are very glamorous and Men Expert is an aspirational brand, so it is bringing the chic parts out of hockey," he says.

Thibault says the sponsorship will make up the majority of the ad spend for Men Expert, with the bulk of the activation running during the hockey season and secondary promotions during the summer through events like the NHL Awards.