Marketers of the Year: Kristi Murl changes things up at Kraft
The company's youngest marketing director rejuvenated the tired beverage mix category with quirky campaigns for Mio that entertain the elusive millennial male.
"Kraft would never do that."
It's a phrase Kristi Murl, marketing director of cold beverages at Kraft Canada, got used to hearing as she worked on the campaign for Mio liquid water enhancer.
With a 30-second TV spot by AOR Taxi 2 featuring off-beat humour and characters changing wardrobes and even identities, not to mention an edgy tagline urging consumers to "squirt some," the brand's launch campaign idea got mixed reviews inside Kraft's Toronto offices.
Murl, whose brand portfolio also includes Crystal Light, Kool-Aid, Country Time Lemonade and Tang, admits even she was anxious. But she knew that to engage the elusive millennial male target Kraft was after, and to differentiate Mio from the female-focused Crystal Light, she needed to take some risks.
Kraft was leaving the safe harbour of talking to mom and sailing into uncharted territory. The way Murl, 32, saw it, the company had just one shot at engaging its target. She believed that if Kraft could get it right by showing how the zero-calorie liquid beverage mix personalized water then, like one of the characters in its 2012 "Changes" spot declares, Mio would change everything.
"Were we apprehensive? Absolutely," says Murl, who leads a four-person marketing team and works with agency partners Taxi 2, Starcom MediaVest Group and Edelman. "We had all these questions such as, 'are men really going to flavour their water? That's why we needed a laser-sharp focus when we went into our communication plan. We needed to understand what these males were like and how they ticked, and to make sure we stayed true to that."
Breaking convention paid off for Murl and Kraft. Mio, which means "mine" in Italian, ignited growth in a category that had been in decline for five straight years, shattering internal targets in its first year by 350% and racking up $17.19 million in sales by December 2012, according to Nielsen figures provided by Kraft.
Now in year two, sales of Mio, as of October, are up 111% versus a year ago and more than 7.2 million bottles of Mio have been sold. Sales for September were up 37% from the same time last year with Mio holding 60.8% of a beverage mix category it helped reinvent.
Murl, who started at Kraft in 2002 as a marketing intern, moved from desserts to cold beverages as a senior brand manager in December 2011 with a mandate to reinvigorate the business as Kraft was preparing to split into two companies, with the snack foods portfolio becoming Mondelez International while the leaner North American grocery business kept the Kraft name. The new slogan inside Kraft was "spirit of a startup, soul of a powerhouse," a battle cry that could have sounded hollow coming from a 110-year-old company. But it's a motto that Murl and her team took and ran with.
"All assumptions were off the table and we set out to do something great, saying 'this is our chance,'" Murl says.
Mio launched in the U.S. in 2011 and was marketed to 18-to-34 males and females around the idea they could use the liquid to customize their water. It found quick success south of the border, becoming a $100 million brand in nine months, Murl says.
But Murl and her team took a different approach, one laser-focused on millennial males, to make Mio a Canadian success story.
To reach this target, Kraft needed a campaign that entertained rather than a hard sell. So, in addition to the TV spot, an emphasis was put on digital, including pre-roll buys on sites such as TSN.ca. The brand partnered with YouTube-famous, basketball trick-shot artists Dude Perfect, sending them bottles of Mio, along with some concepts, and having them produce a "Trick Squirts" video. The five-minute-long clip – featuring the guys and their mascot Panda completing squirting stunts with Mio, such as smashing packs with a sledgehammer and squeezing one in a vice – was posted on the Dude Perfect YouTube channel, where it has been viewed more than 770,000 times.
Murl also knew that many guys wouldn't know where the mixed beverages section is among store aisles. So in-store executions made Mio visible at the periphery of stores as well as at point of sale, and promotions were run with water brands such as Co-op Gold Spring Water H20. Mio also went on a frosh week tour of university and college campuses In 2012 and again in 2013, distributing more than 23,000 samples this year.
Murl also established relationships with gas and convenience store players such as Petro-Canada, Esso and Mac's to carve out some space in a channel where men shop. With the split from Mondelez, Kraft didn't have a presence in those stores, Murl says, or the strong distribution of big beverage cos such as Coca-Cola and PepsiCo. So, she went in person to meet gas and convenience reps to get Mio in.
Following Mio's big success in 2012, this year was all about further entrenching the brand with millennial males, Murl says. For the launch of Mio Sport – Kraft's foray into the cluttered and competitive sports drink market – creative focused on how only Mio lets athletes customize their level of hydration. Two ads, "Eye of the Squirter" and "Swish" ran during sports, late night and top programming in support of the launch.
Taxi 2, meanwhile, put an even greater emphasis on digital in support of the new sub-brand, creating an online version of the "Swish" TV spot that includes more than half-a-dozen annotations that lead to additional content vignettes. "Swish," which went to market in May, has been viewed more than 2.5 million times on YouTube while "Eye of the Squirter," which came out in August, has been viewed more than 3.5 million times.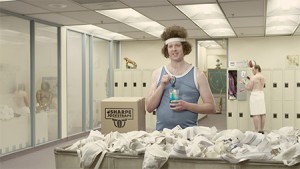 Mio's success has also paved the way for other Kraft brands, and Crystal Light got the age-down treatment this year. The brand, which traditionally targeted women aged 35 to 54 ("people's moms who now are probably people's grandmothers," Murl jokes), had lost relevance with its younger audience. So, when the beverage enhancer, which traditionally came in crystal form, launched as a liquid, Murl again seized the opportunity to engage millennials.

Her former supervisor on cold beverages, Leisha Roche, senior director, grocery at Kraft, recalls that Murl took a fresh approach to the drink mix, looking outside of the beverage category – to health and beauty, for example – to inform how Kraft would market, package and name the flavours for Crystal Light.

The product hit shelves in March featuring packaging with fun flavour names such as Strawberry Lemonbabe and Iced Tease Me.

Meanwhile, the supporting "Weird, wonderful you" campaign celebrated individuality. In addition to a TV spot launched in May, Kraft leveraged the Vine app and made a targeted Facebook buy to invite consumers to share what makes them "weird and wonderful" on Facebook and Twitter. In response to submissions, Kraft worked with Taxi 2 and Toronto-based Tinman Creative Studios to create about 50 personalized six-second spots for consumers.

"Mio was building a brand from scratch; Crystal Light was a reinvention," Murl says.

The campaign generated more than 122 million impressions and racked up over 335,000 social engagements while gaining more than 34,500 new social connections, according to data provided by Taxi. Ninety-nine percent of Facebook impressions were from the female 18-to-34 demo.

Murl left for maternity leave in August but says that looking forward, continuing to bring new users to the category will be key.

"She is a change agent," Roche says, adding that Murl's leadership reinforces Kraft as a company that is remaking itself. "Without a doubt, Kristi is the new face of Kraft Canada marketing."