Marketers of the Year: Livia Zufferli's juggling act
In a fierce retail landscape, Target's VP marketing is showing love to Canadians to gain share of heart and wallet.
Standing in the middle of a white catwalk, Livia Zufferli, VP marketing, Target, exudes excited energy…and nerves.
She's waiting for Target's debut at World MasterCard Fashion Week, set to begin in less than 20 minutes. People are running around the room putting in last-minute touches, taping up corners and adjusting lights.
"Jingle Bells" blasts over the speakers. The room is decked out in Christmas-themed pillows and blankets, and red Target-branded paper bags (each containing a miniature Bullseye, the brand's spokesdog, in a snow globe) sit on every seat.
There's murmuring among the crowd as they enter – usually gifting is only reserved for the lucky front row attendees (who get to sit in Target's plush green Threshold chairs).
"We wanted everyone here to get a little something," Zufferli says.
World MasterCard Fashion Week's fall show is reserved for designers to debut their spring/summer collections, so to get a dose of holiday cheer is unusual. Further, despite being well-known for its unique and high-profile limited edition designer partnerships – most recently New York-based Phillip Lim and next year London-based Peter Pilotto – Target opted instead to show off its house brands, including Mossimo and Merona, drawing some raised eyebrows from media coverage.
Zufferli's decision to go with a private-label heavy, Christmas-themed show speaks to her post-launch mission to educate consumers about the various brands Target carries, focusing more on the "Pay less" half of its "Expect more. Pay less" brand promise and convincing Canadians the retailer is a one-stop shop worthy of their love.
By all measures, Zufferli's pre-launch work for the retailer was a success. Throughout 2012 (without a single store to drive traffic to), working with agency partners KBS+, Carat for media, Mosaic for experiential and Veritas Communications for PR, the brand relied heavily on experiential activations, including a Target-branded hotel lounge for the 2012 Toronto International Film Festival, five sponsored beach days in Alberta, British Columbia and Ontario and a pop-up store in Toronto with designer Jason Wu, bringing in 1,500 people to view the collection in a single day. More than 90% of Canadians had heard of Target prior to its launch, and according to one survey, 61% were excited for its arrival. To date, more than 73,000 Canadians have signed up for its RedCard loyalty program.
All the while, Zufferli was building up her team of 40+ marketers, up from two (prioritizing her digital and social teams first, before branching out to bring in other marketing disciplines), and helping to shape the brand's overall identity.
Before being head-hunted into the VP marketing position, she was a partner at Capital C, leading its strategy and insight division. Prior to that, she was the director of marketing strategy at Shoppers Drug Mart, overseeing the loyalty portfolio, and early in her career, she worked as a consultant at the Monitor Group working on overall corporate strategy for CPG and retailers.
After spending a few weeks "being a sponge" at Target's Minneapolis head office, Zufferli came back to Canada in 2012 for a massive hiring spree. Though she had some guidance from the U.S., the marketing team here is much more fluid with many employees wearing multiple hats.
"I had one team member who, when I hired him, I said 'I know I need your skillset…I don't know exactly what you're going to do, but it's going to be very important,'" she jokes. "So I said, 'will you trust me?' And he said, 'absolutely.' Now he runs my marketing operations team and takes on an incremental portfolio of media."
"If I were to ask Livia 'What's your vision for the brand,' ultimately, her goal is to make Target the most loved retail brand in Canada," says Nick Dean, president of the brand's creative AOR, KBS+. "[For the launch campaign, for example,] there was a theme that to earn love, you have to give love – so we wanted to prove to Canadians that we love them back."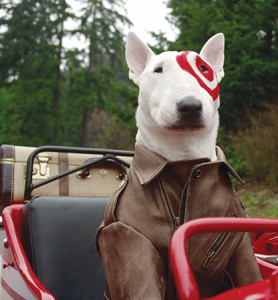 Before the doors of its first stores opened on March 5, the discount-chic retailer launched its first paid TV campaign. With a kick-off on Oscar night, the spot, by New York-based Laird and Partners, follows Bullseye as he travels the country in a motorcycle sidecar. The campaign, designed to drive home the brand's launch positioning of "Target loves Canada," drew in 700 million media impressions and has been viewed almost 600,000 times on YouTube, Zufferli says.

Then the juggling act started.

Launch campaigns continued to roll out in different markets throughout 2013, with the commercial – as well as customized-to-the-region OOH – hitting different parts of the country based on store openings.

Despite the excitement from the pre-launch, initial store sales fell flat.

In a conference call this summer and again in October, Target CEO Gregg Steinhafel admitted Canadian sales were softer than expected. Home and apparel did well, he said, but other categories like patio and lawn fell way short.

Though he says those results are consistent with major expansions the brand undertook in the U.S., he added there was room to refocus on teaching consumers about all the products Target carries.

This was echoed by Zufferli as she prepped for the back-to-school season back in July. The campaign from L.A.-based 72andsunny, featuring cute kids in iconic school moments such as science or gym class with inspirational music – like the theme to Rocky – playing over top of their struggles/successes, resulted in more than 150 million media impressions.

"We knew that as we got through the latter half of the year, we'd want to start bringing out the category-oriented campaigns," she says. "But we're still in launch mode. And that's the challenge: We're a 50-year-old brand, but we're just a startup here in Canada. And we're at different levels [of awareness] with different guests. Some know us very well, and some don't know us at all."

While Zufferli's retail background means she's attuned to the landscape and has a good understanding of the competition's strategy, she says she doesn't want to get distracted by what they're doing.

As such, while Target has been using TV spots (such as "Can't wait to meet you neighbour" and its upcoming Christmas campaign) to do the heavy awareness lifting, much of the category education occurs below-the-line, including coupon books, product catalogues and its heavily followed social and digital channels where consumers get even deeper into the ad campaign. (For example, people who viewed the back-to-school ad online were presented with school-related products in an in-video carousel.)

And though much of that activity was led by members of her team, who Dean says are empowered to own their categories, "100%" of that strategic vision comes from Zufferli.

Target's in-market holiday work, centred on the idea of "My kind of holiday," also reinforces the new neighbour tone.
Inspired by the countless rituals surrounding holidays, "My kind of holiday," which runs until Dec. 23, seeks to help consumers realize how Target can make their particular holiday tradition special, driving home the point that the brand can be a one-stop shopping destination for Canadians.

Six separate TV spots will hit the airwaves, focused on various categories such as electronic, toys and holiday trim.

The brand also decked out six Breakfast Television sets, highlighting items available at stores, and unveiled two catalogues, including one specifically for children/teens.

Dean says the holiday campaign is a prime example of Zufferli's strategic direction for the brand in Canada. Though the TV spots were created in conjunction with the U.S., despite customers there having a much stronger awareness of the retailer's offerings, Zufferli worked to ensure that there were plenty of other ways of educating consumers with unique-to-Canada efforts (such as the catalogues, BT partnerships and two specific-to-Canada spots created to showcase products), he says.

"We started the year knowing we have a lot to tell about this brand," Zufferli recalls, "and in the beginning, people loved hearing about the general launch and design partnerships, so we told those parts of the story well.

"[Now] we want to expose them to more of the categories in store. We are one of the best price leaders in the marketplace, and [that needs to be] a bit more crystallized in the marketing communications. But we have a very unique formula and if we constantly deliver 'Expect more. Pay Less,' then at the end of the day, that is a compelling reason to choose us."