Consumers want brands to capture imagination: trend
Part two of JWT's Trend Report finds that immersive experiences and speaking in photos are fast-growing among Canadians.
At the end of each year JWT takes on a global initiative, tracking upcoming trends likely to influence consumers' lives in the coming months. This year, JWT Canada conducted its own  survey in Canada to localize the global trends. In this five-part series, exclusive to strategy, the JWT Canada Front Row Insights Team Victoria Radziunas, Chantaie Allick and Melanie Reiffenstein break down the 2014 trend report with new Canadian data and examples. 
Immersive Experiences
Better, cheaper technology, the value of experiences over things, an ongoing generational shift and quest for shareable experiences are driving the next of JWT's 10 trends for 2014.
More people are beginning to value those types of immersive experiences over material objects. As a result, entertainment, day-to-day life and brand communications will become altogether more enveloping in a bid to capture consumer imagination and attention.
In JWT Canada's 2014 Trends Study, conducted using Sonar surveying 500 Canadian adults aged 18+, between Jan. 8 and 10, 2014, seven out of 10 Canadians agreed they would rather spend money on an experience than a material item. For younger generations, those experiences are also inherently shareable, offering an element of social capital.
But as people begin to expect these experiences, it will be up to brands to exceed those expectations with cutting-edge, perfectly executed and imaginative communications.
For example, in a recent Art Gallery of Ontario exhibit, David Bowie brought music, art, fashion and the story of his life together in a two-hour guided experience that took headphone-wearing visitors through the evolution of his musical career.
But Canadians are also quite open to those efforts coming from brands: 75% of respondents said they like when brands make an active attempt to capture their imagination. Millennials are a driving force behind this movement as they've become used to being at the centre of experiences and not just passive observers.
"When executed well, immersive experiences allow you to use several, if not all of one's senses," says Brent Choi, CCO, JWT.  "It also allows the opportunity to layer the immersion and create different or customized experiences. The result is a stronger opportunity to connect in a meaningful way."
There are a number of brands doing this well in Canada. For example, Anomaly and Budweiser's Red Lights brought the brand into homes in new ways and consumers, no matter where they were, into the hockey game experience. They entrenched themselves into the feeling of excitement a hockey fan experiences when their team scores a goal, and consumers readily accepted and, in fact, demanded the Red Light.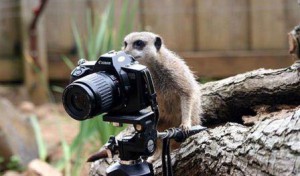 Do You Speak Visual?

Blame smartphones or Instagram, Vine, Emojis, Snapchat, Pinterest or the thousands of other image-sharing platforms, but the next generation of Canadians are beginning to communicate best and most often through pictures. This JWT trend is especially relevant in Canada because we are among the most active users of the internet and social media in the world per capita. The JWT Canada Study found 68% of respondents agreed pictures convey so much more than words.

The explosion of gifs and gif-centred websites, selfies, stickers and short-video loops like Vine posts are the most evident manifestation in this trend that speaks to a shift in the way we as people talk to each other. In this age of impatience (tune in tomorrow to hear more about that), people are embracing images more and more.

For brands, this means marketers need to start speaking the language their consumers do — improve your visual literacy and communicate that way. It's an evolving tool in the communication box. The National Post has done a great job of harnessing the popularity of great food photos on Instagram through Gastropost.com. The site challenges Canadian foodies to missions (such as snapping photos of Chinese cuisine in honour of Chinese New Year) and then has them post the results to their Instagram feed with the hashtag #gastropost. The best images are featured in the paper each week.

This trend, despite its pervasiveness, does not herald the death of the copywriter. Instead it encourages creative thinkers and marketers to think of newer ways to engage consumers. From participating in the consumer creation of images, translating assets to work in visual mediums to crowd-sourcing and co-creation, this opens new avenues for developing a brand's relationship with its consumers.