Nymi bets on the heart(beat)
Can your pulse replace a password? This inexpensive wearable tech sure hopes so.
Imagine you walk home and your door automatically unlocks as you approach. Then the house warms up to a pre-set temperature, while your favourite playlists starts pumping out of the speakers in your living room. Then, with a simple wave of your wrists, your Facebook and email messages pop up on your computer…no passwords or log-ins necessary.
Now imagine you weren't home, but this was happening anyways because someone had stolen your smartphone/watch/other wearable technology?
The concept of a smart home – and indeed the "internet of everything" – is an exciting prospect right now, especially for marketers, but most devices on the market (or soon to be on the market) aren't necessarily the most secure items. One need only steal a phone or smartwatch to access the information.
That's where Nymi comes in.
Like most wearable technologies, Nymi communicates with other enabled devices over Bluetooth, says Karl Martin, CEO and co-founder of Toronto-based Bionym, makers of the bracelet.
The key point of difference is the wearable bracelet identifies the owner based on his or her heartbeat. Created by two University of Toronto bio-electrical engineering PHD students, it extracts patterns from a pulse, creating a unique pattern identifiable only to the wearer. That means even if you're racing down the aisle to get that last minute item on your grocery list or are nervous as you step through the door of your home (speeding up your heart rhythm), the underlying pattern is the same.
Identifying people through biometric measurements – think thumb-prints and irises – is still in its infancy, with brands like Apple only recently rolling out fingerprint scanning as an unlocking method.
But in the oh-so-connected world we live in, with many devices containing vast amounts of increasingly personal data, finding ways to protect that information (beyond the numbered pin code or password system we currently use) holds the promise of blowing up in the next few years.
And at only $79 a pop, Nymi offers a very low-cost entry point for many people who may simply want to own a smart wearable device.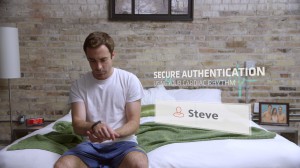 Though Martin estimates consumer shipment to begin in the summer, prototypes of the device are going to be sent out to app developers in the next month or so to help create an app eco-system for the bracelet. Knowing that apps will be incredibly important for success of the product, Bionym has started reach out to the developers, with ideas already pouring in.

For example, one proposed app, he says, is being labelled as the anti-Fitbit encouraging calm behaviour when Nymi recognizes a stressed heartbeat.

Bionym has also been working with other industries to figure out the best use of the device – including retailers (dishing out loyalty points based on physical browsing habits), automotive (unlocking the door as you, and only you, approach) and even the air and travel industry.

Though he says using biometric identifiers as a means of bypassing passport and ID checks is a long way off, he proposes that the bracelet could be used at first-class lounges: once you've gone through security and walk into the lounge, imagine as you walk up to an iPad, Nymi sends out a signal, pre-loading your email onto the tablet, while attendants know who you are and bring you a coffee based on past preferences. "So essentially, you can go anywhere, but be as close to home as possible," he says.

Despite a lot of brand interest and because the startup is still relatively young, founded only last year, he says Bionym is still evaluating partners, aiming to work with brands that share a philosophical goal ("We love new technology and discovering new opportunities to do something that matters — something meaningful for the world," says the company website), are able to move quickly and will help the Nymi brand connect with consumers. He says to expect partnership announcements over the next few months.

"We want Nymi to be a compelling product that people use," Martin says. "We're ultimately making identity really easy. This opens up so many new possibilities."