DDB and McDonald's top the Creative Report Card
Who else won the most awards at home and abroad? Strategy lists the top ranking Canadian agencies, advertisers and creatives.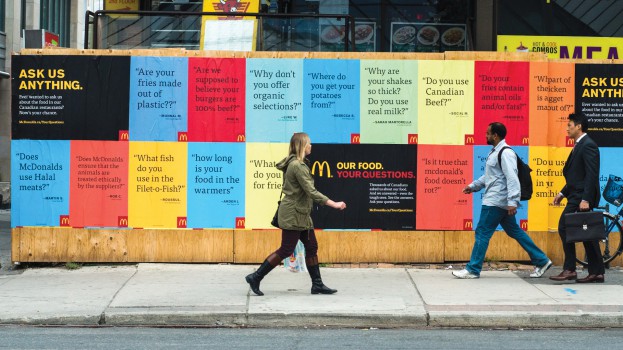 The 2014 Creative Report Card rankings are in. Doubling its score from the previous year's tally, DDB/Tribal Worldwide claimed the top agency spot next to McDonald's Canada, which stepped into the top brand spot for its famed campaign "Our Food. Your Questions."

Responding to inquisitive Canucks on behalf of the fast-food chain saw the agency collect a hefty chunk of points for awards received at international and national shows such as Cannes, One Show and the CMAs. However, the agency further added to its tally with award-winning work for brands such as the Canadian Tourism Commission ("35 Million Directors"), Toronto Crime Stoppers, Toronto Jewish Film Festival ("Film. It's what Jews do best.") and the Big Sisters of B.C. Lower Mainland ("Being a Big Sister takes less time than you think").

Next in line on the agency list is Leo Burnett, having claimed the second spot, with its creative duo Judy John and Lisa Greenberg tied for this year's #1 creative director ranking. The award-winning work that placed the Toronto shop in the same position it held last year was for brands such as Ikea (which placed third on the brand list), Raising the Roof ("Repackaging Help") and James Ready ("50% More Awesomer Coasters"; "Cover Photo Swap"; "Awesome Awards").

The top art director, Derek Blais, garnered points for his contribution to the McDonald's campaign while working at Tribal Worldwide (Blais is now stationed at BBDO and was recently promoted to ACD). The top copywriter, Ian Mackenzie, collected points for the same campaign for Tribal Worldwide, where he still works, currently as ACD.

Second place on the creative director list went to Patrick Scissons at Grey Canada, who won awards for his role in the Missing Children Society of Canada's "Milk Carton 2.0″ campaign, while Leo Burnett team Anthony Chelvanathan and Steve Persico landed at #2 on the art director and copywriter lists, respectively. And the second most-awarded advertiser this year was Kokanee for its "The Movie Out Here" branded content campaign.

Check out the links below for the complete lists. 

Want more? 

Take a look at what went on behind the scenes at DDB here

Check out what goes into McDonald's, Kokanee's and Ikea's training programs

What did John, Greenberg, Blais and Mackenzie do to get to the top of the class?