Preparing for battle
Training grounds such as Hyper Island, Swim and the Berlin School are aiming to equip advertisers with a crystal ball to deal with tomorrow's needs today.
Between the recent recession and the ever-evolving connected world, it's easy to get lost in the sea of bad news about job training. One survey of HR professionals worldwide, commissioned by training software company Lumesse, found 50% don't believe there is adequate training to deal with tomorrow's issues. As a result, 30% believe their jobs aren't secure because their skills aren't up to snuff.
Within the context of agencies, a 2011 American Association of Advertising Agencies report found most training is left to the individual employee, with Starbucks baristas receiving more guidance than your average AD. Even on the marketing side, where employees regularly receive more mentorship, it's been echoed by many that budgets are smaller and people just don't have time to teach anymore.
And with the rapid pace of change, trying to keep up might feel a bit like cramming a year's worth of lessons in the hour before an exam.
"[In response], people are hiring for what they need right this minute," says Nancy Vonk, co-founder of Swim, a Toronto-based creative leadership training program. "That didn't used to be the case. People used to count on growing their own [talent] and bringing people along. Now, it's just [filling] 'what I need right now.'"
But between new technologies (holograms, touch-screens, location-based advertising, oh my!), big data, dying mediums and more, the need for training has never been greater. This may be shifting, however. The ICA only recently began benchmarking training stats at agencies, though Suzanne Filiatrault, director of talent development, ICA, says it appears as though creative shops are putting more operational attention on skill development, particularly in the idea, strategy and management areas. There's also been a growing crop of outside programs, like Swim, ready to fill the void, helping agency folks and marketers catch up to doing business today. But more importantly, these programs are aiming to help students do business tomorrow.
Skating to where the puck will be
Early on in the three-day program offered by global training school Hyper Island, students are asked to define what "digital" means on Twitter in 140 characters or less.
"But what does that mean?" asks Tim Leake, global creative innovation and partnership director, Hyper Island. "Do we mean online? Interactive? Zeroes and ones [binary code]? It's widely contradictory because if you ask 30 people, you'll get 30 different answers," he says. "And that's problematic. How do we have a conversation about a digital strategy when we don't even agree on what digital is?"
Over the course of Hyper Island's three-day class, a new definition of digital is presented – though Leake asked that it not be revealed to allow future participants to get there on their own – through a series of workshops, seminars and discussions.
The 17-year-old program is designed to make students, who span the spectrum of positions within the marketing industry, uncomfortable with their way of thinking, and get them to think about digital and business (and digital business) in a new way.
American-born Leake breaks out a tried-and-true Canadian aphorism to explain his business. "We want to teach people to 'skate towards where the puck is going to be,'" he says (acknowledging the Gretzky misquote). "Far too often, [clients] can't see past where the puck is, and they're doing everything they can to [get to it]. And of course, by the time they get there, the puck is gone."
Hyper Island began in Sweden as a multimedia school to train students in the complex world of things like CD-ROM advertising. It quickly garnered popularity with advertising professionals and shifted its model slightly away from offering pure technology-based programs to training people how to adapt and pick up new skills.
They don't teach peopl
e how to use new technology (though students who go through the program do pick up a lot of that). They teach how to adapt to change.
The school set up a New York office in 2009, and started offering regularly scheduled classes in Vancouver this past year, Leake says. Now, most of the people who pass through its doors are marketers yearning to better understand the digital space. (Leake says that although they have no conclusive evidence, they believe marketers have become bigger participants in recent years because they have the ability to implement structural changes at the business level, while agencies can often only make the adjustments based on clients' demands.)
Participants attend a three-day session to the tune of $4,000 U.S., and on the first day examine how the world has changed and how it might still evolve, Leake says, through things like group discussions (around topics like big fears), workshops and guest speakers. (Hyper Island also offers full-semester programs out of Sweden, part-time semester-long leadership programs in New York and can also create customized programs for companies.)
"We always start [with] thinking about the future, and you realize that it's going to change for the rest of our lives. You can't catch up," he says. "At the end of [day] one, people should be feeling shook up."
The next day starts with reflection of what these changes might mean for marketing and advertising, and for participants themselves in their day to day, shifting the conversation away from the risks of ignoring the future to the possibilities of embracing it – how it can be leveraged, and what it might mean for business models, collaboration and staffing needs.
Finally, the third day is focused on creating implementation plans for participants – how people can go back to their offices and make changes (i.e. new habits, the introduction of long-term programs, personal and company goals). "We're not a McKinsey which will come in and help implement [change] from start to finish," Leake says. "[We're] an outside hand to help solar-plate the conversation towards the future."
A big challenge he sees is that many people still cling to the idea of "if it ain't broke, don't fix it," which prevents people from trying new things and exploring new technology.
"Before I went, I knew that TV works and if there were new mediums, I was of the mindset that 'If those are proven, I'll recommend them to my clients. We'll wait until it's as good as TV,'" says Lance Martin, ECD and partner, Toronto-based Union, who attended a Hyper Island session four years ago. "[Now] it's the complete opposite – you've got to jump into things and decide for yourself if they're going to be [useful] before other people figure out how to use them." He regularly downloads new apps and checks out new technology on the fly, such as Tinder, a proximity-based dating app, to try to figure out their applicability for clients.
While learning new skills is an important by-product of Hyper Island, the solution it provides is instilling the desire to want to learn, Leake says, promising that continually learning and keeping abreast of the changing nature of digital will help elevate a participant's creative leadership.
Creating tomorrow's leaders
Though the need for strong leaders, or indeed leadership training, isn't new, leading people through a new digital reality certainly is. Everything from the Berlin School of Creative Leadership and Swim to the ICA and Sparkstarters offers a leadership-focused training program geared at agencies and marketers.
The leadership programs follow a pretty standard structure: whether it's four days or 10 weeks, students attend speaker sessions, participate in workshops and have discussions on the future of the industry, with a focus on management skills.
At the Berlin School, founded in 2006 by creatives for creatives, students pass through five two-week classes over the course of one to three years.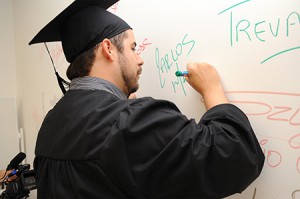 The executive MBA program costs participants 53,000 euros and takes place in Berlin, Los Angeles, New York, Tokyo or Shanghai. It encourages people to delve deep into a problem their industry is facing – whether that be banking or film – with a master's thesis that has practical benefits for that particular industry. (The program also runs "crash courses" at big industry events, like a two-week program in Cannes, as well as creates customized curricula for companies.) Classes range from Applied Accounting and Financing to Decision Making & Change Management and Corporate Entrepreneurship & Innovation.
A significant focus is on equipping participants to become better, more creative problem solvers, says Clark Parsons, managing director, the Berlin School.
The school aims to expose students to new inspiration, businesses and impulses, he says, but keep their focus on an industry's needs (through the thesis paper). In the end, he hopes participants become leaders in their fields (more than a couple have turned their papers into books), which will help them deal with business problems no matter what the marketing and advertising landscape looks like, Parsons says.
"A lot of companies come to us with a very similar complaint," he says. "They say, 'Things are moving so fast and there's so much innovation happening. The old days of advertising are gone and it's not just about a campaign [anymore]. We need people with a different skill set who can think more like entrepreneurs and business solution providers.'"
"As a leader, a lot of what you're doing is being a thought leader to your clients – standing back and looking at the big picture and wondering what your personal output is and what the output at the agency is," says Swim's Vonk. The Toronto-based program, started by former Ogilvy CCOs Vonk and Janet Kestin, who retired from the agency world to pursue the corporate training one, highlights the need in the industry to instil better management practices.
Part of being a good leader means having the skills to be a better manager in order to keep talent happy and maintain better client relationships, she says.
Each program is customized specifically for clients' needs and budgets, Vonk says, though the majority of the programs run for four days, split over six weeks. There is a focus on bringing in different industries to speak on topics like storytelling and improvisation, and helping boost soft skills like listening and presentation through participatory classes such as improv or guest speaking.
Vonk and Kestin then take aside each participant in the group (most sessions usually host 10 to 12 people) to offer more customized, one-on-one training based on that person's career goals and challenges. Afterwards, "they've all been given tools and perspectives on things like challenging the status quo," says Kestin.
Whether it's through academia like the Berlin School or one-on-one training with Swim, creative leadership programs are designed to help advertisers step back from the day to day and examine the bigger picture, and teach participants to root all solutions in a bigger business need, helping to move away from short-term campaigns, Vonk says.
Learning outside your comfort zone
A key element of these programs is that they all force people out of their comfort zones, both literally by pulling them into new spaces, and figuratively by exposing them to new disciplines and people. At the Berlin School, for example, Parsons says it's not unusual for an ad exec to sit between someone from the film industry and the head of marketing at a major world bank, while at Swim, the program plucks people from outside the marketing world – like actors and authors – to bring in outside insights on things like presentation skills and storytelling.
At Sid Lee, they've taken things a step further. The agency has built a space to host its Boot Camp, a short program inviting creatives from various disciplines (architecture, film, advertising, etc.) from around the world to work towards solving a single business problem, injecting inspiration and insights from other industries into marketing efforts.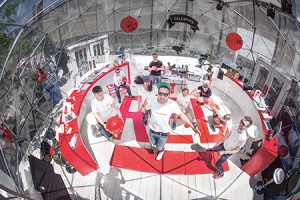 Originally started as a way of tapping into new talent, Sid Lee realized the Boot Camp was an effective way to help clients and provide staff training, not to mention act as a business unto itself (with non-clients calling the agency for shorter boot camps).

The programs run for one to 10 days, and early on participants are presented with a client brief, around which they spend the first day brainstorming. The week that follows is dedicated to finding solutions for the client through different disciplines, with workshops exposing creatives to things like architecture or code.

As a result, the agency itself has changed its working structure to bring new ideas to the table earlier on in the creative process, says Philippe Meunier, co-founder and CD, Sid Lee. For example, planning has taken on a much more important role throughout the creation of an ad campaign, he says, pointing to upcoming work for Absolut Vodka (which will be on air in the coming months), for which Eric Alper, VP and partner, who focuses on planning, had equal say with creatives.

The whole point of the Boot Camp is to change or open up to new business models because it's the only way to stay relevant in a changing business world, Meunier says, pointing to the rapid-fire sessions and outside inspiration as key drivers for change. "I think brands are getting challenged more on their business models than they are on the next campaign," he says. "And they need to come up with creative solutions that'll transform their business. [But] you need to embrace more disciplines to change a model."

In the ever-changing world, it seems knowing how to make great online content or be "media agnostic" and work well across all mediums isn't as important as being able to think about tomorrow's business problems today, which requires some big-picture thinking.

If you're an agency, this means being able to creatively solve your client's business problems. For a marketer, it means being able to take creative business insight from other industries and apply it to your own brands.

These programs don't train you to come up with the big creative idea – though they do help. They're training you to come up with ways to future-proof your business, which in today's world of shrinking budgets and rapid-fire innovation, is the next best thing to a crystal ball.

***

Swim's Magic Hour for Unilever

Though Swim's courses generally run for four days split across six weeks, it also creates customized programs for corporations.

For Unilever, Vonk and Kestin helped create Magic Hour, a one-hour session that runs every six weeks, inviting Unilever staff to come in and hear from a mystery guest, says Sharon MacLeod, outgoing VP marketing at the CPG co.

The program has practically run since Swim's inception in 2011, and has included speakers such as acting coaches, heads of marketing and even
Canadian blogger Kyle MacDonald, who traded a single red paper clip up to a house in a series of trades.

"In a VUCA [volatility, uncertainty, complexity and ambiguity] world, where things are constantly changing, you can really get caught up in the day to day," MacLeod says. "[I thought] we needed to constantly be reminded that we're a creative organization and that the only way to respond to VUCA is to be agile and ready to change."

And it has directly influenced the company's marketing efforts. After hearing Vonk and Kestin speak on the powers of storytelling, the brand team decided to adapt a global execution (a new platform called "Do:More") to make their own mark.

"Degree had always been typical advertising," she adds. "It was very classic motion-sense advertising – 'The product works when you move,'" MacLeod says.

Partnering with injured army vets, Unilever Canada released a series of videos following the veterans as they prepared for Tough Mudder, an intense obstacle course competition held each year.

Following the September release of the video, which has garnered 87,000 views to date, the brand, which had been losing share, saw a turnaround, MacLeod says.

"We got to a much better place understanding that we could connect with people on an emotional level. You can tell ["Do:More"] is just so much more powerful than talking about the formula – you can really connect with these people."