SXSW blog: The privacy conundrum
Critical Mass' Chris Gokiert checks out the opportunities for brands in protecting consumers' data.
Now that South by Southwest Interactive is over, we tapped agency folks who attended the conference to write up the lessons learned.
By Chris Gokiert
Everybody wants to talk about it but nobody, including me, is really listening. SXSW was an amazing showcase of technology and how marketers are using it. While wearables and the maker movement were definitely a hot topic, the other big trend this year was that of privacy. Julian Assange, Edward Snowden, journalist Glenn Greenwald, privacy research Christopher Soghoian and others spoke about the serious issue of our data protection and how it is pretty non-existent in today's world.
Snowden and Soghoian's talk made one point really clear: people are continuing to sacrifice their privacy online in the name of an easier customer experience. And it is about to get worse.
We've been going on for years about how people don't care about the issue. Sending texts, posting on Facebook, sending emails on Google, video chats on Skype, or enjoying the Magicband experience at Disney World, exchanging your information for a good experience. Like most of us, I do these things with nary a thought about where my info is going, often chalking it up to being completely harmless. The next generation of technology advancements will be soon on your body or in your house and will be sharing even more.
The trade shows and the Accelerators were filled with a cornucopia of different devices that will make your life easier. One of the finalists in the SXSW Accelerator was Bionym and its Nymi product. By using your personally identifiable cardiac rhythm, you have the luxury of moving through your world without needing to remember a password, or bring keys or your wallet. Thanks to the advancements of Bluetooth Smart technology (also called Bluetooth Low Energy) wearables like the Nymi will be able to integrate into pretty much everything in the very near future.
Also making massive advancements is the field of robotics and how they are integrating more and more into our everyday lives. This isn't just about the cool robot toy, the term "robotic" is loose and has been put on things like the Roomba and even extended to Nest. Many of these devices have high-def cameras and sensors, and can be hooked up to your profile.
We are moving to a world where our profile is not online, it's everywhere, and it's accessible. Now to be fair, all of these companies have some pretty heavy-duty encryption protocols and security practices but reading about the "hack of the week" shows some are a bit cavalier in their approach.
But that's a huge issue. Think of all the incredibly personal data flowing back into the hands of big corporations. As a brand, that might be wonderful news. As a consumer, it's incredibly scary.
The Snowden affair has forced some changes. The big companies (i.e. Google, Facebook, Yahoo, Apple, etc.) have been stepping up their game and making improvements that will enhance our ability to retain privacy. But the trade-off between privacy and commerce will continue to be a debate. At SXSW, it became apparent that many of the smaller companies, with more limited resources, do care about privacy and security but the proper protocols are expensive and time-consuming.
The real opportunity is how we can build a customer experience for privacy. Instead of sacrificing our privacy for monetary reasons, we need to be monetizing privacy. There will always be ways to reach people and monetize our media platforms. These media platforms will not just be our computers and phones, but our homes and bodies in the future. It's time we put some more thought to how we deliver those customer experiences in a manner that preserves our privacy.
Or, just shrug and say, "What can I do about it?" The future of wearable tech and robotics is here and it's awesome. As customers, the experiences that we will enjoy will be mind-blowing. As marketers, the opportunities to engage our customers are endless. The age of art and technology is very exciting. I'm just hoping the cavalier treatment of our privacy and resulting collateral damage is starting to come to an end.
Want to read more about how brands can protect their consumer's privacy and the opportunities in the space? Check out Microsoft's Alyson Gausby's thoughts on the matter.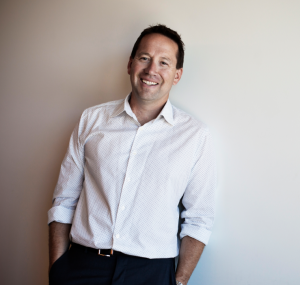 Chris Gokiert is president of Critical Mass. Criticalmass.com

Image courtesy of Shutterstock.