Absolut taps into the maker movement
With a 3D-printed installation at the AGO, the vodka brand launches a year-long campaign, including a summer maker festival.
The burgeoning maker movement can now count Corby Spirit and Wine Limited brand Absolut among its supporters.
The alcohol brand is linking its "Transform Today" global campaign to the technology-based, DIY-inspired cultural phenomenon, hosting a series of events to showcase and celebrate the movement.
The program launches tonight at the Art Gallery of Ontario's Massive 10 party,  featuring an installation designed in collaboration with Jonathan Moneta, owner of MakeLab, a company that designs large 3D printing experiences.
Moneta's installation, Absolut Maker Construction Set, is a pair of two-metre-high sculptures linked by custom 3D-printed connectors linked to hundreds of Absolut bottles. It is fully interactive and illuminated by LEDs which can change colour when guests at the Massive 10 party tweet @AbsolutCanada with the hashtag of a colour of their choice. The work takes inspiration from one of the earliest uses for 3D printing, which was to create "mating objects" that made it possible to marry objects that otherwise could not connect, Moneta says.
The exhibit will then travel around the country, stopping next in Vancouver.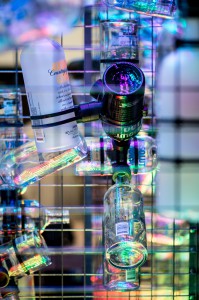 The event is the springboard for a year-long campaign from the brand that includes 27 regional experiential events done in collaboration with maker spaces, supported by a social and digital push, along with paid media and PR influencer relations. The events will include "make-a-thon" challenges that task people in the maker community with creating dispensing devices, which will be showcased at MakerFest exhibits; bar bot competitions, where people will be asked to team up and create drink-dispensing robots that can mix and pour cocktails featuring Absolut Vodka, then have their work showcased at gallery-style spaces; and a grand Absolut-sponsored MakerFest Event in August in Toronto to showcase the work of makers across the country. Though the events target the maker community, the results will be displayed for the public.
Chris Bhowmik, senior brand manager for vodka at Corby Spirit and Wine Limited, says the events this year are the start of a long-term investment for the brand, as it seeks to support and help grow the movement - artists, inventors and entrepreneurs who combine traditional activities such as metalworking and woodworking with tech-driven creativity including 3D printing, electronics and robotics.
It is a natural fit for Absolut, Bhowmik says, which has roots in supporting the arts, an effort it recently relaunched with the "Transform Today" campaign, which he says is looking to engage millennials.
"When you are looking to engage the next generation you need to go back to your roots, the arts, but at the same time you need to bring it to consumers in a very relevant way," Bhowmik says. "What better way to do that than to engage the makers, who are about traditional craft, mixed with technology, so they are really cutting-edge in terms of true contemporary art."
A win for the brand will see both makers and consumers inspired and participating in the events, Bhowmik adds.
"From my perspective, the success of [the initiative] depends on our ability to inspire, create and celebrate with the makers and with the consumer," he says. "If we can do that with both groups, we have succeeded."
The maker movement first started about five years ago, around the same time 3D printers began to be affordable for consumers, MakeLab's Moneta says. While it is hard to define the size of the community in Canada, there are nine Maker Faires across Canada each year, with an attendance rate of between 500 and 5,000. Toronto's Mini Maker Faire was attended by about 4,000 people last year, says Moneta, and organizers expect 10,000 this year. Meanwhile, there are people who are into woodworking or own metal shops, who may not identify with the "capital M" maker movement, Moneta says.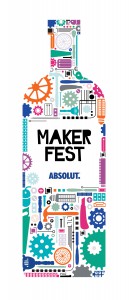 And while Moneta admits people inside the movement have been wondering why brands have not reached out to them before, he notes it is still a relatively young and not well-known movement, which makes part of the challenge for Absolut to educate the general population about what the maker community is.

"I think it is as much about helping to develop the maker community as it is leveraging it," Moneta says. "I think that's one of the reasons it took very little time to convince maker spaces [to get involved]."

Moneta says the brand has won the support of the movement by going to maker spaces and asking about the needs of the community, before settling on launching MakerFest. He was contacted by the brand last year to come in and demonstrate what 3D printing was all about to the Absolut team, then invited to travel with them to meet with makers at spaces, including Victoria Makerspace, Tool Library in Toronto and Helios Makerspace in Montreal.