The young and agile
Savvy millennials are starting their own agencies and proving experience is not everything.
Every generation has its entrepreneurs and ambitious, young go-getters, but in this age of digital-everything, can being young and hyper in-touch really trump the value of solid experience? One study found millennials are twice as likely than their counterparts to start their own business in the next year, meaning there are lots of entrants trying to break into the market.
Strategy found a few of savvy millennials (a term Statistics Canada deems to refer to those born between 1981 and 2000) who nixed the industry's ladder-climbing structure in favour of starting their own agencies. And while it might be experience they lack at the outset, they're proving their worth in other ways.
Seventeen-year-old David Bell (pictured below, right) might have friends looking forward to high school graduation, but this entrepreneur has more on his mind than grades. Since 2012, Bell and his partner Christian Lunny (pictured below, left) have been running Winnipeg-based social media agency Dash, which has grown from a couple of teenagers and their laptops to a team of 10 people, the oldest of whom is only 28.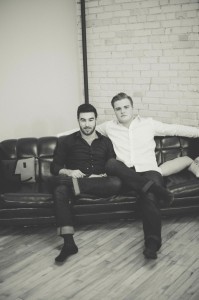 After spending about a year to a year-and-a-half building up their social media and storytelling abilities, the pair began to take their business seriously, acquiring an office space in Winnipeg's Exchange District a year ago and rebranding to Dash this past January. The agency's specialties include developing content for social media platforms such as Instagram, Twitter, Facebook and Snapchat, and its client roster includes Winnipeg Technical College and the Information and Communication Technologies Association Manitoba (ICTAM), for which it recently worked on a customized selfie app for the brand's Innovators event.
And while Bell and Lunny's ages rarely come up in meetings, it can often have a positive effect, with clients thinking "they'll know how to market this properly and our brand will be cool in essence," Bell says.
As such, the challenge for the pair in the beginning was not their age, but more so their offering – bringing clients on board with their contemporary approach to advertising.
"Traditional advertising is still huge within Western Canada, so convincing people to divvy up a large portion of their budget to dedicate it towards social media is tough for some people," says Bell.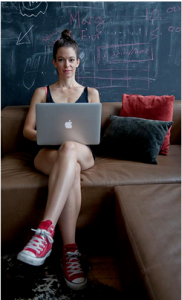 Similarly, Toronto-based digital agency Pilot Interactive's early success could be attributed to being savvy with the latest technology, says co-founder Tegan Mierle, 28 (pictured right),who started the company with fellow millennial David Di Biase in 2008.
Pilot typically has a team of 10-12 people, who are all presently 30 years old or younger, and is currently working on projects such as an iPad app and a website for York University's Faculty of Science, while former initiatives include creating consumer platforms for Samsung and Nike.
Mierle laughingly admits the founding duo did have some challenges with clients taking them seriously early on because of the age factor, but it was Di Biasse's knowledge of the latest technological frameworks that won them over.
And though they might have missed out on the mentorship that comes with working at an agency, she admits, this lack of experience does have its benefits.
"We didn't come from traditional agency backgrounds, so it's not like we had to adapt our business from a more traditional agency into a digital agency – we started from that, that's all we know. So I think that's been an advantage for us."
But the space has become more competitive since Pilot launched and presents its own challenges, she says.
"Now it's almost like there's another younger generation, or our generation that had maybe worked at other companies previously, starting their own businesses. So I think it's a very competitive space right now and I think that our challenge is going to be, how can we differentiate? What other types of services or products can we offer that is going to be attractive for clients?"
A lack of industry experience can be a liberating force for millennial startups, says Glen Hunt, chief transformation officer, Cossette, in an email.
"Bravado, naivete and innocence can free you to try things that the second-guessing of experience might have otherwise squelched," he says. "Innocence propels you forward, so that you are constantly adapting and inventing in the truest Darwinian sense."
In fact, Hunt points to one of Cossette's Claude Lessard, who was 22 when he launched the shop along with a small group of founders.
"He didn't know the rules and that became one of his – and the agency's – greatest strengths," says Hunt.  "He wrote his own rule book and solved problems using creativity and by innovating, not by consulting the wisdom of experience."
Image via Shutterstock