Cause + Action Awards: Telus critters find love
The telco inspired Canadians to support WWF-Canada with plush pandas and Twitter-powered vending machines.
Inspiration
The iconic animals featured in Telus campaigns have helped the brand become one of the most recognized in Canada. But consumers were unaware of the reciprocal relationship the brand has with these critters and specifically what Telus has done and continues to do to support Canadian wildlife.
Based on this insight, the brand worked with agency Taxi to find simple ways to motivate Canadians to give back and protect the country's wildlife, while also launching a four-year $1 million partnership with WWF-Canada.
Strategy
In November 2013, Telus launched its "WWF Critter" campaign, which aimed to raise money to support local Canadian wildlife and its habitats. The campaign included mass media, social media and experiential executions, in addition to a 2014 Telus calendar, holiday e-cards, an app, as well as an internal employee campaign.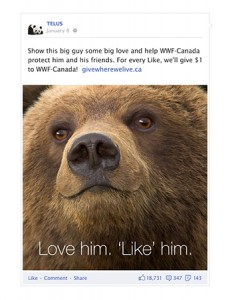 Execution

On the "We Give Where We Live" website, the brand provided ways for consumers to raise funds for WWF and give back to Canadian wildlife. Through TV, online and offline ads, the brand encouraged Canadians to purchase a Telus plush panda with the proceeds going to WWF. Pandas were sold as "the gift that gives back" during the holiday season in stores and online at Givewherewelive.ca.

A "Love Meter" was launched on the website, giving a $1 donation to WWF for every tweet, Facebook post and Instagram photo using #Hometweethome. In addition, for every "like" or "share" of Givewherewelive.ca, Telus donated another $1 to the charity organization.

Telus also hit the streets with interactive TSAs where people could press a heart button to show their love and have the brand donate another $1. There were also "Twitter-powered" vending machines, where every tweet with #Hometweethome dispensed a free plush panda and donated yet another $1 to WWF. A video of the shoppers interacting with the machine was also housed online.

Results

In market for only eight weeks, the "WWF Critter" campaign saw unprecedented participation on both Facebook and Twitter. The campaign garnered a reach of more than 180,000 and the engagement rate was 5.3% (10 times more than the Facebook industry standard of 0.5%).

The campaign received extensive coverage from media outlets and bloggers, from Mashable to Vancouver Is Awesome, and nearly 100,000 people visited the website, with 85.4% being unique visitors. What's more, Telus achieved its goal of contributing $250,000 to support WWF.

Judges' comments

"The campaign was very well thought out, leveraging both Telus' and WWF's recognizable link to animals. The Telus 'WWF Critter' campaign had unique and engaging elements, like the 'Love Meter' installation and 'Twitter-powered' vending machine. How could anyone resist getting involved?" – Melanie Agopian, Loblaw

"Leveraging brand identity against a logical and strategic cause, done in an innovative and engaging way. Winner!" – Geoff Craig, Heart and Stroke Foundation