OOH with facial recognition tours Quebec campuses
Quebec's Commission on Health and Safety at Work puts a face (the student's own, distorted face) to its workplace safety message.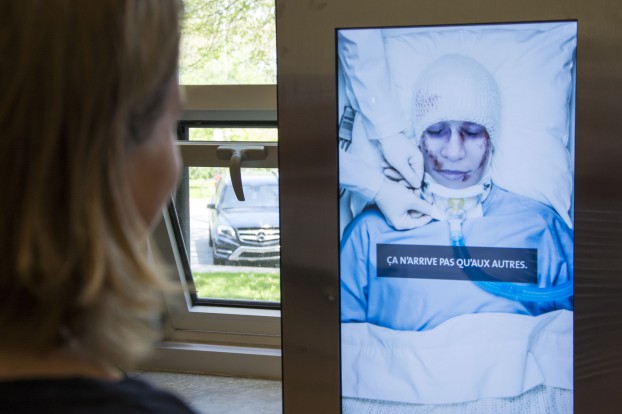 A work safety message isn't the easiest thing to sell to the elusive millennial target, especially when they're hustling between classes.

But Quebec government agency the Commission on Health and Safety at Work (CSST) teamed up with Quebec agency Brad, Zoom Media and software development company Parabole to deliver an OOH experience that put a new face to the campaign – the students themselves.

Using technology developed by Zoom Media and Parabole, interactive terminals with facial recognition technology were set up in 12 Cegeps (colleges) in the province over four weeks (three per week), with the campaign wrapping up this week.

Students who approached the display saw a photo of an injured person in a hospital bed. They were then instructed by two volunteers to stand in front of the display. While the screen flashed information about work safety, the terminal scanned their face, capturing them in a photo when they blinked their eyes. The terminal then adjusted the user's facial dimensions and corrected for the lighting while superimposing wounds onto the image of their face before displaying it back at the viewer. They were then presented with a message, translated as "It doesn't just happen to others" and another message encouraging them to ask for training on the job. The last communication encourages viewers to visit a website for the chance to win $500.

The interactive terminals were the cornerstone of an integrated campaign, including static OOH in colleges across the province, to drive home the message that 32 people under the age of 24 are injured on the job daily in the province. The four-week-long campaign wrapped just as students are about to start their summer break and head off to work.

The companies involved say it is the first time the technology was used for advertising in Canada.

François-Pierre Boucher, senior account manager at Zoom Media, says the custom-built terminals are flexible and can be tailored to other brands. The motion caption, for instance, can track other moving body parts or be used in a virtual gaming scenario. The boards are connected to Wi-Fi, he says, and have the capability to connect with social media, allowing people to post the images, for instance (the organizations decided against it for this campaign because of the age of the target audience).

"We expect to develop the potential of these stations and there are endless possibilities of what we could do with this," he says. "The only thing you need is a plug."

Full results of the campaign are not yet available, Boucher says, though he notes one station had 250 visitors in the first day of the activation.