Time for a cold one
Molson Canadian 67 and Sapporo have unveiled new campaigns ahead of the May long weekend.
The Victoria Day long weekend is within grasp and beer brands Molson Coors Canada and Sapporo are kicking off new campaigns just in time for the holiday.
Working with agencies Rethink, MEC and Harbinger, Molson Canadian 67 has launched its new "Less is More" campaign, which maintains the message of the product's dual nature as low in calories, yet great-tasting, but aims to convey it in a more emotive manner, says Jeff Harrop, senior marketing director, Molson brands, in an email.
Research indicated consumers skewed 35+, so the brand delved into the insight that people of this age are beginning to really figure out their lives, he says.
"They know what makes life good, which includes choosing the things that make life enjoyable and leaving the extras behind; that less is really more."
The new campaign, which launched Wednesday and runs until the end of September, comprises national TV, OOH, digital and sponsoring golf events, such as PGA Canada and the Canadian Open, in addition to more grassroots activations at various courses.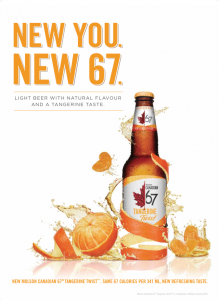 The brand also recently rolled out its Molson Canadian 67 Tangerine Twist product, targetting females 35+. The brand's 67 product and 67 Sublime, a lime-flavoured beer, have seen success in attracting consumers from adjacent categories such as wine and spirits and ready-to-drink coolers, says Harrop. The new Tangerine Twist taps into consumers' growing interest in trying new flavours, he adds.

Targetted OOH, digital, social media and sampling events will support the launch.

Japan-based brewer Sapporo has also launched a new edition to its "Legendary Biru" campaign in advance of the long weekend,typically the beginning of a higher sales period for the industry in Canada.

Tapping into sumi-e animation (Japanese ink wash painting), Canadian agency DentsuBos developed the "Legendary Biru: After Dark" spot for the North American campaign, which fuses modern and historic elements, and worked with U.S.-based companies Imaginary Forces and Big Picture .

As the brand's second full national campaign in Canada, the push will be supported by PR, digital media with page takeovers, animated ad formats and paid social with Facebook and Twitter to drive to the TV spot.

The brand, which is marketed by Guelph, Ont.-based Sleeman Breweries in Canada, targets young urban professionals who like premium beers and seek to discover new design, technology, music and nightlife.