Dentyne prepares daters to pucker up at the movies
Striving to become part of millennials' pre-date ritual, the gum brand has partnered with Cineplex for its latest campaign.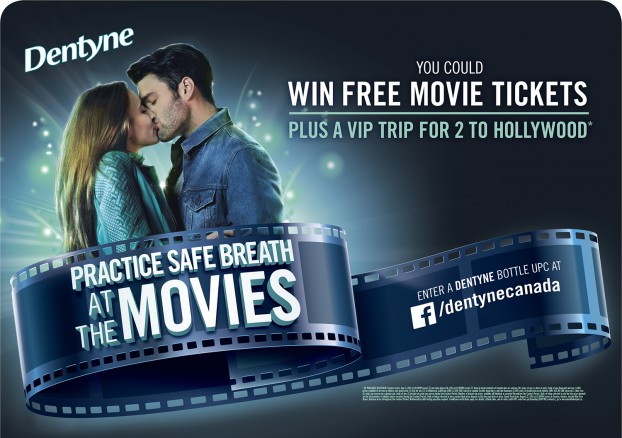 The availability of movies through subscription services like Netflix and the amount of free content roaming the internet, coupled with the popularity of at-home cinemas might make film lovers less inclined to head to their local theatre. But there's one thing these experiences can't quite replicate – the magic of a movie date.
Partnering with Cineplex, Dentyne is tapping into this insight and the promise it holds for millennials looking to lock lips. The Mondelez-owned gum brand's newest push, kicking off next month, will see the return of its "Practice Safe Breath" campaign, but this time with a focus on the movie-going experience.
While there is no actual in-theatre component, the campaign will roll out in retailers such as Walmart, Sobeys and Loblaws, with in-store material such as pre-pack displays, stepper heads and wobblers. Leveraging a contest which gives consumers the chance to win an ultimate date night experience with a trip for two to Hollywood, in addition to thousands of pairs of Cineplex movie passes, in-store pieces drive consumers online to sign up to win. The contest will live on a microsite, winwithdentyne.ca, as well as the brand's Facebook page. The contest and campaign will run until Aug. 26.
The latest push was a collaborative effort, with Sid Lee developing the campaign, B Street working on the Cineplex partnership and contest, Tribal handling social media and MediaVest covering the media buy.
"We were looking at Cineplex both as a location where our millennials were, as well as an opportunity to really connect closely to the kiss since…it was all about 'practice safe breath,' but more importantly, how do we seize every moment to connect?" says Leslie Blachford, account director, B Street.
Seizing the moment has been engrained in the brand strategy, she adds, which also entailed adding Dentyne to millennials' pre-date ritual before heading to their movie date night – "that ultimate opportunity to make some chemistry."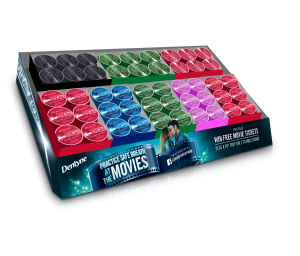 The brand was also looking to activate in June to support its newest flavour, Rush, which will become available in bottle format next month, Blachford says.
A mobile buy on Cineplex.ca will also support the push, she adds.
"That could be targeted to be much closer to point of buy," she says. "So instead of being in theatres, where they can't necessarily go and purchase gum right away, we really focused on those mobile ads that are, I think, well-viewed with the target market being millennials."
The partnership between Dentyne and Cineplex is a new one, although Mondelez has undertaken co-marketing initiatives with the theatre co for its Maynards candy brand, which is sold in cinemas, says Blachford.
Gum is not necessarily available in theatres, she adds, but this latest initiative ties into date-goers needing fresh breath.
So here's to more smooching in the back row.