Mott's solves snack stress
Targeting moms looking for healthy options, the brand plans to follow up its current in-store campaign with a back-to-school push.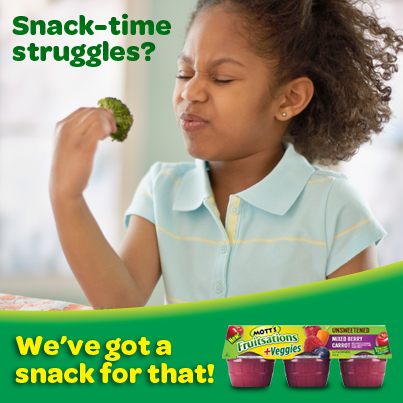 Pushing the message of helping parents with their snack time woes, Mott's Fruitsations is supporting the launch of its three newest products.
With an in-store and TV campaign currently in-market, plans for a back-to-school push and summer sampling efforts via soccer sponsorship, the brand believes its offerings address many of the key struggles parents face when searching for kids' snacks, says Susan Lemieux, director, marketing, Canada Dry Mott's.
The brand has recently launched two new products in resealable pouches in Fruit Rockets Unsweetened Blueberry, its top flavour in cup form, and +Veggies Peach Apple Carrot, its most popular from its +Veggies line. It also launched a new flavour in cup format, +Veggies Mixed Berry Carrot.
Targeting parents with children under 12, the pouch would likely skew a bit older than the brand's cup, but still falls within that demo, says Lemieux.
"We know everybody is looking for some convenience – [with] busy, on-the-go parenting, we're all either rushing out to hockey or soccer, trying to get some nutritional snacks into our kids as we go."
Mott's Fruitsations first introduced the pouch concept to its lineup about 18 months ago and Lemieux says the brand has seen a lot of incrementality to the category.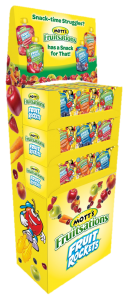 Its current campaign, "Snack-time Struggles? Mott's Fruitsations has a Snack for That!", features an in-store program with display units and POS, as well as a national TV campaign in English and French, which marks the brand's return to the medium after a several-year hiatus. The campaign, which kicked off last month, emerged from consumer research indicating moms struggle to find snacks that meet a number of criteria such as healthy and convenient, yet tasty, fun and with variety, says Lemieux.

Laird + Partners developed creative for the campaign, while Black Rock Marketing Group handled in-store marketing. Mindshare worked on the media buy, with social and PR support for the launch from Veritas Communications.

Mott's Fruitsations is also sponsoring the Ombrelle Active Start Soccer Fests, enabling it to tie-in to 140 cross-Canada festivals and engage in sampling at 10 of the main tournaments this summer.

A back-to-school push will also kick off at the end of the summer, featuring new in-store material and a contest hosted on Facebook for a $25,000 RESP, in addition to 2,000 secondary prizes.