Unilever's edge is global, green and digital
Dickie Martin, the CPG co's new VP marketing, brings worldly knowledge to the Canadian market.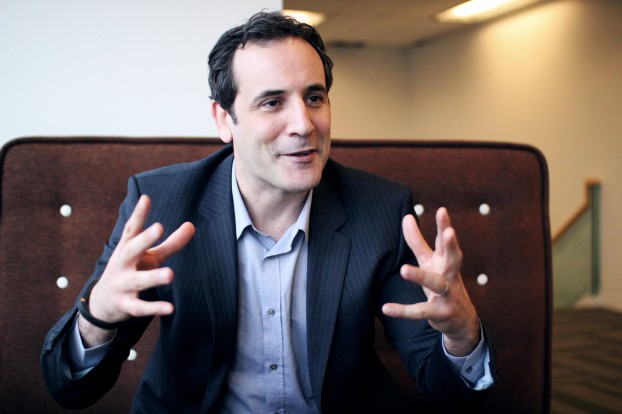 Who would've thought a simple observation like where a woman keeps her deodorant could help lead to a better understanding of consumers and how to reach them? But such was the case while in Russia, for Unilever Canada's new VP marketing, Dickie Martin, who has led key brands at the company across global markets, including the Middle East and Africa.

Now settling into his new role, he plans to further the CPG co's sustainability efforts and embrace the inherently rapid nature of the fast-moving consumer goods category. Martin also shares some insights with strategy about the art of digital marketing and how adapting and adopting can sometimes trump a plug-and-play model or reinventing the wheel.

What areas do you want to focus on in Canada?

Marketing [at Unilever] is going in a great direction, so my first order of day is to keep the fire burning. But then there are the areas that I'm particularly passionate about. One is digital marketing. It's an area where there are so many moving pieces, and it's very difficult to co-ordinate the pieces, the right level of investment, the messaging. Getting those moving parts to fit together is an art, really. At Unilever, we are really cutting-edge in digital marketing. [Look at] all the work Dove has done around the world, in Canada, especially.

But there's always space to do better. Our category is called fast-moving consumer goods, and we have to be fast. We have to continuously push to deliver better value for the people in Canada so they continue to choose us and love our brands.

Another area [I'm passionate about] is partnerships (with events or spokespeople, for example), which are a way of connecting passion points that are important to Canadians. For example, Degree teamed up with [Montreal Canadiens player] P.K. Subban and the TV program The Next Level which talks about how high-profile athletes constantly push themselves to take their performance to the next level. It's a great fit with what the brand is all about and a perfect way of connecting with our audience, which is made up of "doers." High performance athletes are the ultimate "doers."

I'm also passionate about taking the Unilever Sustainable Living Plan (USLP) [the company's sustainable growth plan] further. There's a lot of great work that's already happening and I'm excited when I look at what's coming in the next 12 to 18 months. Canadians, it's been my observation, are very passionate about their environment, so I think they will find a lot of affinity in the things that we're bringing and will be bringing to them. On USLP, we have a very strong innovation program that will be driving this area and will be highly attractive to Canadians, [but I] can't disclose more.

How does your experience working in global markets influence your approach to marketing?

Marketing is about working with people and working for people, on different levels. On one level, the experience of going to different environments around the world forces you to find the commonalities and the patterns so you can find repeatable models across different environments.

Immersing yourself in a new environment forces you to look at the fundamentals and to be very strategic.
It also allows you to question a lot of things other people would take for granted. So a fresh look often helps solve big problems.

Every time I travel to a country, I do what we call "Consumer Connects" – you go into somebody's house and try to get to know them a bit more, find out what motivates them and just learn from them. You're a foreigner coming to a new country, and you just ask them questions like, "Tell me what it's like living here." In our jobs it's very easy to find the differences between people, but it's important to know what to do with them.

"Consumer Connects" has been fundamental to our business. For example, when I arrived to work in Russia, our issue was that people were using deodorants only on special occasions. This became obvious to me when I found the deodorant in the living room or bedroom, next to the fine fragrances, when normally you would find it in the bathroom. This became a pivotal moment in our program to drive usage.

Within four months of arriving to the region, I had developed a new campaign to drive Rexona (Degree in North America, and the number one brand in the world) which focused on beauty. [The "Tattoo" campaign comprised two executions, including one with Russian pop singer Zhanna Friske]. It was a massive success. This was a very delicate issue so it had to be bold, but respectful. We included bathroom application shots in all our advertising and eventually grew the market by 50% in three years.

What are some other programs you worked on, and what insights did you gain from those experiences?

Adapt and adopt. Search for best practices from other markets and adapt to yours, as opposed to the extremes of "plugging and playing" global models or trying to reinvent the wheel. This is how we launched Axe in Russia, Turkey and the Middle East. We took classic Axe ads that were used years before in Europe, reshot them to make them current and they were a huge hit. It was tempting to shoot something completely new, but we resisted that temptation and achieved market leadership by using the best work available. We got our chance to create something new later when we developed an Axe ad called "Destiny" that won a Bronze Lion in Cannes.

Know your consumer. They are your real boss. This is how we launched Dove Advanced Care Anti-Perspirant in the U.S. in 2014 [with a spot featuring women reading a letter to their armpits.] In a challenging environment, we avoided discounts and innovated through premium products, raising the bar.

What would you say are the biggest issues or challenges that are facing the CPG space today?

There are a lot of opportunities in the CPG space, but a challenge affecting the industry, and all industries, is the VUCA world – the volatile, uncertain, complex and ambiguous world – which is essentially the new normal we live in today. And that's a big challenge, but that goes back to the category name – fast-moving consumer goods require fast-moving people and companies who are very flexible and can very quickly understand what people want and what people need, and produce it for them.

How does your company plan to stand out against other CPG giants like P&G and Kraft?

We're very focused on people and what Canadians want because what's really important for them is what a company and brands can do for them. The Sustainable Living Plan is an amazing fit with Canadians because they are extremely passionate about their environment and making the right choices.

There has been so much work on the sustainability front. For example, all our products manufactured in North America are made using renewable (green) electricity and all of our facilities are zero landfill. This means that nothing goes into dumps, absolutely everything is recycled.

Our objective is to make sustainable business commonplace. For example, we're on a great path with Knorr: 100% of the tomatoes we used in 2013 were sourced sustainably. Not only is it good for the land but sustainable tomatoes also have more flavour because they are not watered just before the harvest so the flavour concentrates. This results in better tasting Knorr products.

Our work in the health and well-being areas are also part of USLP. Two of my favourites are Becel, which is promoting healthy living by supporting the Becel Heart & Stroke Ride for Heart, 21 years in a row, and another is the "Dove Campaign for Real Beauty" that imagines a world where beauty is a source of confidence, not anxiety. The discussion this generates is fantastic.

All these programs make us more competitive because they are about things that matter for Canadians and are very hard to replicate by other companies.

We have, I think, very powerful innovations that we bring continuously and where we have been extremely successful, especially in the last five, six years. For instance, Hellmann's is one of the few real mayonnaises out there. The Hellmann's Real Food Movement has brought light to how important eating well is, and how critical a good diet is to well-being.

I think the Real Food Movement and "Dove Campaign for Real Beauty" are great examples of innovation. Innovation doesn't always have to be a product; innovation can be also ideas and creating purpose.