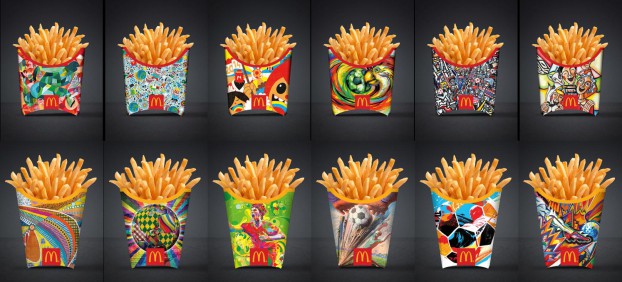 McDonald's Canada is putting its efforts into a big FIFA push for the first time in the brand's 25-year global sponsorship history.
The campaign, which bowed yesterday and will run the next four weeks, features global pickup of new artwork for the iconic French fry box, as well as digital media activation from Tribal DDB and a localized traditional media play from Cossette.
The new campaign is centred around the brand's redesigned FIFA French fry box, featuring 12 different prints from artists around the globe, including Canadian-designed Mugluck, says Michelle Mcilmoyle, senior national marketing manager, McDonald's.
"Everything was built on a global insight that pivots off the basic human behaviour that when I see others sharing their passions, I want to join in on the excitement," she says.
The QSR went to artists globally with the task to illustrate the passion of the sport.
The French fry boxes will be supported in store with FIFA/Brazil-themed paraphernalia (including flags, stickers, colouring sheets for kids, etc.), as well as a peel-and-play competition, offering four winners the chance to fly to Brazil for the big finale, handled largely by promotional agency The Marketing Store.
The entire campaign will be supported with OOH, TV (focused on the opportunity to win and the bridging of ethnic boundaries as a result of the game) and social (including a global YouTube spot, below), with a media spend "on-par" with other major sporting event activations from the brand, Mcilmoyle says. The campaign is geared at everyone, though she says it will likely skew towards millennials who are a bit more engaged in the game.
Though McDonald's Global has been a FIFA sponsor for the past 25 years, this is the first time the Canadian office planned on running activations locally. "We have a lot of ethnic Canadians and we're really capitalizing on making sure they're part of this experience," she says. "Whether you're a soccer fan or you're from another national background and are now Canadian, but still have a heart in [for example] Italy, it's an opportunity to show your fandom."
She says there was nothing in particular about this year's tournament that inclined them towards entering the fray, just that the time was right and it fit within the marketing calendar.